Por Fernando Suarez.



-Flux Of Pink Indians "Strive to survive causing least suffering possible" (1982)
Es un lugar común (muchas veces errado, claro) el pensar que las bandas que cuentan con un fuerte contenido político en su propuesta descuidan el aspecto musical. Vamos, todavía no puedo comprender por qué grupos como CRASS o Rudimentary Peni son sistemáticamente excluidos de la mayoría de las antologías o recuentos del viejo Punk inglés, cuando (al margen de exponer las ideas más lúcidas y realmente revolucionarias de esa generación. ¿The Clash? No me hagan reír. The Clash es poco más que una Boy Band) se trata de bandas con un sonido sumamente personal y, ciertamente, mucho más elaborado que el mero Rock And Roll bastardeado de Sex Pistols o The Damned. En una categoría similar encontramos a Flux Of Pink Indians, compañeros de armas de los mencionados CRASS en sus proclamas anarquistas y poseedores de una propuesta musical realmente estimulante. Ritmos taquicárdicos, bases insistentes, voces desprolijas y unas guitarras tan ruidosas como imaginativas. Aquí no basta con los tres acordes de siempre, acoples, disonancias, riffs angulares y una sensibilidad más cercana a tipos como Steve Albini o Greg Ginn que a Steve Jones es lo que ofrece este clásico debut. Hasta se permitían jugar con esos elementos artys que consagrarían a grupos considerados Post-Punk como Wire o Gang Of Four. Pensándolo bien, es mejor que engendros como la Rolling Stone ignoren sistemáticamente a este tipo de bandas, perpetuando esa idea vacía de lo que se supone que es el Punk. Ese tipo de medios son parte funcional de todo lo que Flux Of Pink Indians deplora en sus letras. Claro, algunos opinan que el mantener esa intransigencia con respecto al mainstream disminuye las posibilidades de expandir el mensaje y, por ende, de lograr cambios reales en la sociedad. Bueno, The Clash (por poner el ejemplo más común) siempre estuvo en el ojo de la tormenta de la industria discográfica y no veo que hayan cambiado nada del sistema que, supuestamente, tanto criticaban. En fin, ideologías al margen, si se supone que el Punk se trata de cuestionar las reglas y explotar al máximo el propio potencial sin esperar que alguien más lo haga por uno mismo (y eso incluye también el concebir ideas artísticas personales y honestas), entonces Flux Of Pink Indians tiene argumentos de sobra para llevar con orgullo dicho rótulo.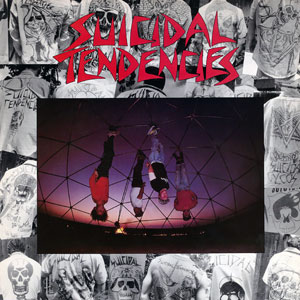 -Suicidal Tendencies "Suicidal Tendencies" (1983)
No importa si nunca se subieron a un skate, pongan este pedazo de clásico y van a sentir el viento golpeándoles las caras mientras los edificios a su alrededor se borronean. Si nunca experimentaron el vértigo en carne propia, dense una dosis de "I shot Reagan", "Won't fall in love today", "Memories of tomorrow", "Possessed" o cualquiera de las demás gemas que componen el legendario debut de los liderados por Mike Muir. Y sientan la sangre hervir. A ver, pequeños, si un disco suena relevante y energético a veintiséis años de su edición, ¿qué nos dice eso? Claaaaro que sí, que estamos en presencia de un jodido clásico indestructible. Y por el mismo precio se llevan algunos de los primeros y mejores acercamientos entre el Hardcore y el Metal, algo que Suicidal profundizaría aún más, hasta finalmente dejar de lado las raíces Core. O casi. En cualquier caso, el que no baila con "I saw your mommy…", el que no gesticula siguiendo la letra de "Institutionalized" y el que no siente el irrefrenable deseo de patear cabezas rapadas con "Fascist pig", es porque no entendieron nada de nada. En definitiva, los fans más metaleros se quedaran con "Lights, camera, revolution" y los sofisticados preferirán "The Art of rebellion", pero para aquellos que tienen su corazoncito en las bermudas, las tablas y los cuatro acordes, este es un hito imprescindible.



-Hüsker Dü "Warehouse: Songs and stories" (1987)
Es obvio decirlo ahora, pero "Warehouse" es un claro disco de ruptura. No es que se alejara demasiado del estilo Power-Pop que los Hüskers venían practicando desde "New day rising" en adelante. Pero hay algo en el espíritu de este disco que tiñe cada melodía de una pesada amargura. Hasta retoman el formato de disco doble, como si de alguna forma trazaran un paralelo con la angustia del clásico "Zen arcade". El hecho de que el álbum esté dispuesto casi en su totalidad intercalando una composición de Bob Mould y una de Grant Hart ya dice bastante sobre el estado de ánimo interno del trío. Y queda más que claro que el guitarrista es quién va por el camino de la emoción cruda y desgarrada. Sus canciones son más simples y su voz ronca y áspera se aleja de cualquier tipo de histrionismo, privilegiando siempre la urgencia expresiva. El reproche de "Standing in the rain", la absoluta desazón de "Bed of nails", la vehemencia de "Friend, you've got to fall", la sensación de renuncia absoluta de "It's not peculiar", la oscuridad de "Ice cold ice" o inclusive esa gema de Power-Pop melancólico capaz de anudar el estómago más endurecido e insensible que es "Could you be the one", en cuya letra es posible leer un anticipo de la ruptura del grupo, son excelentes muestras del estilo compositivo de Bob Mould. Por su parte, Hart es quien aporta el colorido extra, con sus claras influencias Pop/psicodélicas al frente y una voz que bien podría ser la versión Punk de un joven David Bowie. Podemos mencionar como ejemplos a la beatlesca "Charity, chastity, prudence and hope", el proto-Grunge de "Back from somewhere", la malicia lisérgica de "She floated away", el Noise-Pop de "Tell you tomorrow", el Rock and roll hecho y derecho de "Actual condition" y la efervescente "She's a woman (And now he is a man)". Por supuesto, mucho del aura particular de este disco también se debe a que aquí contaron con la producción más cuidada de su carrera y pudieron dar rienda suelta a ciertos trucos de estudio que logran un efecto tridimensional en las canciones. Y eso nos recuerda, una vez más, que lo que importa son las canciones. Hüsker Dü las tenía, tal vez las mejores canciones de su generación. Sin duda alguna las melodías más sentidas del Punk americano de los 80's. "Warehouse" es un perfecto disco de despedida para el trío y un buen anuncio de que Mould y Hart todavía tenían mucha música para seguir regalando.



-Mind Over Four "Half way down" (1993)
Que los noventas estuvieron repletos de excelentes bandas que no recibieron demasiada atención no es ninguna novedad. Thought Industry, Shudder To Think, Cop Shoot Cop, Fudge Tunnel, Killdozer, Pain Teens, Hoover y montones de nombres más se apilan sin demasiado reconocimiento por el gran público a pesar de contar todos ellos (cada uno a su manera y hasta partiendo de raíces bien diferenciadas) con propuestas únicas, llenas de ideas musicales propias y refrescantes. En esa lista podemos ubicar a Mind Over Four, un cuarteto californiano que, a pesar de haber dado sus primeros pasos en los ochentas, pegaron un innegable salto de calidad pasada esa década. El tema que da nombre a la placa sirve de breve introducción donde voces y sonidos deformes se entrecruzan para relatarnos una muerte. Acto seguido, "Charged" ataca con riffs entrecortados y notamos que la garganta de Spike Xavier no le teme a llegar a dónde nadie había llegado antes. Pueden pensar referencias como Mike Patton, Jim Morrison, Chris Cornell y hasta Mark Osegueda (de Death Angel) y aún así estarán lejos. "Honor" se retrae en climas oscuros y terminamos de percibir a la otra figura indiscutida del disco, la guitarra de Mike Jensen. Dibujante eximio de riffs enroscados y rockeros, de todas las formas y colores y siempre con su sello personal, sus seis cuerdas llevan la retorcida batuta de las canciones y sirven de fundación para los delirantes devaneos melódicos de Xavier. Claro, esto es material inteligente, casi Progresivo diría. Y aún así no hay exhibicionismos ni malabares compositivos innecesarios. Las canciones tienen un comienzo, un nudo y un final, hay estribillos reconocibles y melodías gancheras. Y miles de ideas desparramadas en el camino. Los arpegios evocadores de "Cycle Of Experiencing People" interrumpidos por esa catarata riffera al mejor estilo "Red" de King Crimson, la increíble dinámica de "Faith" con su comienzo entre playas nocturnas y sus arranques de violencia casi Thrashers, la densidad lisérgica de "My name is nothing" que remite a la Rollins Band de "The end of silence", la opresiva pintura urbana de "Jack the throne" con sus constantes idas y venidas, el Funk adrenalínico de "Then and now" y la histeria jazzera de "Coffee" que cierra el disco a pura energía. Imposible compararlos con otras bandas o rotularlos sin cercenar gran parte de su identidad, Mind Over Four logro en "Half way down" una obra elevada de arte rockero con el sello indeleble de la década pasada. Imprescindible.



-Beherit "Electric doom synthesis" (1996)
Una gutural voz resuena desde las profundidades. "Ambush" comienza casi como una misa negra electrónica, basándose sólo en sonidos ambientales y voces deformadas por efectos. Ok, ya estamos muy lejos de "Drawing down the moon", y ni hablemos de "The oath of black blood". De aquel crudo Black Metal sólo quedó la esencia oscura. El quiebre estuvo en "H418ov21.C" y sus paseos cósmicos electrónicos, despojados de guitarras eléctricas, baterías atronadoras y gritos de desesperación. Aquí Beherit (o mejor dicho, Marko Laiho, también conocido como Nuclear Holocausto Vengeance y encargado de hacer básicamente todo en esta etapa de Beherit) mantiene los sonidos electrónicos pero retoma la oscuridad. El breve "We worship" insiste con esas voces endemoniadas, mientras un fondo de silbidos y tenues repiqueteos rítmicos generan una densa tensión. Hasta es posible toparse con algo así como un riff en "Dead inside", aunque sea difícil determinar si se trata de una guitarra procesada o de distorsiones de sintetizador. En cualquier caso, cumple su cometido, junto a una base repetitiva y voces que recuerdan a clásicos Industriales como Front 242 o KMFDM, pero en versión satánica. Miles de moscas zumbando como augurio de algo aún peor es lo que entrega "Beyond vision", hasta que entran esos teclados que parecen derretirse y las puertas del infierno se abren de par en par ante nuestros ojos. "Deep Night 23rd" retoma algo del clima espacial del disco anterior, con un colchón minimalista de teclados y voces apenas susurradas. La distorsión vuelve en "Drawing Down the Moon", como no podía ser de otra manera teniendo en cuenta el link con aquel disco. Un ritmo casi marcial, riffs difusos y teclados épicos que invocan fantasmales demonios. "Sense" nos envuelve con diez minutos de tensión minimalista, casi al borde del silencio y fundiéndose con "Temple ov Lykos", que cierra el ritual en su punto más alto de esoterismo. En fin, esto no es material para los seguidores más cerrados del Black, pero aquellos que pueden apreciar la esencia maligna, más allá de las formas, encontrarán uno de los más oscuros y sórdidos viajes que el género puede ofrecerles.



-Chum "Dead to the world" (1996)
Es curiosos cómo una banda puede ser víctima de su propio tiempo y/o entorno musical. O, mejor dicho, de la incomprensión que a veces se da en dichos entornos. Todavía recuerdo un comentario sobre este mismo disco aparecido en la (a esta altura) legendaria revista Madhouse, donde el crítico Migue Mora lo definía como una cruza entre los sonidos modernos (para esa época, claro está) de Korn y Deftones y las melodías vocales de King's X. Por supuesto, si este "Dead to the world" se hubiese editado a principios de los noventas, cambiaríamos el Nü-Metal por el Grunge metalizado de Alice In Chains y la voz de John Lancaster remitiría inevitablemente a un Corey Glover (de Living Colour) con una cuota extra de mala onda. Lo interesante es que, si uno escucha este mismo material en el contexto de la actualidad pesada, lo metería sin dudar en la no muy definida bolsa que ocupan bandas como Torche, Cave In, Disappearer, Jucifer o Helms Alee. Es decir, guitarras enormes, riffs aplastantes, sensibilidad melódica superlativa y ciertos aires de exotismo psicodélico que aportan una profundidad que trasciende los amanerados gestos del Metal tradicional. No se trata sólo de que el disco suena más que actual (y lo hace), si no de un espíritu creativo cargado de una sofisticación que se alinea con mayor comodidad a la avanzada metálica actual que a la de su época. Los nueve temas que componen la placa (incluido el genial y perverso cover de "Darling Nikki" de Prince cuando todavía era conocido como Prince) podrían ser hits instantáneos en un universo paralelo donde el Rock no se guíe por estrictas restricciones genéricas y de mercado. Y, al mismo tiempo, debajo de las melodías gancheras encontramos un trabajo instrumental altamente imaginativo. Una batería maciza y atronadora haciendo gala de un atrapante groove arrastrado que pondría verde de envidia al más reventado de los dumbetas, y de un swing que invita al cabeceo constante sin por ello resignar contundencia. Un bajo que retumba como si sus cuerdas estuvieran hechas con las tripas de un mamut y dos guitarras igualmente graves y con una visión futurista del más espeso Sabbathismo, que no excluye las cascadas de ruido melódico a la My Bloody Valentine (tan en boga hoy en día) a la hora de erigir sus envolventes arquitecturas rifferas. Todo coronado por un trabajo vocal de excepción, pletórico de emoción, ideas y grandes (y afinadas) melodías que nunca suenan aguadas ni tiradas de los pelos. Las buenas canciones, amigos míos, son un argumento inapelable en cualquier época.



-The For Carnation "Promised works" (1997)
Brian McMahan cuenta con, al menos, un par de sólidos argumentos para que cualquiera interesado en escuchar buena música (aún admitiendo que tal clasificación es sumamente volátil) le preste debida atención. Entre 1983 y 1988 fue parte de Squirrel Bait, una de las bandas seminales del Punk de Chicago, pionera en su combinación de melodía Hüskerdüera y abrasivo ruido Stevealbinesco. Tras la ruptura de dicho grupo, McMahan se quedó con su base rítmica (el baterista Britt Walford y el bajista Ethan Buckler), sumó al guitarrista David Pajo y se hizo cargo (aparte de sus propias seis cuerdas) de las esporádicas tareas vocales en su nuevo conjunto, Slint. Y, por si no lo sabían, Slint probablemente sea el grupo que inauguró el vasto espectro musical que luego sería conocido como Post-Rock o Math-Rock. Con sólo dos discos (el crudo y producido por Steve Albini "Tweez" y el clásico indestructible "Spiderland", un álbum de escucha obligatoria para todo el mundo), el cuarteto se ganó ese lugar privilegiado que ocupan aquellos grupos que resultan más influyentes que exitosos en términos comerciales. En 1994 Slint deja de existir y el bueno de Brian se aboca por completo a su nuevo proyecto, The For Carnation. Digo proyecto, porque la única constante en la formación es la presencia de McMahan, rodeado por músicos intermitentes entre los que se cuentan miembros de Tortoise, Rodan, The Breeders, Shipping News y, claro, Slint. "Promised works" compila los dos primeros ep's del grupo ("Fight songs" de 1995 y "Marshmallows" de 1996) y sin embargo, si no supiéramos eso, podríamos jurar que se trata de un larga duración concebido como tal. De alguna forma, The For Carnation hereda el complejo entramado dinámico de Slint, pero lo traslada a terrenos aún más abstractos, tensos y sutiles. Claro, gran parte de esa tensión la da el hecho de que uno espera algún estallido distorsionado como los de su anterior grupo, y eso nunca llega. Predominan las guitarras limpias (acústicas y eléctricas) que dibujan sentidos paisajes a base de desaprensivos rasgueos y extrañas combinaciones de notas, las bases mantienen un andar de letárgica irregularidad y la voz presenta sus melodías más sensibles, casi susurrándolas. En más de una ocasión se los ha comparado con Gastr Del Sol (aquella banda donde convivieran David Grubbs, también ex miembro de Squirrel Bait, y el multifacético Jim O'Rourke), en especial en lo que hace a riffs contracturados sin distorsión y estructuras laberínticas que, no obstante, eluden la épica pomposa del Rock Progresivo tradicional. También se los ha linkeado con grupos como Codeine o Low (emblemas del así llamado Slow-Core), con sus atmósferas de embotadora ensoñación melancólica y sus tenues melodías disueltas en largos silencios. En fin, no se trata de material de fácil categorización, ni siquiera un término tan amplio como Post-Rock basta para aprehender el enorme caudal de música y emociones aquí desplegado. Para disfrutar sin prejuicios y con la mente y el corazón alineados en perfecta armonía.


-Human Remains "Where were you when" (2002)
Este doble cd compila en su totalidad los testimonios grabados entre 1990 y 1996 por esta auténtica leyenda del underground extremo. Digamos que, cuando Brutal Truth redefinió el Grindcore en los 90's no estaban solos en semejante tarea. Una sola escucha a esta maravilla basta para reconocer la influencia de Human Remains en incontables actos extremos. Desde Pig Destroyer a The Dillinger Escape Plan e inclusive Mastodon en sus primeros trabajos han tomado nota de esta particular combinación de crudeza Core, extremismo metálico, disonancias varias, destreza instrumental y extravagancia compositiva. El trabajo de guitarras de Jim Baglino y Steve Procopio da vuelta todo tipo de convenciones, repartiendo machaques trabados, groove Hardcoroso, borroneado vértigo Grindcore, precisión Deathmetalera, excursiones disonantes que harían sonrojar tanto a Robert Fripp como a Steve Albini y fundiendo todas esas variantes en un sonido compacto y sencillamente aplastante. No es casualidad que el segundo de ellos también se dedicara a anudar cuerdas en los Avant-Grinders Discordance Axis. Y si hablamos de conexiones es menester mencionar al tipo detrás de los parches, el gran Dave Witte. Si no saben quién es chequeen su trabajo en bandas como Burnt By The Sun (donde se reuniría con Paul Miller y Teddy Patterson III, vocalista y bajista respectivamente del grupo que nos ocupa), Atomsmasher/Phantomsmasher (junto a James Plotkin), East-West Blast Test (con el ex líder de Spazz, Chris Dodge), Municipal Waste, Birds Of Prey, Black Army Jacket o los ya mencionados Discordance Axis. Puesto de manera simple, Witte es uno de los mejores bateristas de la actualidad metálica. Uno de esos tipos capaces de romper todo tipo de nociones genéricas a puro golpe y de darle vida aún a las creaciones más simples. Claro, estos tipos hacían música extrema y compleja, pero sólo un sordo podría asociarlos con el Death técnico de Atheist y similares. Al mismo tiempo, resultaban demasiado extravagantes para el Grindcore de aquellos años. Que un grupo de músicos virtuosos pudiera desplegar semejante nivel de intensidad y crudeza todavía no era moneda corriente en el mundillo metalero. Y mucho menos si se trataba de músicos con raíces en el Hardcore. Es lo que suele suceder con las bandas adelantadas a su tiempo. Por suerte la buena gente de Relapse se tomó el trabajo de rescatarlos, permitiéndonos así tomar una de las lecciones más satisfactorias en lo que a historia del Metal Extremo se refiere. Y, de paso, disfrutarlos como se merecen.
-Bongzilla "Amerijuanican" (2005)
El infierno cambia el tradicional rojo de sus llamas por un tono verduzco. Los ríos de lava se transforman en whisky y el intenso aroma del azufre es reemplazado por otro más dulzón. Hasta el mismísimo Satanás dibuja riffs con su guitarra invisible mientras su rostro se transfigura hasta adquirir las facciones de un joven Tony Iommi cojn los ojos achinados y el aliento pesado. Bongzilla ha llegado a este, su cuarto disco sin cambiar demasiado su propuesta de Sludge/Stoner fumón. Y ni falta que hace. Vamos, ¿para qué cambiar algo que funciona a la perfección? Aquí tenemos riffs sabbatheros llevados a esa exageración de graves y lentitud, acompañados por el chillido monocorde de Muleboy (y esto no es un defecto. Intentar variantes, en este caso, sólo pincharía la onda) y creando ese clima de humeante partuza demoníaca. Por supuesto, también se permiten viajar más lejos, como en el extenso "Stonesphere", con sus doce minutos y pico de cuelgue marihuanero. Ok, está claro que aquí no encontrarán ninguna revolución/revelación y, si encima comparamos a Bongzilla con popes del género como Eyehategod o Iron Monkey, poco habría para rescatar. Pero, por esta vez, esas cuestiones pueden dejarse de lado ante canciones tan buenas. Y sí, el sorete es un viaje de ida.
-Buried Inside "Chronoclast" (2005)
Introducción: El principio es el fin. El tiempo se desdobla y su invisible rostro amenaza hasta abrir nuevas brechas en sí mismo. En nosotros mismos. El Tiempo como Ideología: Creyentes patológicos escapando hacia la libertad. Hábitos de pensamiento que desafían el pensamiento. Plagas comunicables. El Tiempo como Metodología: Si la historia es el rompecabezas del tiempo, alguien desacomodó las fichas. El Tiempo como Religión Substituta: Criaturas domésticas de abstracción técnica. El cronómetro es tan santo como la cruz. El Tiempo como Imperialismo: La narrativa, la instalación. Un hilo que conduce a una cuerda que se transforma en una soga de donde cuelga todo vestigio de lo que alguna vez fue. Reintroducción: El prisma invisible que describe nuevas formas con su limitado espectro cromático, es el infinito. El Tiempo como Abyección: El devorador. La prótesis de la que dependemos. El cadáver que muestra la fragilidad del cuerpo. El tiempo desnuda la fragilidad del orden simbólico. El Tiempo como Automatización: Sin palabras, todo ha sido devorado. El Tiempo como Mercancía: Más ataduras serían aburridas. Lo espacial le abre camino a lo temporal y nadie puede escapar. Nosotros somos el elemento sedicioso. El Tiempo como Resistencia: Sin excepciones. Las cicatrices se abrirán. El mito se corromperá. El monolito se fracturará. La muerte llega en el tiempo. La muerte llega con el tiempo. "Chronoclast": La violenta sublevación de ser.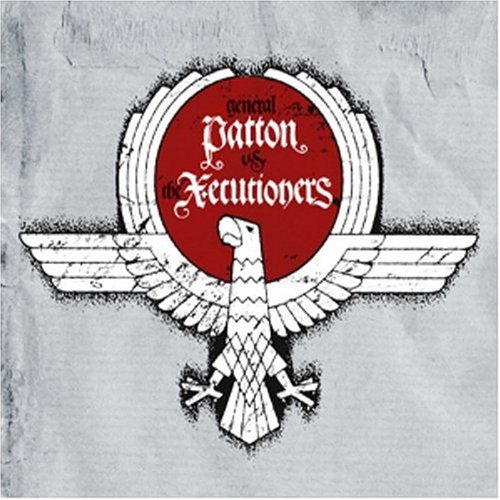 -General Patton Vs. The X-Ecutioners "General Patton Vs. The X-Ecutioners" (2005)
Mike Patton asciende al rango de General y se junta con el conglomerado de Dj's más conocido como The X-Ecutioners, proveyéndolos de material discográfico en vinilo para que estos aniquilen con sus bandejas y mezcladoras. Sí, Patton se mete con el Hip-Hop y el resultado es esta afiebrada producción de 23 temas que destrozan el género, logrando así reivindicarlo y devolverle el carácter innovador que alguna vez (allá lejos y hace tiempo) supo tener. De alguna forma, podría decirse que este proyecto es al Hip-Hop lo que Fantômas es al Metal. Retazos de ideas que se chocan y se superponen, ritmos que nunca llegan a cristalizarse, voces intermitentes y deformadas y un Mike Patton inspirado haciendo gala de su conocida psicosis, aquí complementada a la perfección por el inquieto abuso de las técnicas de "cortar y pegar" por parte de los Dj's. Claro, si todavía tienen problemas para digerir las incursiones más experimentales del ex ex Faith No More, este lp poco hará por ustedes. Pero si lo que buscan es al Patton de siempre, el que insiste en romper esquemas y abrir nuevos caminos sin medir consecuencias, entonces ya deberían tener este disco en sus sudorosas manos.
-Slices "First & Second 7 inches" (2009)
Sólo dos ep's y poco más de quince minutos. Una batería insistente y repetitiva, un bajo mugriento y gruñidor, una guitarra desbocada y ruidosa y una garganta que exorciza sus demonios a grito pelado. Podría hablar de Noise-Rock, pero en definitiva esto es Punk de pura cepa y como hacía tiempo que no escuchaba. Algunos lo definieron como "Crossed Out versionando el lado B del "My war" de Black Flag" y, si bien algo de eso hay, tal descripción no le hace justicia a la personalidad desplegada por este cuarteto. Sí, el sonido, la crudeza y el caos tienen algo de ese espíritu subterráneo del Powerviolence, pero aquí no hay blast-beats ni cambios abruptos de ritmo ni flirteos con el Metal extremo. Claro, los temas lentos y arrastrados, la voz rasposa y vehemente, los solos disonantes y los climas asfixiantes están claramente inspirados en lo más espeso de la ex banda de Greg Ginn, pero despojados de cualquier atisbo de Jazz o complejidades Progresivas. Insisto, estos tipos no son clones de nadie, aún cuando claramente han aprendido sus buenas lecciones de Punk ruidoso y catártico. No hay necesidad de experimentos eclécticos ni guiños Progresivos, canciones simples y sudorosas, cargadas al mismo tiempo de frustración y liberación. Slices suena a violencia sin necesidad de poses de chicos malos ni exageraciones histriónicas. Suena a emoción inmediata y desgarrada sin atisbos de melodía Pop ni baratas peroratas mosheras. Suena a locura pero sin pasarse de intelectualidad ni caer en pastiches de aburrida psicodelia ruidosa. Suena natural y espontáneo y aún así propone ideas musicales propias. Slices muestra un profundo respeto por sus influencias (a las mencionadas pueden sumar Big Black, Born Against, Rorschach y Swans) pero de ninguna manera se queda en la mera nostalgia. Si pensaban que la llama primigenia del Punk corría el riesgo de apagarse para siempre, escuchen esto y prepárense para arder.