In an enormous effort I have been able to gather the opinion of the Zann staff about what is worth listening from what was edited in 2007. Here is THE LIST:
Einstürzende Neubauten
Alles Wieder Offen
Manuel's record of the year:
Quisiera poder contarles la inmensa satisfacción que me da el hecho de que exista una banda como Einstürzende Neubauten que desde hace más de 20 años edita material derrochando el talento que no debe tener toda la industria discográfica junta… pero mejor lo dejo para un post aparte.
Fernando's pick:
Magia, libertad creativa absoluta y una garantía de calidad.
Erich Zann's pick:
Collapsing New Buildings: constant renovation, perpetual change. The starting point for every artist.
Carla's pick.
Alejandro's pick:
Imposible poner en palabras lo que hacen estos genios.
Jesu
Conqueror
Fernando's record of the year:
Bueno, el disco del año. Nunca un disco tan hermoso y melódico fue tan pesado.
Manuel's pick:
En realidad el disco del año es el de Einstürzende Neubauten, pero si, Justin le pegó cerca.
Carla's pick.
Alejandro's pick:
Justin se animó a poner esas melodías pegajosas y melosas que todos escuchamos (a escondidas) a su música. Un viaje, an album about drugs.
Rob Zombie
Zombie Live
Gabe Toxic's record of the year:
Impecable disco en vivo que tranquilamente podría oficiar de "Greatest Hits" al mismo tiempo. Es raro pensar que Rob Zombie no tenía discos en vivo oficiales, después de más de 15 años en la ruta, pero así es. Y en 2008 se viene el DVD, que viniendo de un artista visualmente tan comprometido (seamos sinceros, Zombie entra tanto o más por lo ojos que por los oídos) no va a defraudar.
La banda suena sólida, en gran parte gracias a la precisión de John 5 en la guitarra y la contundencia percusiva de Tommy Clufetos. Altamente recomendable si en algún momento de los '90 te copaste con White Zombie (y si no lo hiciste, estabas mirando otro canal, pibe).
Manic Street Preachers
Send Away the Tigers
María's Record of the Year.
Carla's pick.
Fernando's pick:
Lo mejor de los Preachers desde "Everything must go". Una panzada de excelentes canciones.
Manuel's pick:
No soy el mas apropiado para hablar de los Preachers, pero si debo mencionar que este debe ser el disco que más escuché en el 2007. Coincido con Fernando con que han mejorado desde lo que venían sacando anteriormente, y si, cuando las canciones son buenas, no hay mucha vuelta que darle.
John Zorn
Six Litanies for Heliogabalus
Erich Zann's record of the year:
Besides myself, John Zorn is the only musician who can prevent the Ancient Ones from coming to our plane of existence. Fortunately, my legacy is secured… for now.
Fernando's pick:
Rescatando la virulencia de Naked City y con un Patton en llamas.
Manuel's pick:
En efecto, Naked City explotó en un puñado de discos perfectos que dieron vuelta la forma de concebir la música de muchos, incluyendo a un tal Mike Patton que, probablemente cumpliendo un sueño de juventud, en los últimos años se ha dedicado a resignificar la obra de Zorn, no solo en discos propios sino interpretando composiciones del músico neoyorquino de jazz.
Bloody Panda
Pheromone
Alejandro's record of the year:
Guitarras de ultratumba y una japonesa loca recitando maldades.
Manuel's pick:
Justo lo que necesitábamos, otra banda dumbeta con una cantante femenina. Un momento, ¡pero esto está bueno en serio! ¡Es pesado y muy jodido!
Neurosis
Given to the Rising
Carla's record of the year.
Manuel's pick:
¿Cómo puede ser que Neurosis, creadores de un estilo clasificable solamente como "El sonido Neurosis", puede seguir sonando siempre innovador, sin perder ni comprometer ni una sola pizca de su identidad? ¿Y cómo puede ser que editando sus discos a través de su propio sello independiente, sea una de las bandas más copiada de los últimos dos años? Nadie sabe el secreto de su música excepto ellos mismos. Nosotros, miserables mortales, sólo podemos dedicarnos a escuchar y conmocionarnos con la grandeza de su obra musical.
Fernando's pick:
Como siempre, un par de pasos adelante y enseñándoles a los clones cómo se hace.
Alejandro's pick:
Un disco complejo, asfixiante y demostrando una vez más por qué tienen tantos (y tan malos) imitadores.
Carcass
Heartwork
Martín's record of the year:
Es del `93, PERO QUE CARAJO ME IMPORTA.
Explosions In The Sky
All of a Sudden I Miss Everyone
Carla's pick.
Nadja
Thaumogenesis
Fernando's pick:
Demostrando una vez más que la música más pesada no siempre es Metal.
Manuel's pick:
Malditos ñoños, ¿Qué se piensan? ¿Que podían sonar más pesado que yo, que soy rockero, barbudo, gritón, uso bermudas y gorrita militar y me cojo todas las groupies que se me acercan? Grrrr...
Rwake
Voices of Omens
Manuel's pick:
El hijo sureño, podrido, deforme y retardado de Neurosis. La belleza también puede manifestarse de otras formas.
Deathspell Omega
Fas
Fernando's pick:
Black Metal surrealista, dándole un nuevo significado a la palabra progresivo.
Manuel's pick:
Gracias a estos franceses locos que supieron rescatar uno de los géneros más cerrados y prejuiciosos de la música pesada.

Monarch!
Dead Men Tell No Tales
Manuel's pick:
Monarch! es el DIABLO. Reedición doble de "Die Tonight" (también lanzado en el 2007) y "Speak of the Sea" por parte de la banda francesa que mezcla el sludge y el drone con los alaridos de Burzum, pero gritados por una mujer.
Zozobra
Harmonic Tremors
Fernando's pick:
Proyecto de Caleb Scofield, bajista de Cave In y Old Man Gloom. Las melodías de Jesu, más la pesadez del viejo Isis, más el toque Industrial de Godflesh.
Manuel's pick:
Tan sólo por la descripción y las referencias que tira Fernando, deberías dejar ya mismo todo lo que estás haciendo y salir corriendo a escuchar este disco.
Joe Lally
Nothing is underrated
Fernando's pick:
Segundo disco solista del bajista de Fugazi. No necesito agregar nada, todo lo que hacen estos tipos es LEY.
The Locust
New Erections
Fernando's pick:
El futuro llegó hace rato.
Manuel's pick:
Langostas Suicidas en las Redes de la Muerte (xLxSxExLxRxDxLxMx).
Baroness
Red Album
Fernando's pick:
Un disco para recuperar la fe en la guitarra eléctrica.
Manuel's pick:
Ahaha, Fernando, sos muy querible. Barbas y distorsión. Cuatro rockeros enojados de Georgia que compusieron simplemente canciones, y que ¡oh sorpresa! están muy buenas. Derrochando energía, algunas melodías vocales y los mejores riffs rockeros de este año que pasó, el "álbum rojo" no tiene nada que envidiarle al resto de la lista. A no perderse el hermoso trabajo de arte de tapa a cargo del cantante y guitarrista, John Baizley, quien también ha hecho las tapas de Pig Destroyer, Skeletonwitch, Kylesa, The Red Chord, Torche y Darkest Hour.
Melt Banana
Bambi's Dilema
Manuel's pick:
Un disco partido en dos. Por un lado, canciones directas, en el clásico estilo de pato afónico con hipo de Melt Banana. Por el otro lado, una lección de guitarra de cómo tocar el Theremin para el bajista de MSECDLM.
The Dillinger Escape Plan
Ire Works
Fernando's pick:
Ok, no es tan bueno como "Miss Machine", pero todavía están lejos de quedarse sin ideas.
Pig Destroyer
Phantom Limb
Manuel's pick:
Hola niños, les voy a contar sobre Scott Hull: Era un pibe tranquilo que un día se calzó la guitarra y compuso los riffs que reinventaron el grindcore. Hoy en día se junta con su amigo J.R. Hayes, un gordito bonachón un poco perturbado y hacen discos, a veces más innovadores y a veces un poco más directos, como es el caso en cuestión, pero siempre dando lección de cómo se hace.
Fernando's pick:
Más directos, más thrasheros y más enfermos que nunca.
Martín's pick:
Para seguir creyendo en el metal. Un gol de visitante en el Maracaná lleno.
Coliseum
No Salvation
Fernando's pick:
Oh, sí. Se puede hacer Hardcore-Crust a la vieja usanza pero con nuevos sabores.
Shellac
Excellent Italian Greyhound
Manuel's pick:
Otro referente ineludible para Zann's Music, Esteban el albino volvió en versión menos opresiva, con un disco que sigue sonando cortante como el Shellac que siempre amamos, pero apelando a climas mas abiertos, probablemente reflejando un sentimiento mas distendido que ha crecido en el trío luego de los siete años que han pasado desde su disco anterior.
Fernando's pick:
Tenemos una cita ineludible en marzo.
Erich Zann's pick:
Steve Albini gives a perfect example on how to record and mix music.
Bad Religion
New Maps of Hell
Carla's pick.
Fernando's pick:
Siempre lúcidos y con grandes canciones, pero esta vez con una cuota extra de mala onda.
Erich Zann's pick:
Bad Religion gives a perfect example on how to write lyrics.
Antigama
Resonance
Fernando's pick:
Grindcore del futuro.
Martín's pick:
New Metal.
Manuel's pick:
Banda revelación del 2007.
Erich Zann's pick:
Polish cybergrind gentlemen. They are probably relatives of David Lynch.
Blut Aus Nord
Odinist
Fernando's pick:
Killing Joke en versión Black.
Manuel's pick:
Schwarzes Blut im Frist Grad.
Grave In The Sky
Cutlery hits China: English for the Hearing Impaired
Fernando's pick:
Sludge manchado de Noise-Industrial. Pura mugre lisérgica.
Ramesses
Misanthropic Alchemy
Fernando's pick:
Ex miembros de Electric Wizard y una visión del Doom tan opresiva como personal.
Manuel's pick:
Que no falte la perdición en nuestras vidas.
Erich Zann's pick:
A rotten, bleaker and even more doped version of Black Sabbath. Grimm, kvlt, frostbitten, etc… terminology of that kind applies here.
Cobalt
Eater of Birds
Fernando's pick:
¿Black Metal con Jarboe como invitada? No puede fallar nunca
Manuel's pick:
Apelando al costado ambiental del Black metal y sin dejar de lado lo perturbador y abrasivo. Gracias a Lucifer, el Black metal sigue abriendo sus horizontes.
KTL
II
Erich Zann's pick:
Stephen O'Malley gives a perfect example on how to use a valve amplifier.
Fernando's pick:
Stephen O'Malley no detiene su viaje por el sonido.
Today Is The Day
Axis of Eden
Fernando's pick:
Sí, es lo mismo de siempre, pero para una banda que estuvo tan adelantada a su época no está nada mal.
Manuel's pick:
El hombre nuclear lo hace de nuevo.
Unsane
Visqueen
Manuel's pick:
El sonido que creara Steve Albini en Big Black fue pasado por una moledora de carne y mezclado con barro y mugre para terminar de definir a Unsane. Pero hete aquí que no es este el fuerte de la banda neoyorquina. Detrás de la pared de graves, distorsión y alaridos, hay riffs, y muchos. Esta mezcla de sonido repugnante y riffs pegadizo ha ido evolucionando con el tiempo y, aunque ya se ha vuelto una fórmula creativa para Unsane, pareciera que en cada disco sigue teniendo cosas nuevas para mostrar. Visqueen en particular me ha sorprendido con lo pegadizas que pueden ser las canciones. Che, Motociclistas, hagamos noise rock, pónganse las pilas.
Fernando's pick:
Las cloacas neoyorquinas ya tienen su banda de sonido.
Dinosaur Jr.
Beyond
Manuel's pick:
Mascis debe ser el único virtuoso (junto con Claypool) que podría pasar por las páginas de Zann.
Fernando's pick:
Volvió LA guitarra del Grunge…¡Y con Lou Barlow!
Carla's pick.
Khann
Tofutopia
Fernando's pick:
Vértigo, violencia, imaginación y variantes en una gran bola de Grind-Math-Sludge-Noise-Core.
Tusk
The Resisting Dreamer
Fernando's pick:
El proyecto Grind-Experimental de Pelican devenido en el proyecto Noise-Experimental de Pelican y Kayo Dot.
Magrudergrind
Rehashed
Manuel's pick:
Nosotros estamos enojados también, sobretodo luego de un año de elecciones y candidatos impresentables, a veces viene bien algo de catarsis.
Fernando's pick:
Powerviolence para toda la familia.
Gallhammer
Ill Innocence
Fernando's pick:
Son chicas, son japonesas y suenan como Celtic Frost pasado por un filtro de suciedad Sludge.
Will Haven
The Hierophant
Fernando's pick:
Otro regreso con gloria. Pioneros en la combinación de Hardcore, Noise y Metal.
Orthodox
Amanecer en Puerta Oscura
Manuel's pick:
Que no falte la perdición gallega en nuestras vidas.
Fernando's pick:
Tres españoles desfigurando el Doom apura Psicodelia experimental.
Clouds
Legendary Demo
Fernando's pick:
Proyecto de Adam McGrath, guitarrista de Cave In, rescatando a Bad Brains, Mc5 y Frank Zappa.
The Fall Of Troy
Manipulator
Fernando's pick:
¿Rush en version Screamo? Mi placer culposo del año.
Manuel did NOT pick this:
"Rush y screamo" suena como una aberración de la naturaleza. Ah, y aguante Rush.
The Fucking Wrath
Season of Evil
Manuel's pick:
¿Acoples? Check. ¿Alaridos? Check. ¿Canciones de más de 20 minutos que no son temas en vivo de Led Zeppelin? Eh, en realidad no pero capaz que daba. ¿Punk y Sabbath? Check. Dejar cocinar por media hora y reposar en el equipo de audio.
Fernando's pick:
Sludge y Crust fundidos en una sola patada de 26 minutos.
Bad Brains
Build a Nation
Fernando's pick:
Ah sí, el Punk de Washington DC es lo mejor del mundo.
Manuel's pick:
Oh si, amamos a los malos cerebros.
Stinking Lizaveta
Scream of the Iron Iconoclast
Fernando's pick:
Alguien que le avise a Greg Ginn, estos muchachos retomaron la cosa donde la dejó Black Flag con "The process of weeding out"
Manuel's pick:
Aunque a mi no me entró por el lado Black Flag sino por el de Sonic Youth, Stinking Lizaveta sigue siendo uno de los representantes mas interesantes del underground del área de la bahía, que sigue escupiendo talento al mundo por entre los pilares del Golden Gate.
Wold
Screech Owl
Fernando's pick:
Ruido. Sí, mucho ruido y toda la maldad junta.
Manuel's pick:
Cuando le hablaba a Fernando de este disco le decía: "No puede ser, está todo saturado, debe estar cagado el rip del disco". En realidad no era así.
Total Fucking Destruction
Zen and the Art of Total Fucking Destruction
Manuel's pick:
Parece que este año pegaron las bandas con puteadas en el nombre. Bueno, el baterista y mas drogón de los legendarios Brutal Truth armó su banda que sorprendentemente suena muy parecida a la cual de donde salió. Aunque con algunos toques más de ridículo, temas acústicos incluídos.
Poison the Well
Versions
Fernando's pick:
Si, el Emo-Core apesta. Por suerte Poison The Well ya está más allá de esas etiquetas ridículas.
The Dresden Dolls
Yes Virginia...
María's pick.
Shining
Grindstone
Fernando's pick:
Como si pasaran la voladura lisérgico-progresiva de Gong por la mirada psicótica de Mr. Bungle.
Manuel's pick:
Convengamos que Gong y Mr. Bungle ya tenían mucho en común desde el vamos.
Portal
Outre
Fernando's pick:
Demasiado raro como para describirlo, pero intentémoslo. Death Metal con espíritu Black Low-Fi, sumado a capas de ruido y mucha mística críptica.
Xasthur
Defective Epitaph
Fernando's pick:
Un suicidio en cámara lenta.
Joseph Merrick
"s/n"
Manuel's pick:
Cuarteto porteño que promete, tiene en su sitio web (al que se puede acceder en la sección de bandas amigas aquí en Zann) su primer EP sin título que simplemente ha volado la cabeza de quien les escribe. Pregonando un estilo de música instrumental que mezcla aspectos de Pelican, GYBE!, Tool con cosas psicodélicas de los 70's (son fanáticos de Hawkwind, Gong, King Crimson, etc.) han creado uno de los discos del año. Tocar el Theremin con ellos debe ser una de las experiencias que más me llenaron de felicidad del 2007. Son bienvenidos a la familia de Zann cuando quieran.
Birushanah
Akai Yami
Alejandro's pick:
Así va a sonar Tokio cuando sea destruido por cientos de monstruos marinos gigantes.
Manuel's pick:
Ruidos de chapas, fierros y maderas, un japonés que grita. Acoples. No es Godzilla pisando edificios de Tokio, es Birushanah, excelente recomendación de Alejandro para el 2007.
Buried At Sea
Ghost
Manuel's pick:
Por si no te alcanzó con bandas jodidas de doom como Bloody Panda, Monarch!, Ramesses, Birushanah, Orthodox, etc, te presentamos Buried at Sea, quienes tiran para el lado de la monotonía drone y la experimentación (Bah, en realidad las mencionadas también lo hacen, pero bueh). Buen año para el doom, ¿eh?
Alejandro's pick.
Sleepytime Gorilla Museum
In Glorious Times
Erich Zann's pick:
Tristan Tzara would be proud of STGM lyrics. And of the music as well.
Electric Wizard
Witchcult Today
Manuel's pick:
Si señor, los riffs dumbetas no paran de inundar este blog repleto de humo, guitarras dropeadas e imágenes medievales sobre brujería (¿?). Ride the snake to the smoke-riff filled land...
Om
Pilgrimage
Manuel's pick:
Como el nombre lo indica, la música de Om es para dejarse llevar en un trance eterno al ritmo de riffs lentos y repetitivos.
Ulver
Shadows of the Sun
Erich Zann's pick:
There will be a day when we will be able to produce such fascinating music as Ulver's. Until then we keep on listening and admiring.
Marilyn Manson
Eat Me, Drink Me
Gabe Toxic's pick:
Lejos de ser el mejor disco de Manson (bastante lejos, de hecho), este disco tiene la particularidad de ser el primero desde "Mechanical Animals" (1998) que desestructura un poco el sonido típico al que nos tiene acostumbrados el Reverendo. Lejos también de análisis filosóficos, orgías de drogas y mujeres, críticas sociales, conflictos institucionales y misantropía, este disco encuentra a su autor lírico y productor en un plan íntimo e introspectivo, en el que se anima a exponer emociones que a más de uno le resultarían vergonzosas.
Musicalmente la cosa estuvo dirigida por Tim Skold, quién compuso, produjo e interpretó todos los instrumentos para dar lugar a Manson a hacer lo que quiera (o pueda) desde la voz.
Destacables algunos, olvidables otros, todos los temas incluyen un solo de guitarra (se extrañaba un poco eso en el rock, qué quieren que les diga) y no siempre está bien ubicado ni hecho con buen gusto, pero todos tienen alma.
El disco hace agua quizás en que tiene pocas variaciones rítmicas, y se torna aburrido después de algunas escuchadas.
Ah, y se está comiendo una borrega 20 años menor que el. Eso es rock.
Monster Magnet
4-Way Diablo
Gabe Toxic's pick:
Dave Wyndorf es Dave Wyndorf. No sabe ser nadie más, ni parece interesarle. Sobredosis, demoras, quilombos... pero finalmente el nuevo disco de Monster Magnet fue editado, y cuánta falta me hacía. No sé qué es exactamente lo que hace que haga lo que haga este tipo, me guste. Pero espero que no deje nunca de hacerlo. Rock del bueno, rock del viejo, rock con bolas, actitud, un cover de los Stones ("2,000 Light Years Away") y lo que vienen dando desde "Powertrip".
Ministry
The Last Sucker
Gabe Toxic's pick:
Último disco de esta legendaria banda industrial... y qué se puede decir. El Tío Al lo ha hecho de nuevo. Siguen en ese plan industrial-thash-anti-Bush y supongo que es una buena forma de despedirse. Irónicamente este disco se editó en el mismo año que falleció Paul Raven, bajista de Killing Joke, amigo de Jourgensen y partícipe del disco anterior, "Rio Grande Blood", tanto en estudio como en la gira que promocionó ese lanzamiento.
Está Burton C. Bell en un tema.
Manuel's pick:
Te vamos a extrañar Al, te vamos a extrañar Paul.
Goon Moon
Licker's Last Leg
Gabe Toxic's pick:
Este lo pongo por raro. Jeordie White (A Perfect Circle, NIN, y más conocido como Twiggy Ramírez de Marilyn Manson) y Chris Goss (Masters Of Reality y también algunas cosas con QOTSA) son las cabezas detrás de este proyecto medio colgado, raro, con partes desparejas de rock, stoner, psicodelia, experimentación y... no sé. Posta no me animo a calificar esto. Me gusta, pero por momentos me saca de quicio.
Machine Head
The Blackening
Martín's pick:
El Machine Head maduro que queríamos, un poquito forzado, pero lograron su master of papet.
Cephalic Carnage
Xenosapien
Martín's pick:
El metal transformado en insana poesía técnica
Manuel's pick:
A pesar de que la técnica es lo menos relevante en una banda como Cephalic Carnage, tengo que coincidir con Martín (que desgracia) en que los cinco drogadictos de Colorado lo lograron una vez más. Escuchar este disco ha sido una de las experiencias más placenteras de este año que ha pasado.
Nile
Ithyphallic
Martín's pick:
Como llegarle a la final del death con una ficha, y sin truco.
Divine Heresy
Bleed the Fifth
Martín's pick:
El Cazares agresivo que yo quería, disco con hermosas canciones, sin push up.
Darkest Hour
Deliver Us
Martín's pick:
Sueciestados Unidos con sentimiento. Te creo todo hora oscura.
Sayyadina
Mourning the Unknown
Martín's pick:
Empujando los límites hacia el precipicio, con una topadora.
Dark Tranquillity
Fiction
Martín's pick:
Death Metal Melódico Sueco, envasado en origen, cosecha –XVVIII antes de cristo.
Car Bomb
Centralia
Martín's pick:
No lo intenten en sus casas.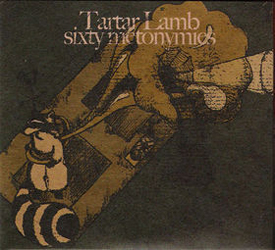 Tartar Lamb
Sixty Metonymies
Alejandro's pick:
Con gente de Kayo Dot, un disco desestructurado, donde las canciones nunca terminan de armarse. El violín nos lleva de paseo y por detrás (muy por detrás) baterías jazzeras, trompetas y alguna que otra guitarra de caja gorda.
To Kill a Petty Bourgeoisie
The Patron
Alejandro's pick:
Sobregrabaciones y más sobregrabaciones agobiantes, y una chica que canta mal.
Alcest
Souvenirs d'un Autre Monde
Alejandro's pick:
Un músico de black metal de la vieja escuela que es fana de dead can dance. Un blackmetalero celebrando la primavera.
Björk
Volta
Alejandro's pick.
Un disco muy ruidoso. Demasiado. Donde la figura de la islandesa pasa a un segundo plano y todo lo que suena alrededor cobra vital importancia.
Charlotte Gainsbourg
5:55
Alejandro's pick:
Hija de Monsier Gaisbourg y Jane Birkin, este es su album debut, en el que participaron los de Air. Y donde yo termino de enamorarme de ella.
Splitter
Avskräckande Exemplar
Fernando's pick:
Los suecos no se olvidan de Nasum. Y lo bien que hacen.
Report Suspicious Activity
Dreamland
Fernando's pick:
Vic Bondi (Ex lider de los míticos Articles Of Faith) se junta con J. Robbins (lider de luminarias Post-Hardcore como Jawbox, Burning Airlines y Channels) y Darren Zentek (baterista de Kerosene 454 y Channels) y nos trae "la banda de sonido para la próxima impuganción".
Disclaimer From Beyond:
About the record selection, I must say that I avoided any intromission to the staff's personal choices. Of course, I do not agree with some of them but I am not one to censor or claim any kind of judgment about their (goor/bad) musical taste.
Several of the mentioned bands do not respect the ideals of the label concerning honesty or independence, in creative and/or commercial terms. And some others, my dear folks, even when they do follow these ideals, are extremely repelling, either for their lack of creative horizons or because of an excess of themselves.
I hope you can interpret my words.
Sobre las elecciones de discos, debo decir, he evitado entrometerme en las elecciones personales del Staff. Por supuesto, no estoy de acuerdo con varias de ellas pero lejos de mí se encuentra la censura y el juicio de valor sobre los gustos (o disgustos) musicales ajenos.
Varias de las bandas mencionadas no respetan los ideales del sello en cuanto a independencia y honestidad, tanto en términos creativos cuanto en lo que a manejos "comerciales" se refiere. Y otras propuestas, mis queridos amigos, aún cuando cumplan con estas premisas, me resultan desagradables en extremo; sea por su falta de horizontes creativos, sea por exceso de sí mismos.
Ustedes sabrán interpretar mis palabras.
Erich Zann.
(Momentarily from Hyades)