Por Fernando Suarez.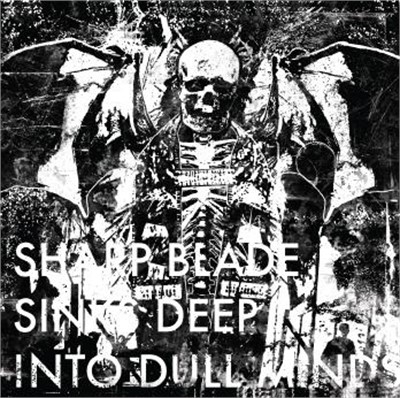 -Defeatist "Sharp blade sinks deep into dull minds" (2009)
Tres tipos (entre ellos ex miembros de Kalibas y Anodyne) se juntan con ganas de saciar su sed de Grindcore, con Napalm Death, Terrorizer y Repulsion como principales referentes. En 2007 editan dos ep's ("In praise of false hope" y "Thanatonic state") y un split con los canadienses Kursk, titulado "Mechanisms of sanctimonious filth". Un tiempo después, el sello Willowtip decide juntar todo ese material en un solo y cómodo pedazo de plástico y aquí tenemos esta afilada hoja que se hunde profundo en las mentes embotadas. Veinte temas en poco más de veinticinco minutos y ni un segundo de piedad para los débiles. Blast-beats a toda velocidad, alaridos rabiosos, riffs que serruchan los sentidos y esa sensación de ser atacados por ráfagas de pura energía negativa. Más allá de las intenciones old-school del trío (enmarcadas en las referencias antes mencionadas), aquí hay algo más. Sin llegar al grado de experimentación de otros como Discordance Axis, Pig Destroyer o los mismísimos Brutal Truth, Defeatist se las arregla para tender un puente entre las tendencias más cerebrales del Grindcore de los últimos años y la crudeza salvaje de sus primeros pasos. Así, el baterista Joel Stallings, hace honor a su pasado en Anodyne (una banda que fluctuaba entre el Mathcore más opresivo y el Noise-Rock más violento), desparramando golpes a toda velocidad pero con un grado de demencia, variedad y soltura no muy habitual en el Grindcore, mientras que Aaron Nichols (antes miembro de los Grind-Mathcoreros Kalibas) deshace su guitarra entre riffs borroneados y catárticas erupciones de ruido disonante. Todo esto sin perder nunca esa urgencia Punk y mugrienta que nos legaron clásicos como "Scum" o "World downfall". Digamos que, casi sin proponérselo, Defeatist logra resultados sumamente personales sin necesidad de salirse por tangentes demasiado exóticas ni caer en forzados eclecticismos o chistes sin gracia. Justamente, es en esa frescura, en esa intensidad sincera y virulenta donde se encuentra el mayor atractivo del grupo. Imprescindible para cualquier fanático del Grindcore que se precie de tal.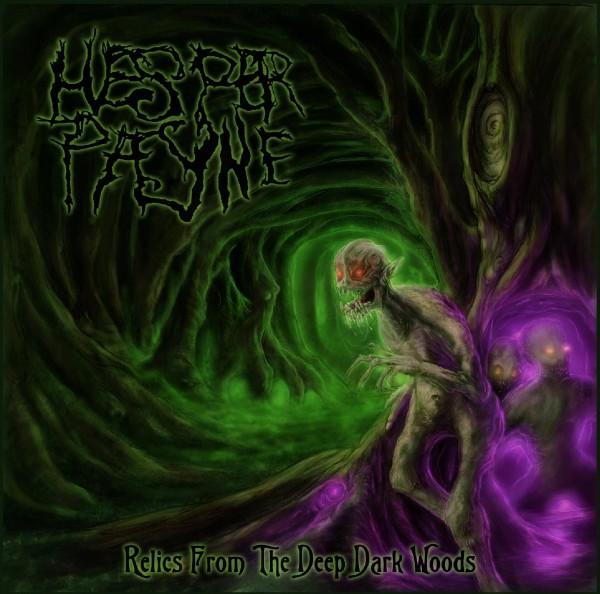 -Hesper Payne "Relics from the deep dark woods" (2009)
Hesper Payne nace en 2004 a partir de, básicamente, dos premisas. La primera fue el deseo de Brooke Johnson (también miembro de The Axis Of Perdition, Irradiant, Pulsefear y Mine[thorn], entre otros proyectos) de experimentar con una nueva guitarra de ocho cuerdas, y la segunda (un poco menos…pragmática, por así llamarla) fue la intención de recrear el más espeso y épico Doom/Death tomando inspiración tanto del folklore druídico como de las pesadillas cósmicas de H.P. Lovecraft. "Relics from the deep dark woods" reúne ocho canciones tomadas de sus primeros demos (no teman, el sonido exhibe una calidad digna de las producciones más cuidadosas) y es ofrecido de forma gratuita para descarga digital en el mismo myspace del grupo, www.myspace.com/hesperpayne. El sonido del, ya disuelto, trío (que cuenta también con la presencia de Ian Fenwick, compañero de Johnson en The Axis Of Perdition y Mine[thorn], en el bajo) tiene claras raíces en la tradición inglesa marcada por bandas como Esoteric o los primeros trabajos de Cathedral y Electric Wizard. Es decir, Doom lento, gordo, oscuro, ominoso, de enormes riffs arrastrados, tempos babosos, ocasionales teclados, voces guturales y atmósferas de absoluto horror místico. Lo curioso es que, en un tiempo en el que las diversas ramificaciones del Doom (Drone, Sludge, Post-Metal, etc.) proliferan como una plaga, pocos son los exponentes dedicados a esta vertiente específica sin agregados "modernos". Lo cual no es bueno ni malo, sólo es una observación. En el caso de Hesper Payne, se nota que tienen muy claro sus objetivos y cómo lograrlos. Aprendieron a la perfección los capítulos más importantes (o sea, los cinco primeros) de la Biblia Sabbáthica pero también comprendieron la importancia de Celtic Frost a la hora de crear estas grotescas criaturas musicales. Si hasta se permiten alguna que otra levantada de velocidad casi Blackmetalera (si no fuera por el sonido grave y embarrado, más cercano al Death) que no hubiera desentonado en las más primitivas grabaciones de Hellhammer. Por lo demás, aquellos que alguna vez hayan disfrutado de discos como "Forest of Equilibrium", "Gothic", "As the flower withers" o el inmortal "Into darkness" de los no siempre reconocidos Winter, así como de propuestas actuales cercanas al Funeral-Doom como las de Asunder o Colosseum, aquí encontrarán un suculento plato, con tentáculos y todo. Puede caerles pesado, muy pesado, pero se supone que esa es la idea.


-Irradiant "A gift from the heart" (2009)
Si seguimos la evolución musical de The Axis Of Perdition, desde el intrincado Black Metal de sus primeros trabajos hasta esa suerte de soundtrack Industrial editado a comienzos de este año bajo el nombre de "Urfe", no es de extrañar que nos encontremos con diversos proyectos paralelos enrolados en las vertientes más abrasivas y pesadas de la Música Industrial. Irradiant es el outlet unipersonal de Brooke Johnson y, a la hora de citar influencias, el británico menciona a Godflesh, Blut Aus Nord, Red Harvest…y Godflesh nuevamente. Como buen admirador de Justin Broadrick que soy, semejante introducción ya me predispone bien. Efectivamente, aquí tenemos mucho Godflesh. Densas bases mecanizadas, un bajo que gruñe y nos estrangula con sus graves cubiertos de herrumbre, riffs económicos y disonantes, y extensas composiciones plagadas de opresivas atmósferas post-nucleares y los samples más corrosivos que puedan imaginar. Por otro lado, el terreno vocal se mueve entre alaridos cercanos al Black Metal, violentos recitados de garganta pedregosa y oscuros pasajes melódicos empapados de delay que remiten, claro que sí, al Godflesh más accesible, por así llamarlo. Más allá de la innegable influencia del ex grupo de Justin Broadrick, los modismos Blackmetaleros le dan otra perspectiva a Irradiant y allí es donde las comparaciones con bandas como P.H.O.B.O.S. o los mencionados Blut Aus Nord (al menos, el Blut Aus Nord de discos como "Mort" u "Odinist") y Red Harvest tienen sentido. En definitiva, si hablamos de nihilismo, oscuridad, asfixia, visiones apocalípticas y profundas sensaciones de desagrado, es lógico que los caminos de Godflesh y del Black Metal se crucen. Irradiant logra dicha fusión con una naturalidad pasmosa, reptando entre océanos de chatarra oxidada y derruidos esqueletos de grises edificios como si nada, envuelto en un sonido que infecta las neuronas, corroe el alma y entumece el cuerpo. Y, como si esto fuera poco, Johnson entrega este material (en su myspace, www.myspace.com/agiftfromtheheart) para descargarlo de forma gratuita, tal como lo hicieran con otros proyectos (Hesper Payne y Monument. Estos últimos también enrolados en la adoración a Godflesh) relacionados a The Axis Of Perdition. En conclusión, si quieren material realmente pesado y contundente pero están hartos del Post-Metal y la infinidad de bandas mezclando Sludge con Crust, he aquí una excelente opción.
-Jesu "Opiate sun" (2009)
Pero, ¿otra vez? Y sí, no puedo conmigo mismo. Ya sé, es sólo un ep. Son cuatro roñosos temas en casi veintiséis minutos pero con eso sólo le basta al maldito Justin Broadrick para confirmar su lugar de excepción en mi corazón. "Losing streak" nos da la bienvenida con el típico esquema Jesucero, es decir ritmos lentos y contundentes, incesantes cascadas de guitarras distorsionadas que dibujan grises pinturas en el alma y un caudal melódico que se clava en el alma y las estruja hasta que asoma la primera lágrima. La diferencia es que, en esta ocasión, hasta es posible vislumbrar una luz cegadora al final del viaje y la sensación es más de reflexión tras haber superado el terremoto emocional, que de regodeo en la depresión misma. Ah sí, habría que mencionar que este ep marca el debut (en dos de los temas) del baterista Phil Petrocelli y que su edición corre por cuenta del sello Caldo Verde, propiedad del ex líder de Red House Painters, Mark Kozelek, pero a quién le importan esas nimiedades. Llega el tema que da título al disco y Justino sigue demostrando que es el mejor compositor de canciones melódicas del Metal actual. La cruza de cristalinos arpegios, graves resonantes y texturas corrosivas, puestas al servicio de la más sentida melancolía Pop, es sencillamente apabullante en su profundidad musical. Le sigue "Deflated", con un riff principal que no hubiese desentonado en las visiones apocalípticas de Godflesh, si no fuera por esos celestiales arreglos de guitarra y esas melodías ideales para tararear con un nudo en la garganta. Y si ese hipnótico final no les llena el alma de preguntas, es porque no tuvieron una vida. "Morning light" cierra el viaje entre densos machaques, desgarradores arpegios enchastrados de distorsión y esos climas entre la ensoñación y el llanto que Broadrick logra con tanta facilidad. En fin, es sólo un souvenir (aunque notablemente superior a los últimos ep's del grupo) y no creo que le interese a nadie que no sea fanático confeso de Jesu, de Justin en general o de las grandes canciones con melodías perfectas y sensibles. Para ellos, he aquí un delicioso (aunque breve) bocado.
-Jodis "Secret house" (2009)
Nombres como Celan, GreyMachine o Shrinebuilder postulan a este 2009 como un año generoso en proyectos paralelos (casi supergrupos, se podría decir) de extracción ruidosa/pesada/vanguardista y excelentes resultados. Jodis también se inscribe en dicha categoría, contando en sus filas con Aaron Turner (Isis, Old Man Gloom, House Of The Low Culture y, casualmente, GreyMachine), Tim Wyskida (Blind Idiot God, Khanate, Khlyst) y el gran James Plotkin (hermano no reconocido de nuestro Manuel Platino y miembro de O.L.D., Phantomsmasher, Khanate y Khlyst, entre tantos otros) y entregando este "Secret house", un disco que mantiene alto el nivel de estas congregaciones de ilustres desconocidos. Con el historial de los implicados, es probable que imaginen una bestia de riffs aplastantes, ritmos moribundos y atmósferas desoladas. Bueno, el clima es ciertamente árido, hipnótico y agobiante pero de ninguna manera se trata de un ejercicio de Drone, Doom, Noise o nada que se le parezca. De alguna forma, podríamos decir que "Secret house" es algo así como un Khanate despojado del Metal y el ruido extremo. Me explico. Rítmicamente, las composiciones se mueven a un paso agónico, ondulante, tan lento que por momentos parece disolverse en su propia depresión. El trabajo de Wyskida tras los parches remite a lo hecho en sus grupos anteriores, pero aquí se encuentra mucho más controlado, manejando esos tempos casi azarosos pero dosificando sabiamente sus golpes más duros. El bajo de Plotkin suena profundo y relleno pero deja de lado, casi por completo, las texturas corrosivas y los arreglos disonantes. Turner, por su lado, reduce su guitarra a esporádicos acordes que van cayendo suavemente entre envolventes resonancias, casi como si trazara un puente entre la densidad del Drone (aunque sin la gordura sonora habitual) y la melancolía del Slow-Core (para aquellos que no tienen idea de lo que estoy hablando, chequeen grupos como Low, Codeine o Rex), dos géneros unidos por concepciones claramente minimalistas. En lo vocal, el mismo Turner alterna entre mantras casi susurrados, melancólicas líneas melódicas (logrando aquí superar sus incursiones melódicas en Isis e inclusive animándose con algún que otro falsete de aires fantasmales) y sus habituales rugidos quebrados, sólo que estos últimos en lugar de sonar monolíticos y grandilocuentes, se tornan más bien sufridos y vulnerables. Las composiciones siguen un patrón similar de espesa lentitud y melodías que se van armando muy de a poco, con los instrumentos y la voz encastrándose a cada paso, como si se trata de piezas de un Tetris en blanco y negro. Por momentos da la sensación de que parten de una idea básica y a partir de ahí la repiten dejando espacio para improvisar mínimas variaciones y arreglos. Jodis acentúa el acercamiento, que ya se viene dando desde hace unos años, entre la sensibilidad del Indie-Rock y la pesadez de las corrientes extremas actuales, inclinando la balanza hacia el lado del primero, al menos en esta ocasión. No se trata de un material fácil de encasillar ni de absorber (sin necesidad de estridencias ni excesos sónicos logra ser tan opresivo como el más reventado de los Sludges, si no más), pero justamente allí reside gran parte de su encanto. No se lo pierdan.
-Lye By Mistake "Fea Jur" (2009)
Si aceptamos que la principal diferencia entre el Mathcore y otros géneros metálicos con igual propensión hacia las composiciones intrincadas y los afiebrados despliegues de técnica instrumental, está dada por el sufijo "Core", que hace las veces (dadas sus raíces Punks) de sinónimo de crudeza e intensidad en estado puro, entonces bien podríamos afirmar que Lye By Mistake está haciendo todo lo posible por acortar las distancias entre estilos. Tras la partida del cantante/tecladista Tony Saputo, los tres miembros restantes decidieron continuar como una entidad instrumental y el cambio es notable. El disco anterior ("Arrangements for fulminating vective", editado en 2006) mostraba al conjunto moviéndose en las turbulentas aguas que bautizaran grupos como The Dillinger Escape Plan y Mr. Bungle, logrando, a pesar de lo remanido de su propuesta, resultados más que interesantes. Bien, si al abandono de las voces le suman el dato de que este "Fea Jur" cuenta con ocho temas desperdigados en poco más de cincuenta minutos, mientras que su predecesor se bastaba con media hora para la misma cantidad de canciones, ya pueden ir imaginándose por dónde vienen los tiros. Liberados de las restricciones de los típicos alaridos del Mathcore, los muchachos dan rienda suelta a su pasión por el más rebuscado y sesudo Rock Progresivo. Por supuesto, todavía hay rastros de la efervescencia de antaño y, ciertamente, la contundencia metalera no se ha perdido del todo, pero este material tiene más chances de agradar a seguidores de bandas como King Crimson, Mahavishnu Orchestra, Dysrhythmia o el costado más intelectual de Atheist y Cynic (aunque sin el Death Metal, claro), que a quienes disfrutan con los espasmos de Psyopus o Cryptopsy. Los dedos, brazos y piernas de estos tipos se mueven a toda velocidad, rellenando cada espacio con vertiginosas notas, trenzándose en agotadoras batallas de destreza instrumental y dibujando paisajes geométricos donde la que se agita es la mente antes que el cuerpo. Hay variedad, claro. Tenemos pasajes de pura cepa Jazzera, algún que otro arreglo electrónico, melodías épicas que rozan el Metal tradicional, remansos psicodélicos/espaciales, guitarras acústicas y un montón de ritmos contracturados y estructuras vuelteras. Los fanáticos acérrimos de todo aquello que sea Progresivo y complicado estarán de parabienes, para los demás, esto es un buen material pero puede llegar a resultar demasiado sobrecargado.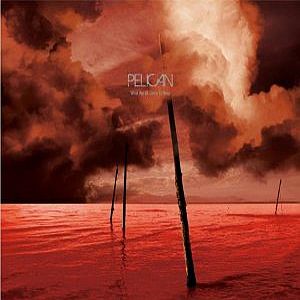 -Pelican "What we all come to need" (2009)
Ok, primero los datos fríos. Cuarto disco de Pelican (sin contar la infinidad de ep's, splits y demases), el cuarteto oriundo de Chicago que, a principios de la corriente década revitalizó la idea de hacer Metal instrumental a base de un sonido tan fresco y creativo como contundente y monolítico. Cuenta con invitados de lujo, como Greg Anderson (Sunn 0))), Goatsnake, Ascend, Burial Chamber Trio, Pentemple, fundador de Southern Lord, el sello que, precisamente, edita este álbum), Aaron Turner (fundador de Hydrahead, el sello anterior de Pelican y artífice de un montón de proyectos que se mencionan en el comentario de Jodis), Ben Verellen (Harkonen, Helms Alee) y Allen Epley (actualmente en The Life And Times, ex miembro de los geniales Shiner). Este último se destaca también porque pone su voz en "Final breath", el hermoso tema que cierra el disco y se erige como la primer canción de Pelican en contar con voz cantante. Como suele suceder con esta gente, el ep "Ephemeral", editado sólo unos meses atrás, ya anticipaba algo de lo que ahora encontramos desarrollado en "What we all come to need". Efectivamente, luego del Post-Rockero "The fire in our throats will beckon the thaw" y del melódico/cancionero "City of echoes", el cuarteto recupera algo de la malignidad y la pesadez de sus primeras obras. Lo interesante es que no se trata de la típica "vuelta a las raíces" (un eufemismo para falta de ideas y estancamiento creativo), si no más bien de una nueva mirada a ese espíritu dumbeta atravesada por las variantes y la madurez compositiva que aportaron aquellos discos. Los ritmos ganan en contundencia sin por ello arrinconarse en ella como único recurso, las guitarras raspan y dibujan intrincados símbolos, invocando oscuras visiones pero manteniendo siempre un cuidadoso sentido de la dinámica y un enorme respeto por la emoción y la melodía. Bien vale aclarar que, cuando hablamos de pesadez, ya no se trata de aquellos truenos y estallidos sísmicos que inundaban "Australasia" y el ep homónimo, si no más bien de un sonido más cercano al Stoner Rock, saturado de graves pero con el aire suficiente como para dejar espacio a un hipnótico groove. Como en todo trabajo de Pelican, las palmas se las llevan las guitarras de Laurent Lebec y Trevor de Brauw, desplegando un inmenso abanico de ideas entre riffs espiralados, arpegios soñadores, envolventes texturas, emotivos punteos y logradísimos contrapuntos. Todo sin caer nunca en la autoindulgencia, con la atención puesta en las canciones y sin necesidad de jugar carreras en el diapasón. Por supuesto, cualquiera que haya seguido mínimamente la carrera de esta gente sabrá que ninguno de sus discos suena igual al anterior y que, al mismo tiempo, esa evolución se va dando de forma gradual y orgánica, sin bruscos cambios de timón. En ese sentido, "What we all come to need" representa, sin duda alguna, uno de los puntos más altos de la discografía Pelicanera.
-Portal "Swarth" (2009)
Puedo ser el primero en festejar el retorno del Death Metal a las canciones y la simpleza, luego de años de técnica estéril y brutalidad sin sentido, pero también seré el primero en admitir que todo este revival "old school" no aporta nada más que algunos ratos de agradable nostalgia. Ahora bien, si tuviera que señalar un grupo capaz de hacer avanzar artísticamente al Death y llevarlo a inexploradas planicies de imaginación, sin duda alguna el nombre Portal (no, nada que ver con Raúl, sus mascotas y sus caracúlicos) haría su aparición. En sus más de diez años de carrera, estos dementes australianos han generado un universo propio dentro del Metal extremo. Su música no se trata simplemente de riffs vertiginosos, ritmos frenéticos y gruñidos de ultratumba. Todo eso está presente, pero enmarcado en un sentido de la composición absolutamente cinemático y tridimensional. Portal toma inspiración de las pesadillas cósmicas de Lovecraft pero también del expresionismo y el surrealismo a la hora de construir sus intrincadas escenas de violenta psicodelia en blanco y negro. Por supuesto, aquí se ha colado algo de Black Metal, ya sea en algún que otro riff disonante, como en la teatralización macabra y las referencias ocultas de su estética. Bien vale aclararlo, lo musical y lo estético son un todo indivisible aquí, un concepto llevado a cabo con sumo cuidado intelectual y una precisión apabullante. Esto no quiere decir que la música quede en segundo plano, por el contrario, es allí donde las retorcidas visiones del quinteto cobran vida. Guitarras que vuelan entre riffs laberínticos, cascadas de puro ruido, angulares invocaciones disarmónicas, envolventes texturas cargadas de maligna tensión y un sinfín de ideas puestas al servicio de destruir neuronas y alterar las percepciones. Una base rítmica que erige arquitecturas imposibles de concebir por la matemática humana, con un manejo de la dinámica sencillamente esquizofrénico y una habilidad pasmosa para refrescar los típicos elementos del Death (blast-beats, doble bombo excesivo, rebajes épicos) a partir de ideas tan sencillas como certeras. La voz se limita a relatar, de la forma más gutural y ominosa posible, los tortuosos recorridos de este viaje y no hace falta pedirle más. Ojo, a pesar del enorme despliegue técnico y la rabiosa locura que exhiben las composiciones, no se trata de amasijos de riffs y partes sin sentido. Como dije antes, la música de Portal tiene una fuerte presencia visual, casi cinematográfica, por ende los temas están armados de forma tal que el argumento sea relatado con mayor efectividad. Esto significa que aquí no hay estribillos ni riffs gancheros pero, aún así, cada canción mantienen una lógica interna coherente y acorde al desarrollo de las imágenes. Por supuesto, esto no es material fácil (aún para los parámetros Deathmetaleros, para quienes el sonido crudo y áspero del quinteto puede llegar a resultar demasiado incómodo) y exige, no sólo un grado importante de concentración, si no también la suficiente fortaleza espiritual y mental para no sucumbir ante semejante desparramo de visiones perturbadoras. Sin duda alguna, el mejor disco de Death Metal en lo que va del año.
-Switchblade "Switchblade" (2009)
Con doce años de carrera y una evolución que los llevó del frenético Noise-Core de sus comienzos a esta especie de Drone-Doom-Post-Metal casi instrumental que exhiben desde 2001 (un cambio que también coincidió con la decisión de descartar los títulos de las canciones, así como ya lo habían hecho con los de los discos. Sí, todos los discos de estos suecos son homónimos), resulta curioso que Switchblade no reciba la misma atención que grupos, en mi opinión, inferiores como Cult Of Luna o Mouth Of The Architect, en un estilo similar. Tal vez tenga que ver con ese hermetismo que ellos mismos predican o con que su estilo es mucho más oscuro, sórdido y hostil que el de las bandas mencionadas. De alguna forma, el sonido de este trío es comparable al Doom agónico y asfixiante de pioneros como Burning Witch e inclusive Khanate, con ritmos moribundos y espaciados, riffs minimalistas y atronadores, graves crujientes y amenazantes, climas de oscurísima tensión, extensos pasajes de macabra ambientación lisérgica y esporádicas voces chilladas desde el más profundo de los abismos. Por otro lado, es imposible no detectar ciertos aires de intelectualidad en la construcción de algunos riffs y las estructuras de las composiciones, que los acercan a los momentos más pesados y malignos de Isis o Neurosis. Este quinto álbum (sin contar splits, ep's y compilados) presenta tres temas entre los doce y los dieciocho minutos y pico de duración cada uno (en realidad, se supone que sea una composición entera dividida en tres partes) y queda claro que no se trata de material para animar ninguna fiesta. Inclusive, el enorme grado de oscuridad que tiñe las canciones, sumado a los alaridos desgarrados, el esotérico arte de tapa y el hecho de que este disco haya sido editado el día nueve del mes nueve del presente año, le dan cierto regusto Blackmetalero al resultado final. No por nada en su anterior entrega ("Switchblade" de 2006) contaron con la participación de Erik Danielsson, de Watain y bajista en vivo de Dissection, en las voces. Justamente, en aquel disco también colaboró Mattias Friberg, de los Indie-Rockers suecos Logh, lo cual nos da una buena pauta de las inquietudes estilísticas del trío. En cualquier caso, en una actualidad plagada de bandas similares, Switchblade se las arregla para atraparnos en su siniestro viaje, a través de una concepción sumamente inteligente de las pautas compositivas de esta rama más extrema del Doom (les aseguro que, a pesar de su larga duración, los temas se pasan volando como si nada) sin por ello asfixiar la intensidad ni la visceralidad de la entrega. Absolutamente recomendado.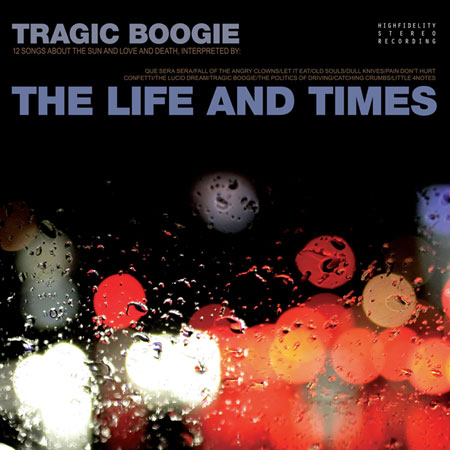 -The Life And Times "Tragic boogie" (2009)
En la review de Pelican hice una fugaz mención pero bien vale comentar que Shiner fue una banda que existió entre 1992 y 2002 y se caracterizó por practicar una particular cruza de Post-Hardcore, Noise-Pop, Space-Rock y Grunge, de alguna forma comparable a sus contemporáneos (y también muy recomendables) Failure, Hum o Castor. Tras su disolución, Allen Epley (cantante, guitarrista y líder de aquella formación) fundó The Life And Times manteniendo vivo el espíritu de su anterior banda. "Tragic boogie" es su segundo larga duración y en él encontramos doce canciones ideales para flotar entre espesas ráfagas de distorsión y suaves líneas melódicas. Desmenuzando en detalle la propuesta del trío, podemos hablar de una base rítmica que alterna entre movedizas complejidades y expansivas liberaciones de tensión, sosteniendo siempre con un pulso sólido y ubicado las dinámicas cambiantes de las composiciones. Un marco ideal para que la verdadera figura (el mismo Epley, por si no había quedado claro) se encuentre a sus anchas. Tal como hiciera Bob Mould en los gloriosos Sugar, el buen Allen no se conforma con grabar una sola guitarra por track. Por el contrario, nos sumerge en capas y capas de guitarras, generando intrincadas texturas entre distorsiones, sonidos acústicos, efectos y una vasta gama de arreglos. Por momentos con riffs de clara escuela noventosa y cubriendo un rango que va desde las frágiles melodías de Sunny Day Real Estate hasta las contracturadas disonancias de Fugazi y Jawbox, y en otros con simples progresiones de acordes y arpegios de sabor Pop melancólico recubiertos por una densa cobertura de ruido cósmico. En el terreno vocal, la cosa es un tanto más simple, por así decirlo. Epley hace gala de melodías tan gancheras como emotivas, eludiendo los facilismos golpebajeros pero apuntando siempre al corazón. Por momentos puede sonar a una versión sofisticada del costado más soñador de los Foo Fighters y hasta algunos pequeños quiebres de voz remiten inevitablemente al malogrado Kurt Cobain. A todo eso, súmenle estratégicas apariciones de pianos y teclados apuntalando aún más la sensibilidad entre voladora y desgarrada de las canciones. Tal vez piensen, dada la gran cantidad de referencias mencionadas a lo largo de este comentario, que esto se trata simplemente de un rejunte de sonidos de la década pasada sin mayor elaboración. De ninguna manera, la personalidad de The Life And Times es innegable y sólo basta una escucha para reconocer sus pautas distintivas. En todo caso, el uso de referencias habla más de mi incapacidad para describir cabalmente el incesante flujo de emociones y musicalidad desplegado aquí, que de las verdaderas intenciones del grupo. En fin, buenas canciones, emoción, vuelo creativo y un marcado espíritu noventoso, ¿qué más le pueden pedir a la vida?
-White Mice "Ganjahovahdose" (2009)
Alguien se descuidó y dejó abiertas las puertas del manicomio en, nada más ni nada menos, que Providence, Rhode Island, hogar de nuestro querido H.P. Lovecraft. Tres de los internos, munidos de sendos disfraces de ratones blancos (claro), lograron, de alguna forma, hacerse con instrumentos musicales y ya llevan más de seis años atormentando a la población con lo que ellos creen que es música. Aquí en Argentina, al pensar en roedores albinos, acuden a la mente recuerdos de mujeres amantes y guerreros del arco iris. Bueno, puedo imaginarme (con cierto placer perverso, para qué negarlo) al longilíneo Walter Giardino manchando sus pantalones de cuero con rancios orines y despidiendo el excremento que reemplaza su materia gris por los oídos al enfrentarse a la pesadilla sónica que representa este afiebrado "Ganjahoahdose". ¿Quieren definiciones? Bueno, podría ser Grind-Sludge-Noise-Core-Black-Jazz-Psicodélico-Con-Las-Neuronas-Derretidas-Por-El-Ácido-Y-Las-Costillas-Laceradas-A-Latigazos-Eléctricos. Podríamos pensar en unos Butthole Surfers atragantados de cocaína y tratando de versionar al primer Mayhem o en lo que hubiese sucedido si Justin Broadrick entraba a Faith No More y reemplazaba las composiciones por coloridos vómitos inducidos por la ingesta de líquido para frenos. Podría mencionar a esa batería hiperquinética que reparte golpes como si las voces en su cabeza le dijeran que debe exterminar a los insectos que inundan los tambores o a ese bajo que se enrosca en erupciones degradadas de puro magma verduzco. Habría, entonces, que hablar de esa guitarra que descree de la comodidad y las buenas costumbres y se quiebra entre envolventes cascadas de feedback, disonancias surrealistas y ondulantes, casi viscosos, riffs. ¿Y las voces? ¿Acaso se reducen a cuerdas vocales resquebrajadas y forzadas a través de un deformante tamiz de efectos y distorsiones varias? Claro que sí. ¿Y las canciones? Diez sórdidos himnos a la psicosis más violenta y asfixiante, diez tratados sobre el ruido y las miradas desorbitadas, diez perlas cubiertas de pus y jugo gástrico que dan vuelta las nociones que teníamos sobre música extrema. Nada de solemnidad, nihilismo autocompasivo ni poses rudas. White Mice te patea en las encías con una enorme y sangrante sonrisa en el rostro, rockea hasta desmayarse mientras revolea la chota y grita obscenidades de proporciones bíblicas, se retuerce desnudo en su propio sudor de meses y juega a arrancarse pedazos de piel con las uñas, planta bombas de gas mostaza en los conductos de aire del subterráneo y organiza orgías sadomasoquistas en los jardines de infantes. Esto es excitación pura, en su estadío más salvaje y degenerado, un festival de cuerpos sin espina dorsal danzando como babosas atravesadas por electroshocks. Ideal para celebrar con una buena copa de semen ajeno.