Por Fernando Suarez.



-Far "Water & solutions" (1998)
Hoy en día el blanco fácil para hacer bromas despectivas dentro del Metal es el Metalcore. Hace no muchos años atrás dicho lugar lo ocupaba el Nü-Metal, ¿se acuerdan? La ropa de adidas, los gestos de adolescente conflictuado, el Rap y los riffs de dos notas afinadas bien abajo. Lamentablemente, la prensa en general (y la rockera en particular) suele ser bastante holgazana y, en su afán de categorizar superficialmente (todo sea para acelerar el proceso de consumo que, en definitiva, es lo que alimenta a dicha prensa) condenó a bandas realmente interesantes a convivir con la marea de arrivistas que plagaban dicho género. El tiempo nos ofrece algo de perspectiva y ahora sí podemos percibir que grupos como Deftones, Dog Fashion Disco, Amen o Human Waste Project poco tenían en común con bodrios despersonalizados y carentes de alma como Limp Bizkit, Coal Chamber, Crazy Town o Papa Roach, por sólo nombrar algunos. Lo mismo es aplicable a este cuarteto oriundo de Sacramento (igual que los Deftones) que en la actualidad es apreciado como uno de los pilares en eso de combinar guitarras pesadas, melodías emotivas e inteligencia Post-Hardcore. En primer lugar, habría que tener en cuenta que se formaron en 1991, lo que nos habla de un largo camino recorrido en soledad y lejos de cualquier tipo de tendencia puramente mercantilista. En segundo lugar, y más importante aún, está el hecho de que musicalmente no sólo sentaron bases importantes (a más de diez años estos temas suenan tan actuales como los que más), si no que lo hicieron a través de canciones perfectas donde la energía, la pasión, la inventiva y el gancho no estaban reñidos entre sí. Los muchachos tenían bien aprendidas las lecciones de Helmet (en lo que hace a riffs entrecortados y groove pesado) y Sunny Day Real Estate (en las tremendamente emocionales líneas vocales) pero no renegaban de sus raíces Hardcore ni temían adentrarse en terrenos de elaborada oscuridad que hoy en día asociaríamos a Tool. En fin, pueden llamarlo Nü-Metal si quieren (como si eso fuera relevante) aunque en ese caso estaríamos hablando de un trabajo que supera ampliamente la media en ese terreno. Más allá de rótulos y comparaciones, sería una verdadera pena que dejen pasar a una de las bandas más personales e influyentes del Metal de la década pasada cuyo legado trascendió hasta la actualidad.



-Young Ginns "Young Ginns" (1998)
Esto es casi un sueño hecho realidad para mí. Diversas luminarias del Post-Hardcore (miembros de Unwound, The Nation Of Ulysses y Worst Case Scenario, entre otras bandas) se juntan con el noble objetivo de homenajear al más grande guitarrista Punk de todos los tiempos, Greg Ginn. De ahí el nombre del proyecto, por si no lo habían notado. El resultado, como no podía ser de otra manera, es explosivo. Si alguna vez soñaron (y sé que yo sí lo hice) con una cruza perfecta entre los desenfrenados sonidos paridos por Black Flag y la trabada ebullición del Post-Hardcore washingtoniano, abran los ojos y entréguense a esta maravilla. Este disco homónimo compila la discografía completa del cuarteto, con trece canciones cargadas de tensión, riffs enroscados, sudor, acoples, voces crudas y secas, frustración, disonancias, rabia, y ritmos por momentos hipnóticos y en otros absolutamente salvajes. No se puede hablar de originalidad aquí (las influencias están expuestas sin tapujos) pero, por otro lado, no son muchos los grupos que logran recrear con semejante grado de intensidad y fidelidad las lecciones del maestro Ginn. Young Ginns rescata el imaginario Blackflaguero en su totalidad, desde los gritos primitivos de sus primeros trabajos hasta los flirteos Jazzeros del final, sin olvidar la retorcida densidad de monolitos como "My war" o "Slip it in". Lo interesante es que, a todo ese despliegue de urgencia al rojo vivo, le suma ciertos modismos nerds típicos de su estirpe Post-Hardcorera que no hacen más que demostrar la fuerte conexión entre ambas vertientes. Ok, probablemente esté enceguecido por mi fanatismo pero cualquiera que haya sentido discos como "Damaged", "The process of weeding out" o el mencionado "My war" como parte indispensable de su existencia debería entender de qué estoy hablando.


-Dread Full "Day off" (2001)
Grabado en 1999, este segundo disco de los brasileros Dread Full resume perfectamente la idea de Post-Hardcore. Esto no quiere decir que "Day off" pueda competir de igual a igual con glorias como "Repeater", "Novelty" o "Slip" (por sólo mencionar algunas), si no que, al ponerlo en perspectiva junto a sus pasos discográficos previos, se puede comprender a la perfección el pasaje emocional que ocurre cuando un grupo de músicos criados en tradiciones Hardcore/Punk alcanzan la madurez de forma natural y sin forzar dicho cambio de piel. Una escucha a su anterior disco ("Wonder fool people") revelaba a un grupo absolutamente inmerso en la efervescencia melódica del Hardcore californiano, con claros guiños a bandas como Bad Religion, Face To Face o Lagwagon. Un par de años después, la energía se conserva intacta pero donde antes había desenfreno e inocencia, ahora encontramos introspección, amargura y un grado de elaboración musical inédito. Las voces se mantienen melódicas pero ya no suenan adolescentes, las bases abandonan el tradicional tupá-tupá y se adentran en complejos terrenos de tensión y dinámica, las letras crecen en profundidad poética sin que ello signifique resignar tópicos políticos ni la típica angustia del Punk en general, y las guitarras despegan de los tres acordes de siempre, sumando el vasto catálogo de disonancias, contrapuntos, texturas e intrincados arreglos legados por pioneros como Fugazi o Unwound. Por supuesto, no se trata de un trabajo especialmente renovador ni original, su encanto reside en la intensa sensación de honestidad que transmiten estas once canciones. Dread Full se encuentra con sus nuevas influencias no como parte de una búsqueda intencional, si no como un proceso completamente natural, fluido y hasta lógico, lo que da como resultado composiciones con un altísimo grado de emotividad pero sin exageraciones ni histrionismos innecesarios. Vamos, nada que cualquier persona no haya sentido en ese pasaje entre la adolescencia y la temprana adultez. Toda esa pesada carga emocional se encuentra representada con sincera fidelidad en "Day off".
-The Lack "The Lack" (2001)
¿Están con ganas de sentirse mal? ¿Se encuentran dispuestos a proporcionarles a sus neuronas un buen baño de ácido? Es hora de darle vacaciones a la comodidad y meterse de cabeza en el universo de The Lack. Ok, tranquilamente podríamos meterlos en la bolsa de la Música Industrial más desquiciada, con bandas como Skinny Puppy, Foetus o Killing Joke como referentes ineludibles, pero eso sería omitir de forma casi criminal la enorme personalidad de estos muchachos. Sin caer en ningún momento en un eclecticismo superficial y forzado, The Lack se las arregla para proponer una vasta gama de variantes a un género siempre ávido de nuevas experiencias sonoras. Tenemos un trabajo rítmico a dos baterías (por momentos recuerda a lo hecho por Course Of Empire, otra de esas gemas ocultas de los noventas) sencillamente apabullante, combinando sonidos analógicos y digitales con maestría, construyendo complejas paredes polirítmicas y hasta permitiéndose pasar al frente cuando la acción así lo requiere. Y eso no es todo. Tensas melodías de pura oscuridad cósmica, frenéticos estallidos de violencia lisérgica (casi como un The Locust cibernético), voces que chillan, entonan, recitan inanimadas y se disuelven en deformes efectos, tenues ambientaciones al borde del silencio, samples y sequencers programados para achicharrar los sentidos, impenetrables collages de pulsos eléctricos rotos, guiños al Drum & Bass más taladrante (rozando el Grindcore) y a una suerte de Trip-Hop suicida y angustiante, y miles de detalles sónicos que entran por los oídos y se hacen un festín con nuestra mente. Todo cubierto por crepitantes capas de ruido y describiendo un viaje noctámbulo de desesperación narcótica. Queda claro que esto no es música para animar cumpleaños de quince o corear en la cancha pero si estaban buscando una propuesta original (aún sin salirse de los parámetros Industriales), intensa y atrapante, esto es para ustedes.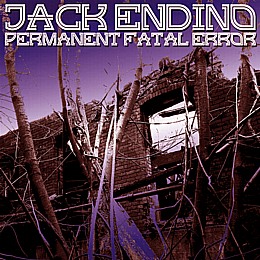 -Jack Endino "Permanent fatal error" (2005)
Cualquiera mínimamente interesado en el Grunge debería estar familiarizado con el nombre Jack Endino. No sólo produjo discos seminales de bandas como Nirvana (no sé si les suena de algún lado), Soundgarden, Green River, Mudhoney, Tad, Screaming Trees, L7 o Blood Circus (por sólo nombrar algunos) si no que también puso una piedra fundamental en la fundación del género con su labor como guitarrista en los geniales Skin Yard. Justamente, en los intervalos que su banda y su trabajo tras la consola le permitían, Endino se despachó con tres discos solistas, "Angle of attack" en 1989, "Endino's earthworm" en 1992 y el que ahora nos ocupa. Para dicha labor se rodeó de miembros de Screaming Trees, Coffin Break y The Accüsed y, al contrario de lo que se podría esperar dado su curriculum, dejo un tanto de lado los espiralados riffs Sabbáthicos de siempre en pos de un sonido más veloz e inmediato. Muchos de los temas cuentan con bases de pura cepa Hardcore/Punk sobre las cuales Endino deja volar su guitarra con un grado imaginación que trasciende los habituales tres acordes del género. Al mismo tiempo, su voz (junto con ese sonido áspero y natural que domina toda su labor discográfica) es lo que más claramente lo acerca a lo que se conoce como Grunge, con un tono rasposo pero que nunca violento y dibujando excelentes melodías sin caer por ello en facilismos superficiales. Por supuesto, tampoco faltan variantes. Tenemos temas donde la impronta riffera, pesada y surrealista de Skin Yard se hace presente, instrumentales plagados de enroscados juegos guitarrísticos, flirteos con una especie de Blues Psicodélico empapado de distorsión y toques de Funk enmugrecido y deforme. En cualquier caso, se trata de un disco repleto de excelentes canciones donde la melodía y la distorsión conviven en perfecta armonía con una naturalidad pasmosa, permitiendo, al mismo tiempo, un vuelo musical que nunca cae en la autoindulgencia ni la dispersión. Obligatorio para cualquier amante de las camisas a cuadros que se precie de tal.
-D.O.A. "Northern avenger" (2008)
¿Qué puedo decir sobre una auténtica leyenda viviente como D.O.A.? ¿Qué llevan más de treinta años de carrera, siempre fieles a sus ideales Punks? ¿Qué fueron de las primeras bandas en acelerar y endurecer su sonido dando paso a lo que se conocería como Hardcore? ¿Qué su asociación con el mítico Jello Biafra los llevó a trabajar con él en el magnífico "Last scream of the missing neighbors"? ¿Qué, a lo largo de los años, fueron condimentando su sonido con diversos elementos de Metal, Reggae, Noise, Ska, Pop y el más crudo Rock And Roll? ¿Qué su eterno líder, el guitarrista y cantante Joey "Shithead" Keithley es prácticamente el padrino absoluto del Punk canadiense? Eso es pura data, lo que realmente importa es la energía que estos veteranos desparraman a diestra y siniestra, casi como si el tiempo no hubiese hecho ningún tipo de estrago en sus cuerpos y ánimos. Claro, todavía mantienen esa efervescencia que los lleva a escupir himno tras himno del más infeccioso Punk-Rock como si nada. Con melodías simples y certeras y la variedad suficiente como para no aburrir nunca. Tenemos algo de esa esquizofrenia histérica de los Dead Kennedys, estribillos gancheros de pura cepa Ramonera, enroscados riffs que se acercan al Crossover, épicas aceleradas melódicas a la Bad Religion, bombas rockeras que pondrían orgullosos a los Stooges, saltarines Reggaes con más de un guiño a (me cuesta admitirlo) The Clash y hasta un genial cover del "Who will stop the rain" de Creedence Clearwater Revival. "Northern avenger" deja un tanto de lado la veta "experimental" que D.O.A. abrazó en los noventas y se aboca exclusivamente al costado más inmediato de su propuesta, contando de paso con un sonido claro y prolijo, cortesía de su compatriota Bob Rock. Sí, ese mismo Bob Rock. En fin, no le va a cambiar la vida a nadie y queda claro que ni siquiera pretenden competir con sus discos clásicos, pero cualquiera que aprecie el viejo y querido Punk-Rock hecho con convicción y conocimiento de causa, no puede dejar pasar este trabajo.
-Cable "The failed convict" (2009)
Dieron sus primeros pasos, allá por mediados de los noventas con esa bomba Noise-Core que fue "Variable speed drive", un disco reverenciado por el mismísimo Steve Austin de Today Is The Day quien produciría algunos de sus trabajos posteriores. Pulieron ese sonido y se metieron en un viaje aún más oscuro, emocional y extravagante con el imprescindible "Gutter queen", uno de los discos más intensos y perturbadores que jamás escucharán. A partir del siguiente "Northern failures" mutaron su piel a una especie de Sludge/Stoner todavía con claras reminiscencias de sus disonantes comienzos pero con un latir eminentemente sureño y pendenciero. Desde ese punto en adelante mantuvieron esa línea e incorporaron (en los discos "Never trust a Gemini" y "Pigs never fly") texturas ambientales y ciertos toques de psicodélica melodía. Se separaron en 2005 (bueno, en el medio hubo incontables separaciones y reuniones en breves períodos de tiempo), editaron el compilado póstumo "Last call" un año después y ahora vuelven con nuevo material bajo el brazo y la magia intacta. Riffs gordos y enroscados, por momentos pesados como una tonelada de concreto, en otros entrecortados y enfermizos, y a veces hasta flirteando con rockeras melodías. Cable resume de forma absolutamente fluida y natural la extrema densidad del Sludge, el groove Sabbathero y desértico del Stoner, el nerdismo crudo y emotivo del Post-Hardcore, las discordancias rítmicas y armónicas del Noise-Rock, la sensibilidad mugrienta del Grunge, y la urgencia pasional del mejor Hardcore. Todo en sólidas canciones donde las guitarras mandan y el abundante peso rockero no se choca con la imaginación ni el vuelo creativo. Inclusive las voces, siempre dentro de tonos rasposos, se adaptan a las diferentes dinámicas manejadas por el grupo, descargando pura rabia o sentidas melodías según se lo requiera. Pero lo mejor es que en ningún momento suenan a un pastiche forzado de los diversos elementos mencionados. De alguna forma, este "The failed convict" resume todas las etapas del quinteto y hasta pule cuidadosamente el costado melódico, por momentos hasta acercándose a los sonidos actuales propuestos por bandas como Torche o Helms Alee. Ojo, Cable no se sube a ninguna tendencia (de hecho, anticiparon algunas de ellas con sus primeros álbumes), si no que marcan su propio camino sin por ello renegar de sus influencias. En cualquier caso, es otro discazo a cargo de una de las bandas más relevantes para entender el Metal contemporáneo.
-Gulaggh "Vorkuta" (2009)
En 2007 Stalaggh completó su trilogía compuesta por "Projekt Nihil", "Projekt Terrror" y "Projekt Misanthropia", dando así paso a su nueva encarnación bajo el nombre de Gulaggh, que planea una nueva trilogía aquí inaugurada con este perturbador "Vorkuta". Cabe aclarar que Stalag era la denominación que recibían ciertos campos de concentración nazis para prisioneros de guerra durante la segunda guerra mundial y Gulag era algo así como su equivalente en la Rusia stalinista. La GH al final es por Global Holocaust. Gente simpática, ¿no? Podrán intuir que aquí hay algo de Black Metal y, si entendemos al género como una propuesta estética antes que como un rígido manual de formalismos estilísticos, están en lo cierto. Aquí no hay blast-beats, de hecho casi no hay baterías (salvo por algún que otro azaroso golpe arítmico), tampoco riffs ni guitarras, nada de teclados épicos, ni siquiera tenemos a algún joven de blonda cabellera y sendo corpsepaint exorcizando demonios por la garganta. Ni siquiera se puede hablar de canciones, cuando "Vorkuta" consta de una única composición de cuarenta y cinco minutos de duración. En esta ocasión, estos misteriosos muchachitos (la identidad de sus integrantes se mantiene en el mas riguroso de los secretos y rodeada de leyendas de dudosa credibilidad) basaron el total de la instrumentación en violines, trompetas y demás instrumentos "clásicos", por así llamarlos. Claro, no esperen escuchar nada parecido a lo que solemos asociar con Música Clásica. Cada uno de los instrumentos parece haber sido minuciosamente desafinado y torturado hasta arrancarle los más desgarradores chillidos y las más cáusticas texturas. Inclusive la estructuración se acerca bastante a los trabajos de improvisación más abstractos de John Zorn, pero con una cuota extra de maldad y revulsión. Ahora bien, el punto fuerte (si decidimos creer en los involucrados) es el hecho de que las voces de este disco fueron grabadas por diversos pacientes (adultos y niños) de institutos de salud mental, o sea manicomios. Es poco probable que semejante cosa sea verdad pero si uno se deja llevar por la fantasía, les aseguro que este leproso coro de alaridos desencajados es capaz de inducirles las más angustiantes pesadillas. Especialmente recomendado para escuchar en la más absoluta oscuridad.
-Masters Of Reality "Pine/Cross Dover" (2009)
Reducir a Masters Of Reality al mero rótulo de Stoner Rock sería absurdo para cualquiera con un par de oídos. Sí, toman su nombre de uno de los mejores discos de Black Sabbath y desde hace tiempo que mantienen fuertes lazos con bandas como Kyuss y Queens Of The Stone Age pero, en rigor de verdad, la música del quinteto siempre hizo gala de un eclecticismo y un vuelo melódico que los alejaba del limitado catálogo de Riffs Sabbáthicos saturados de graves y marihuana. Chris Goss (eterno líder del grupo) profesa un indisimulado amor por el Rock de los setentas pero de ninguna manera deja que ello se torne una restricción a la hora de componer. Este sexto disco de estudio está planteado como un cruce de influencias entre Public Image Limited (aquel pilar del Post-Punk más experimental liderado por el Sex Pistol John Lydon) y la Mahavishnu Orchestra de John McLaughlin, de allí la subdivisión en dos partes del mismo. Así, la primera sección ("Pine") rinde un claro homenaje a los ritmos repetitivos (casi Kraut-Rockeros) y los bajos profundos de P.I.L., al tiempo que suma a ese hipnótico entramado su marca registrada de melodías vocales Pop/Psicodélicas y hasta algún que otro riff siguiendo la tradición de dinosaurios como Cream o Led Zeppelin. Todo, como corresponde, envuelto en espesas brisas de sórdida Psicodelia, por momentos inclusive arrimándose al Dub. La segunda porción ("Cross Dover") retoma algo del típico sonido rockero del grupo (esa particular mezcla entre rasposos riffs pentatónicos, melodías Beatlescas, climas volados y corazón Punk) aunque aquí deberíamos hacer otra subdivisión. Por un lado, tenemos un par de canciones que se dedican a rockear sin demasiadas vueltas, con riffs simples, melodías gancheras y todos esos rústicos modismos concebidos para mover la patita sin resistencia. En la otra mano, aparece la influencia de McLaughlin y los suyos, con sus típicos enrosques Jazzeros, sus riffs contracturados, sus ritmos desenfrenados, sus alocadas improvisaciones (chequeen el final con "Alfalfa" y sus sinuosos veinte minutos de delirio instrumental) y sus climas de mística efervescencia. Otra vez, esto no significa que Masters Of Reality se dedique aquí simplemente a recrear lo hecho por sus referentes, si no que absorbe esa influencia y la transforma a través de su propio y particular prisma, algo que se nota especialmente en las voces que insisten en recordarnos de dónde sacó Josh Homme la mayoría de sus ideas. En fin, no es sólo un disco más de Masters Of Reality, es uno que marca un sutil pero pronunciado enroque de influencias que refrescan su propuesta al tiempo que conforman uno de los puntos más altos de su discografía.
-Sax Ruins "Yawiquo" (2009)
El baterista/vocalista Tatsuya Yoshida lleva catorce años al frente de los delirantes Ruins, una de esas bandas pilares a la hora de asociar a Japón con las más frenéticas combinaciones de Jazz, Hardcore, Noise y Rock Progresivo. Ono Ryoko es una multifacética saxofonista que ha llegado al punto de inventar técnicas y lenguajes musicales propios para expresarse. Juntos conforman Sax Ruins y, claro, son dinamita. "Yawiquo" es el debut discográfico del dúo y presenta diecisiete composiciones originales de Ruins aquí reformuladas a partir del formato de saxo y batería y con resultados tan sorprendentes como excitantes. Por momentos suena como una de esas viejas Big Bands jazzeras en pleno ataque de epilepsia, por momentos es como si King Crimson, Black Sabbath, Glenn Miller y John Zorn hubieran tenido un hijo mutante con dos cabezas. Efervescentes melodías se chocan con ritmos frenéticos entre laberínticas estructuras que serían el sueño húmedo de cualquier nerd musical. El caos nos marea en su vertiginosa alternancia de notas y golpes pero siempre termina encontrando su marco en el excelso trabajo melódico de Ryoko. Por supuesto, esta gente ya se sabe de memoria todas las combinaciones habidas entre el Jazz y el Rock más virulento y aquí se las arregla para reformular dicha cruza de forma absolutamente refrescante y original. Por supuesto, se trata de material extremadamente intrincado, enardecido y desquiciado pero el dúo elude con gracia los recursos fáciles y no busca el shock gratuito, demostrando un grado de musicalidad del que pocos pueden hacer alarde. No hay mucho más que agregar, esto es pura música que trasciende los rótulos, las limitaciones y las explicaciones. Energía extrema, frescura jazzera y un vuelo creativo al que la palabra progresivo le queda chica. No se lo pierdan.