Por Fer Suarez.

-Laibach "Nova Akropola" (1985)
Más allá de las polémicas que pueda suscitar su siempre ambiguo manejo de diversas simbologías políticas, queda claro que el objetivo de Laibach siempre fue perturbar y confundir. Musicalmente hablando, son conocidos por apropiarse de diversos hitos del Pop (bandas como Queen, Beatles, Rolling Stones e inclusive Europe pasaron por sus manos en versiones muy particulares) y transformarlos en ominosos himnos marciales/electrónicos de pura pompa Wagneriana. Pero, al menos desde mi punto de vista, su material más interesante es el contenido en sus primeros trabajos, todavía fuertemente influenciados por los abrasivos sonidos Industriales y las atmósferas macabras de bandas como SPK, los primeros Swans o Throbbing Gristle. Claro, ese costado marcial ya estaba presente en los durísimos ritmos programados y hasta en algunas de las voces que parecen ladrar órdenes a través de un megáfono descompuesto, por no hablar de algún que otro teclado de aires tan majestuosos que resultan casi ridículos. Aún así, lo que predomina en este segundo disco son los climas opresivos construidos en base a perturbadores samples cavernosos, voces deformadas por efectos (por momentos similares a los que usaría Justin Broadrick en algunos temas de Godflesh), bases taladrantes y repetitivas, cáusticas distorsiones y un sinfín de desconcertantes y alucinógenos arreglos sonoros. El resultado es sumamente personal y sobrecogedor, una pesadilla bélico/industrial construida a martillazos eléctricos con un perverso sentido de la musicalidad y certeros objetivos estéticos. En conclusión, "Nova Akropola" (tanto como el debut homónimo del grupo) se erige como una pieza imprescindible dentro de la Música Industrial que, de paso, nos da una pista de lo que Laibach buscaría musicalmente en sus posteriores álbumes.
-Painted Willie "Mind Bowling" (1986)
Está claro que el Grunge no lo inventó Nirvana. Está claro que, inclusive antes de que luminarias de Seattle como Green River, Skin Yard o U-Men se transformaran en íconos de las camisas a cuadros y el Rock crudo, SST (el sello fundado por Greg Ginn, guitarrista y líder de Black Flag) ya contaba en su catálogo con más de un grupo que sumaba a sus raíces Punks la retorcida pesadez del Rock de los setentas. ¿Ejemplos? Bueno, Black Flag es el más obvio, pero también estaban los Meat Puppets, DC3 (la banda del ex Black Flag, Dez Cadena), Flesh Eaters y, claro, Screaming Trees, entre otros. Painted Willie nacía de las cenizas de Sin 34 y, si bien en su sonido todavía había fuertes resabios de efervescencia Hardcore-Punk (y hasta algún que otro guiño Popero a la Descendents), este se encontraba revestido de una suciedad y una sordidez claramente Hard-Rockera. En los temas acelerados sonaban como una cruza entre el Rock And Roll bastardo y anfetamínico de Motörhead y la psicodelia delirante de Meat Puppets y cuando bajaban las revoluciones se despachaban con composiciones que no hubiesen desentonado en discos como "Bleach" o "Superfuzz Bigmuff". Claro, si tenemos en cuenta que tras los parches se encontraba David Markey, el cineasta que filmaría "The year Punk broke" (el documental definitivo de la era Grunge, que mostraba los entretelones de una gira europea conformada por Sonic Youth, Nirvana, Dinosaur Jr. y Babes In Toyland, entre otros), entonces la conexión no resulta tan curiosa. En pleno revival noventoso no viene mal recordar (o descubrir, según el caso) a aquellos pioneros que sentaron las bases musicales, ideológicas y estéticas que predominarían en dicha década y, de paso, darse una panzada de excelentes canciones, que nunca está de más.
-Lou Barlow "Emoh" (2005)
Suena a cliché pero hay algo mágico y sumamente emotivo en una buena canción Country/Folk. Algo primitivo, desnudo, puro, a falta de una mejor definición. Y hay algo en los músicos provenientes de diversas ramas del Punk (Greg Graffin, Mark Lanegan, Mike Ness, Chuck Ragan, Steve Von Till, Scott Kelly, Matthew Pryor) que los hace especialmente aptos para encarar dicho género. Lou Barlow no es ningún principiante en el tema, ya desde los primeros años en Dinosaur Jr demostraba un cariño por las tonadas más tradicionales de la cultura norteamericana y, ciertamente, su posterior trabajo en Sebadoh, The Folk Implosion y Sentridoh tampoco estaba exento de dichas influencias. Pero es en este "Emoh" donde nuestro anteojudo héroe da rienda suelta a su pasión campechana a través de catorce canciones perfectas (incluido el increíble cover de "Round-N-Round" de Ratt) donde su siempre sensible voz dibuja algunas de las melodías más destacadas de su extensa carrera (y aquí también incluyo algunos coros y armonías vocales que son sencillamente arrebatadores), acompañada por suaves rasgueos acústicos, sutiles arreglos y tenues percusiones. No falta algún que otro eco lejano de sus anteriores proyectos (en especial ciertos pequeños toques de esa suerte de rústica psicodelia electrónica utilizada en The Folk Implosion) y cualquiera familiarizado con el trabajo de Barlow reconocerá el tono eternamente melancólico de sus composiciones y hasta esos momentos juguetones, casi cándidos, que nos recuerdan que aún ante la más profunda de las tragedias es posible esbozar una sonrisa. La principal diferencia con otras incursiones acústicas del buen Lou es que aquí se despega en gran medida del sonido Lo-Fi que él mismo ayudó a patentar a fines de los ochentas, sin por ello resignar el clima absolutamente intimista y cálido del disco. En fin, no sé si alguna vez se los comenté, pero las buenas canciones siempre ganan.
-Pozvakowski "Microtron" (2007)
Hungría tal vez no sea el país con mayor producción rockera de la Europa Central, pero si este cuarteto sirve de guía puede ser, entonces, que nos estemos perdiendo algo suculento. La propuesta de Pozvakowski bien podría enmarcarse en lo que se conoce como Post-Rock, sus canciones son totalmente instrumentales, manejan una vasta gama de texturas, climas y estructuras, y privilegian el desarrollo cinematográfico de las composiciones antes que la brutalidad o la urgencia. Sin embargo resulta más bien difícil encontrar un referente claro a la hora de describirlos. Tenemos algo de las envolventes orquestaciones de Mono, las sutilezas Jazzeras de Tortoise, las tensas disonancias de Slint, los momentos pesados de Neurosis (hasta cuentan con un miembro fijo encargado de la parte visual), el espíritu ecléctico e impredecible de Grails y algunas melodías emotivas a la Mogwai. Y eso no es todo, también es posible toparnos con frenéticos estallidos de pura catarsis ruidosa más cercanos a bandas como Painkiller o Lightning Bolt. De hecho, las canciones eluden la típica dinámica Post-rockera de ir aumentando de forma incremental la intensidad hasta desembocar en épicos orgasmos distorsionados, manejando en su lugar una movilidad mucho más esquizofrénica y desconcertante. Les puedo asegurar que el resultado es sumamente personal y conforma una más que saludable sorpresa en un género que, últimamente, parece haber caído en las tenaces garras del estancamiento creativo.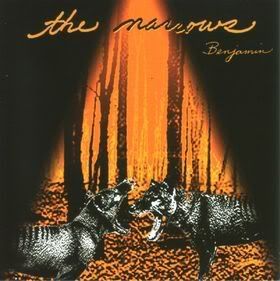 -The Narrows "Benjamin" (2007)
No se confundan con Narrows (sin el "The"), esa especie de supergrupo que reúne ex miembros de Botch, Unbroken y Some Girls y que, hace unos meses nos deslumbró con "New distances", su álbum debut. El que nos ocupa es un trío oriundo de Washington D.C. (cuna de algunas de las mejores cosas que le pasaron al Rock) que poco y nada tiene que ver con el Hardcore, el Noise y los ritmos frenéticos. Lo que The Narrows hace con su música es trazar un puente entre lo que en los noventas se conoció como Slow-core (una suerte de versión ultra melancólica, Folky, ralentizada y minimalista del Indie-Rock, representada por bandas como Codeine, Low, Bedhead o Rex) y las cascadas rifferas de lava distorsionada del viejo y querido Black Sabbath. Ojo, no hablo de aquello que la prensa metálica actual denomina como Metalgaze, aquí la cosa no pasa por construir épicas murallas de melodía ruidosa a ritmo de Doom monolítico. En estas seis extensas canciones conviven sin problemas reposadas letanías melancólicas de clara extracción Indie (la voz, por momentos, recuerda notablemente a la de Lou Barlow) con oscuras excursiones de pura suciedad Sabbáthica. Por supuesto, hoy en día no es muy curioso que un grupo de linaje dumbeta incorpore ciertas delicadezas típicas del Indie, lo que no es tan común que se de el camino inverso. Para ponerlo de forma clara, esto no es Metal. Sí, hay riffs pesados, gordos y oscuros pero, al estar acompañados por estas frágiles melodías vocales, el resultado final está más cerca del Grunge (o de un Stoner sombrío y en cámara lenta) que de los clones de Neurosis y las exageraciones teatrales del Doom en general. Pero, y perdonen que de tantas vueltas, tampoco sería del todo acertado confinarlos en el universo de las camisas a cuadros y las guitarras fuzzeras. En definitiva, hablamos de un grupo con personalidad propia que logra conjugar con naturalidad y soltura elementos que, en principio, parecerían irreconciliables pero que, en el fondo, tienen bastante en común. Si disfrutan del costado más introspectivo y tristón del Rock (ya sea en sus formas más lánguidas o en las más virulentas), esto no los puede defraudar.
-Culted "Below the thunders of the upper deep" (2009)
La cosa es simple, tres canadienses graban los esqueletos de las canciones (esto es guitarra, bajo y batería), se las envían a un sueco que agrega su cascada voz y luego ordenan todo eso, agregando percusión, teclados y ruidos extras. ¿El resultado? Una opresiva combinación de Doom extremo, oscuridad Blackmetalera y ambientaciones rituales. Con influencias que van desde el Celtic Frost más arrastrado hasta los sucios climas apocalípticos de Godflesh, sin olvidar el obligado toque Drone y rescatando el legado de bandas como Dolorian o el primer Katatonia en lo que hace al empleo de guitarras limpias y ciertos amagues melódicos. Material que evoca grises visiones de perdición lisérgica entre graves riffs en cámara lenta y desgarrados alaridos de dolor. Nada necesariamente fresco ni innovador, pero ciertamente apto para amantes de las referencias antes mencionadas, especialmente aquellos que guarden alguna nostalgia por las primeras cruzas del Doom con géneros más virulentos como el Black y el Death. Ojo, no se trata simplemente de recrear aquellos épicos sonidos de principios de la década pasada, si no más bien de ponerlos al día a través del prisma enfermizo que aportaron bandas como Khanate, Neurosis o Eyehategod al género. En fin, como primer trabajo, este "Below the thunders of the upper deep" logra captar algunos momentos realmente interesantes pero me queda la sensación de que la cosa puede mejorar notablemente en próximas entregas si los tipos logran eludir ciertos clichés que (si bien pueden resultar efectivos) ya se están tornado bastante aburridos. Hasta entonces, un buen plato para dumbetas irrestrictos y gente incapaz de sonreír.
-Idlewild "Post electric blues" (2009)
Como buenos escoceses que son, los muchachos de Idlewild parecen odiar todo aquello que tenga que ver con Inglaterra. Cuentan con un claro background Punk filtrado por la intelectualidad del Post-Punk, pero antes que continuar el legado de Sex Pistols y Joy Division (por ejemplo), reivindican a bandas como Hüsker Dü, Mission Of Burma o Fugazi. También hacen gala de guitarras ruidosas que tienen más de Sonic Youth que de The Jesus & Mary Chain y de melodías Indie-Pop claramente más influenciadas por R.E.M. o Pavement que por The Smiths o Blur. Vamos, si no fuera por el notable acento del vocalista Roddy Woomble, creeríamos estar en presencia de un grupo cien por ciento norteamericano y con las camisas a cuadros bien puestas. Bueno, esto último sí es cierto, en especial en sus primeros trabajos donde hacían gala de una crudeza y una suciedad claramente Grunge. "Post electric blues" es su sexto álbum y mantiene el camino de evolución trazado hasta ahora, ampliando la paleta de colores sonoros (Hammonds, trompetas, voces femeninas y hasta un violín en "Younger than America" que abre el disco con un aire muy a la Levellers) y resaltando la melodía por sobre todas las cosas. Esto no significa que el grupo haya perdido intensidad, si no que la aplica de manera diferente, demostrando que una buena y emotiva línea melódica vocal (y les puedo asegurar que aquí encontrarán más de una excusa para que se les encoja el corazón) puede resultar mucho más certera y punzante que un millón de estruendosos guitarrazos. De cualquier forma, no teman, no faltan las cuerdas en llamas y los riffs rasposos pero también hay lugar para canciones acústicas de evidentes aires Folkys y para una mayor profundización de su costado más Pop. También debería mencionar el hecho de que el grupo editó este disco por su cuenta, contando sólo con el apoyo monetario de sus propios fans, algo similar a lo hecho por Einstürzende Neubauten unos años antes. De cualquier forma, un disco nuevo de Idlewild siempre es una excelente noticia para los amantes de las buenas canciones y el espíritu noventoso.
-The Lemonheads "Varshons" (2009)
Evan Dando, el indiscutido Dandy de la Generación X (¿Evan Dandy?), no pierde el pelo ni las mañas. Tiene en claro que el éxito comercial siempre le será esquivo (muy a su pesar) pero aún así se las arregla, de alguna forma, para contar con invitadas como Kate Moss y Liv Tyler en éste, su más reciente álbum al frente de Lemonheads. Los talentos seductores del carilindo Dando parecen mantenerse intactos, tanto como su siempre reposada voz y su gusto por las canciones simples y hermosas. "Varshons" es un disco de covers concebido a partir de mixtapes que Gibby Haynes (cantante de Butthole Surfers que aquí oficia también como productor) le fue enviando a Evan a lo largo de los años. De hecho, nueve de los once temas aquí versionados fueron elegidos por Haynes. Lo que aquí tenemos, entonces, es un material más acorde al Folk reposado y tradicional que Evan Dando ensayara en su disco solista ("Baby I'm bored", vaya título apropiado para este muchacho) que al Power-Pop desplegado en los discos de Lemonheads. Bueno, esto no sería sorprendente, el rubio siempre demostró una gran pasión por las guitarras acústicas y las melodías rurales. Es de esperar, entonces, que homenajee a algunos de sus artistas predilectos del género como Gram Parsons o Townes Van Zandt, así como a otro de sus héroes, Leonard Cohen (es aquí, en el cándido "Hey, That's No Way To Say Goodbye", donde la elfa Liv Tayler hace su aparición), referencia inevitable a la hora de hablar de dandysmo rockero. Pero eso no es todo, también tenemos versiones de Wire ("Fragile" transformado en uno de esos Folks pachorros y juguetones tan típicos de Dando), GG Allin (con un "Layin' Up With Linda" que parece interpretado por el más sórdido Johnny Cash), Fuckemos (también metarmofoseados al estilo del Man in Black, fúnebres violines incluidos), Christina Aguilera (bueno, el tema, "Beautiful", lo compuso la ex 4 Non Blondes, Linda Perry y aquí suena como para deprimirse a gusto un domingo a la tarde), y hasta una canción de pura cepa electrónica/New Wave como "Dirty robot", con la esquelética Kate Moss poniendo su voz. El resto se debate entre oscuras baladas, cadenciosos Countrys y hasta algún que otro guiño de Rock psicodélico a la Hendrix. Está claro que se trata de un trabajo no exento de cierta ironía, pero el resultado final resulta tan emotivo y conmovedor que toda malicia queda en segundo plano ante la enorme belleza de estas melodías.
-Jesu "Infinity" (2009)
¿Necesito acaso volver a establecer mi incondicional fanatismo por prácticamente todo lo que haga Justin Broadrick? ¿Tengo que hablar de Napalm Death, Godflesh o la interminable lista de proyectos experimentales craneados por este retraído inglés? ¿Me van a decir que no sabían que Jesu es probablemente la mejor banda de Metal actual, la única capaz de conjugar las melodías más enceguecedoramente bellas con la pesadez más aplastante y demoledora? ¿Acaso nunca disfrutaron de maravillas como su debut autotitulado o el sencillamente imprescindible "Conqueror"? Luego de un sinfín de ep's, splits y demás entremeses, Justino se encierra sólo en el estudio y graba sin ningún tipo de ayuda externa (sí, esta vez se hizo cargo de todos los instrumentos) esta monolítica pieza (sí, se trata de un único tema) de casi cincuenta minutos de duración bajo el nombre de "Infinity". ¿Qué puedo decir? ¿Qué las guitarras erigen riffs como montañas entre infinitas (claro) texturas distorsionadas de una profundidad melódica arrebatadora? ¿Qué el bajo retumba como un terremoto emocional? ¿Qué los ritmos se arrastran en una densidad mecánica tan opresiva como liberadora? ¿Qué los samples y teclados rellenan todo con incansables cascadas de sutilezas sónicas y armónicas? ¿Qué las voces etéreas nos entregan melodías directamente conectadas con los centros más sensibles de nuestra percepción? Todo eso es esperable en un disco de Jesu. Lo que tal vez sorprenda es la aparición de momentos donde Broadrick vuelve a quebrar la garganta como en sus tiempos de Godflesh, inclusive acompañado por ciertas disonancias propias de aquellos años. Ojo, esto no es ninguna vuelta a las raíces ni ninguna de esas típicas pavadas rockeras. El eje de Jesu sigue siendo la melodía, su pesadez no reside en meras cuestiones sonoras o estilísticas si no en las emociones. Justin no ve los elementos extremos como un fin en sí mismo, si no como un medio para transmitir sus apesadumbradas visiones. Por supuesto, "Infinity" no es un trabajo fácil, no se trata de varias canciones individuales pegadas entre sí con intervalos ambientales. Es un auténtico viaje emocional y espiritual concebido con un grado de musicalidad superlativo, que nos hunde en espesas aguas, sólo para resurgir de ellas absolutamente renovados y vigorizados. En fin, mis pobres palabras no le hacen justicia a la magnitud de esta auténtica obra de arte. Sólo puedo decir que, si realmente están interesados en la música, más allá de géneros, poses y trucos baratos, sí o sí tienen que, al menos, darle una oportunidad a esta genialidad.
-John Zorn "O'o" (2009)
Casi como un respiro entre sus aventuras más ruidosas y experimentales, John Zorn nos trae la secuela de "The dreamers", aquel disco de agradables composiciones melódicas editado el año pasado que, de alguna manera, seguía el camino iniciado en 2001 por "The gift". "O'o" (es el nombre de un extinto pájaro hawaiano) mantiene el mismo concepto y la misma formación que su predecesor, es decir Marc Ribot en guitarra, Jamie Saft en teclados, Joey Baron en la batería, Trevor Dunn en el bajo, Cyro Baptista en percusión y Kenny Wollensen a cargo del vibráfono. Un auténtico dream team de músicos excelsos al servicio del inagotable talento compositivo del maestro Zorn. Por si no quedó claro, esto está en las antípodas de lo realizado por el así llamado Moonchild Trio, el abrasivo tandem que conformó junto a Dunn, Baron y Mike Patton y con el que editó maravillosas piezas de pura violencia vanguardista como "Moonchild" (justamente), "Astronome", "Six litanies for Heliogabalus" y "The Crucible". Aquí Zorn nos entrega reposadas visiones en la forma de doce canciones pletóricas de hermosas melodías y sutiles arreglos sin por ello dejar de lado su característico eclecticismo. Tenemos mucho Jazz (de las variantes más cool y accesibles del género, claro), algo de Tango, Surf, Pop, Salsa, Blues, Bossa Nova, las inevitables referencias a Ennio Morricone y a la música tradicional judía, y esas exóticas tangentes inclasificables que el neoyorquino saca de uno vaya a saber dónde. Todo esto conjugado con una cuidadísima sensibilidad melódica y una especial atención por los detalles que, más allá del notable virtuosismo de los implicados, jamás asfixia la emotividad de las composiciones. Esto es un suculento manjar para los oídos y sin embargo en ningún momento se asoma siquiera una sombra de autoindulgencia o exhibicionismo, los músicos trabajan en equipo y con el corazón puesto en las canciones antes que en su propio despliegue. Claro, la idea de pirotecnia instrumental está más bien arraigada en el mundo rockero y aquí (más allá de las obvias conexiones rockeras) estamos hablando de otra cosa.