Por Fernando Suarez.

-Electric Kettle "Faster ceremony and ultra discipline" (2003)
Hubo una época donde los rockeros en general (entiéndase esto como gente que escucha Rock en todas sus variantes) creíamos que la Electrónica era sinónimo de música desprovista de alma, intensidad, talento y personalidad. Por supuesto, mucha agua ha corrido bajo el puente y hoy en día habría que ser un necio o un sordo para no encontrar dichas virtudes en artistas abocados a la creación digital. En ese sentido, Electric Kettle bien podría competir, en términos de virulencia, frenetismo, imaginación y complejidad, con el más desquiciado de los Mathcores. Claro, la existencia de grupos como Noism, Drumcorps o Whourkr con sus híbridos de Death Metal técnico sobre frenéticas construcciones electrónicas y el hecho de que The Dillinger Escape Plan (junto a Mike Patton) haya versionado al pionero Aphex Twin ya nos da una pauta del nexo existente entre ciertas vertientes del Drum & Bass y las propuestas más violentas y caóticas de lo que se conoce como Metal extremo. El vértigo y la esquizofrenia rítmica aquí desplegados hacen que los blast-beats suenen como un bostezo, la infinidad desorbitada de samples, distorsiones y ruiditos que infectan cada resquicio de las composiciones reemplazan sin problemas a los riffs y, ciertamente, no hace falta ningún tipo gritando como si le doliera la panza para entender que esto no es material para distenderse. Y si me dicen que este enfermizo despliegue de ritmos imposibles de seguir y arreglos atonales tiene más de un punto de comparación con las vertientes más agresivas del Free-Jazz (o, al menos, con ciertos híbridos como Naked City, DNA o los italianos Zu. Hasta se podría trazar algún que otro paralelo con pioneros experimentales como Frank Zappa o The Soft Machine), no me quedará otra opción más que darles la razón. Por supuesto, no se trata de desmerecer a otros géneros musicales (tan válidos como cualquier otro), si no de reconocer virtudes que, muchas veces, los propios prejuicios impiden apreciar, aún cuando son más que evidentes. Si estaban buscando material ideal para apretar los dientes y descargar las frustraciones a las patadas, esto es ideal para ustedes.
-Xanopticon "Liminal space" (2003)
La ciudad extiende sus esqueléticos brazos de metal hacia el cielo, ocultando el sol bajo cegadoras luces intermitentes. Los cuerpos se chocan, incapaces de controlar sus movimientos. Cubiertas por una membranosa piel amarillenta, estas criaturas avanzan torpemente por corredores de neón. El disfraz de la realidad se derrite en ciclos irregulares desnudando una palpitante anatomía de desechos y electricidad. Pantallas que sólo transmiten estática. Encías que crujen y miradas carmesí. Un flujo de visiones inconexas acelera nuestros sentidos hasta aletargarlos. Máquinas humanas en eterno cortocircuito. Una espesa red de sujetos atravesados por cables. Flotando sobre ruinas, acariciados por ráfagas de polvo que rompen nuestros poros como pequeñas navajas. Movimientos involuntarios, sinapsis mal traducidas. Sombras inertes palpando los bordes de una ventana rota, dibujando líneas rojas que se devoran los recuerdos. Pesadillas en forma de laberintos. Impulsos eléctricos rebotando a toda velocidad hasta implotar. Cámaras descompuestas retratando este gris infierno urbano, esta violencia rígida e impenetrable. Parásitos del suicidio letárgico. Venas que laten mientras transportan cascadas de alquitrán, huesos transparentes secos de médula. "Liminal space" es un viaje entre puntos inconexos, una experiencia que se siente en el cuerpo y deja irrecuperables secuelas en la mente. Xanopticon (Ryan Friedrich es su verdadero nombre) ha construido una de las obras musicales más densas, intrincadas, opresivas y frenéticas de los últimos tiempos, y reducirla a meras definiciones genéricos sería un acto casi criminal. Si aman la música extrema (e, insisto, hablo de música verdaderamente extrema, sin importar los rótulos) no pueden dejar pasar esta maravilla.
-Hot Snakes "Audit in progress" (2004)
¿Quién dijo que los nerds no sabían rockear? ¿Dónde está escrito que la mugre y la intensidad del Rock And Roll más energético tiene que coincidir con un nivel intelectual casi nulo? ¿Acaso el despliegue de sudor infinito tiene que ser propiedad exclusiva de trogloditas y pendencieros? Hot Snakes tiene (bueno, tenía, la banda ya no existe más) Rock. Mucho Rock. Pueden competirle, en términos de efervescencia y salvajismo, al Motörhead más reventado y primitivo. Y, sin embargo, al tratarse de ex miembros de Drive Like Jehu (uno de los pilares indiscutidos del Post-Hardcore más intrincado de los noventas), hacen gala de una inteligencia que nada tiene de artificial o distante. Adoran a los Stooges pero se contorsionan más como Guy Piccioto (de Fugazi) que como Iggy Pop, sus guitarras raspan con un absoluto conocimiento del alfabeto rockero tradicional pero de ninguna manera se conforman con el mero regurgitar de pentatónicas y riffs cuadrados. Tienen un lugar reservado para la melodía, claro, pero la palabra clave en ese departamento es urgencia. Las voces se quiebran y reclaman, y sin embargo la cosa no pasa por sonar frágiles ni rudos si no honestos. El ritmo invita a una danza frenética y hasta hay espacio para ciertos guiños Surf-Rockeros pero el clima de las canciones no es precisamente soleado. En definitiva, lo que estoy diciendo es que Hot Snakes se las arregló para refrescar los modismos más inmediatos del Rock And Roll a base de una inteligencia punzante y maliciosa, dejando como legado un catálogo de impecables canciones con el nivel de energía en lo más alto de la escala. Si alguna vez sintieron que esto de las guitarritas, los sótanos mugrientos y los sonidos valvulares les proporcionaban algo más que mero entretenimiento, he aquí una excelente excusa para reconciliarse con esas ilusiones.
-Converge "No heroes" (2006)
La palabra pasión se encuentra tan bastardeada hoy en día (especialmente gracias a esa especie casi humana conocida como "creativos" publicitarios) que uno trata de ser selectivo a la hora de aplicarla a un grupo musical. Pero con Converge no hay otra opción. Inventaron el Mathcore (junto con Botch, Deadguy y Coalesce) hace poco más de diez años y siguen inclaudicablemente sin achancharse ni convertirse en una auto parodia. Y, claro, el nivel de inventiva y visceralidad que transmiten se mantiene en lo más alto de la escala. Con un énfasis puesto en las raíces Hardcore del cuarteto, este sexto lp es un compendio de canciones espásticas y disonantes, que se sienten tanto en el cuerpo como en la mente y el alma, y ya no se apoyan exclusivamente en la pericia técnica para sorprender, apabullar y confundir. Y, como si eso no bastara, los bostoniano se permiten excursiones por los pantanosos terrenos del Sludge, como en el genial y extenso "Grim Heart/Black rose", con Jonah Jenkins (ex vocalista de Only Living Witness) como invitado. Converge entrega el corazón en cada disco y sería un acto de abrumadora insensibilidad no aceptar esa ofrenda con los brazos (y las mentes) abiertas.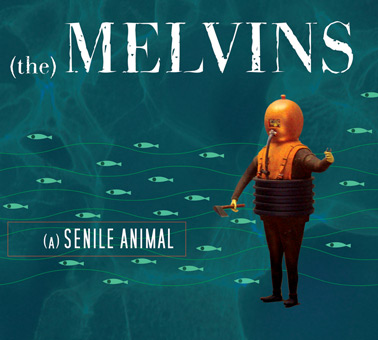 -Melvins "(A) Senile animal" (2006)
Ellos mismos se verán como un animal senil, y sus más de veinte años de influyente e ininterrumpida carrera lo confirmarían. Pero no. Los Melvins se niegan a perder virtudes aunque el afro de King Buzzo esté cada día más grisáceo. A Buzz y el baterista Dale Crover (alguna vez miembro de Nirvana) se suman a partir de este disco el gordo Jared Warren (en bajo y voz) y el flacucho e hiperkinético Coady Willis (en batería. Sí, dos baterías), ambos miembros de Big Business. Y si están pensando que los viejos se alimentan de la sangre fresca de los jóvenes, no están mal encaminados. Aquí encontramos un énfasis en el costado más rockero y pesado del ex trío, dejando de lado los divagues experimentales de discos como "Prick", "Stag" o "The Crybaby", pero manteniendo el espíritu revulsivo y demente del que siempre hicieron gala. Entonces, con uno o dos riffs por tema (esos gloriosos riffs que sólo ellos saben construir) basta para lograr estas 10 canciones inquietas, sinuosas, por momentos siniestras, y en otros pegajosamente densas y siempre energéticas. Claro, el hecho de contar ahora con dos hombres tras los parches hace que las rítmicas ganen en complejidad y presencia, como bien lo prueban los tres solos de batería que se encuentran a lo largo del álbum. A esta altura (y más luego de haber presenciado en vivo su enorme poderío) ya deberían saberlo, los Melvins nunca defraudan.
-Sunn 0))) & Boris "Altar" (2006)
¿Querían Drone? Bueno, si no lo querían se joden y se lo tragan porque acá tenemos la unión de las dos bandas más populares del género. En un rincón, desde Estados Unidos y con las guitarras más graves y ruidosas, Sunn 0))). En el otro, desde Japón, con más de diez años de esquizofrénica carrera y el delirio intacto, Boris. Como árbitros, encontramos una extensa lista de invitados, entre los que podemos destacar a Joe Preston (Melvins, Earth, High On Fire, Thrones, Harvey Milk), Alan Dubin (Ex O.L.D. y Khanate, actualmente en Gnaw), Steve Moore (de Earth, los creadores del Drone) y el ex Soundgarden Kim Thayil. Seguramente piensen que, con semejantes implicados, este "Altar" ha de ser un amasijo de de riffs Doom minimalistas cubiertos de feedback y llevados a la lentitud máxima. Error. Si bien el disco empieza y termina en esa frecuencia (con "Etna" y "Blood swamp" respectivamente), también tenemos misteriosas piezas ambientales ("N.L.T.", "Fried Eagle mind"), un delirio en clave de Space-Rock ruidoso ("Akuma no kuma") y hasta una exquisita balada cargada de amargura y desazón ("The sinking belle (Blue sheep)"). Rara vez este tipo de colaboraciones da resultado. Esta, sin dudas, es una de esas excepciones.
-Aluk Todolo "Finsternis" (2009)
Que Francia cuenta con algunos de los exponentes más destacados del Black Metal actual no es ninguna novedad. Gente como Blut Aus Nord y Deathspell Omega han demostrado que la mejor forma de reivindicar la oscura misantropía inherente al género es saliéndose de los márgenes del mismo y explorar variantes que, en otras épocas, hubieran resultado impensadas. Vamos, ¿qué otro género si no el Black está en la obligación de cometer constantes herejías sonoras? "Finsternis" es el segundo disco de este trío instrumental y les puedo asegurar que jamás escucharon una representación tan fiel del más negro de los rituales paganos. La primera mitad del álbum consiste en una suerte de zapada donde, sobre una insistente (y no exagero, es el mismo ritmo a lo largo de los casi dieciocho minutos que dura esta parte) marcha fúnebre de batería, se apilan misteriosas líneas de bajo y una guitarra que se sumerge en las más recónditas espesuras cósmicas a puros acoples, resonancias, feedback y ocasionales rasgueos disonantes. Si están pensando en una versión satánica y ruidosa del Kraut-Rock más minimalista, no están mal rumbeados. Sin pausas, sobreviene luego un tenso intervalo donde el bombo marca moribundos latidos mientras los demás instrumentos generan cavernosas atmósferas sonoras. La imagen se quiebra y entramos en la recta final. Aquí la batería mantiene el paso lúgubre pero sube notablemente la intensidad de sus golpes. La guitarra acompaña vomitando cascadas de feedback debajo de las cuales se pueden intuir sórdidas melodías. Por momentos, ésta se retrae en terroríficos ecos y apreciamos el grave gruñido del bajo emergiendo como una bestia desde el más profundo y abyecto de los infiernos. Las seis cuerdas vuelven a la carga con texturas que bien podríamos definir como Post-rockeras, si no fuera porque chorrean maldad y distorsión por los cuatro costados. A todo esto, la base rítmica no se ha movido ni un milímetro del patrón inicial, acentuando así el denso clima hipnótico de los temas. Sólo hay una pequeña pausa en la última canción, que nos introduce en la sección final del disco. Aquí la batería retoma los golpes contenidos de la primera parte y los instrumentos bajan los decibeles, esbozando ahora melodías reconocibles pero aún así abstractas, fragmentadas y sumamente oscuras. El viaje termina bruscamente y lo único que queda es una sensación de absoluta e impiadosa desolación. Ok, admito que poco y nada hay de Metal en este "Finsternis", pero es justamente esa libertad creativa (y la falta de burdos clichés y exageraciones teatrales e infantiloides) la que lo hace tan interesante. Y, en cualquier caso, la intensidad y la absoluta malignidad aquí desplegadas hacen que eso sea un dato menor. Olvídense de las poses, el maquillaje y la pavada, y tírense de cabeza al vacío más profundo.
-GreyMachine "Disconnected" (2009)
Aaron Turner (Isis, Old Man Gloom, House Of Low Culture, Lotus Eaters, Drawing Voices, fundador de Hydrahead Records), Diarmuid Dalton (Jesu, Final, Godflesh), Dave Cochrane (Head Of David, God, Ice, Sweeth Tooth, todos estos proyectos donde también participó la persona que nombraré a continuación) y Justin Broadrick (si a esta altura no saben quién es, todo mi trabajo fue en vano) conforman esta máquina gris. Ni hace falta aclarar que, con semejantes implicados, mis expectativas estaban en lo más alto de la escala. ¿Cumplieron? Bueno, sólo basta decir que este "Disconnected" es probablemente el disco más abrasivo, violento y mala onda en el que hayan participado estos muchachos. Sí, aún teniendo en cuenta mazazos como "Scum" y "Streetcleaner". Cada resquicio sonoro está cubierto de una impenetrable suciedad, las guitarras y los bajos lanzan disonantes latigazos eléctricos mientras se funden en un océano de feedback y se enroscan alrededor de cáusticos sonidos de diversa procedencia (radios, cintas, teclados y vaya uno a saber qué más), la batería (de sangre y hueso, por cierto, e interpretada por el inefable Justino) gruñe entre golpes tribales, apocalípticas letanías y platillos resquebrajados, las voces chillan deformes y saturadas, enterradas en espesas marañas de distorsión como si transmitieran los últimos gritos de agonía de la humanidad desde radios descompuestas. Ojo, no se trata de un ejercicio de abstracción ruidosa (algo que Turner y Broadrick han demostrado que saben hacer en más de una ocasión), las canciones mantienen formas definidas, principalmente basadas en ritmos repetitivos y erupciones sónicas que hacen las veces de riffs. El álbum se regodea sin piedad en climas asfixiantes e histéricos, pintando grises (claro que sí) visiones de entrópica desolación que se clavan en las neuronas como esquirlas de metal oxidado. Cada tema es una pequeña sinfonía de aspereza auditiva, todas ellas concebidas con un grado de detallismo inhumano puesto al servicio de las sensaciones más jodidas y desesperantes. Si extrañaban los días de Godflesh y los agresivos primeros pasos de Isis, olvídense. Esto va mucho más allá. Prepárense para uno de los discos más extremos (y, sin duda alguna, de los mejores) de lo que va del año.
-Thrice "Beggars" (2009)
Muchos no querrán reconocerlo, pero hace un buen tiempo que Thrice viene luchando, musicalmente hablando, por escapar de la asfixiante bolsa que hoy en día constituye el Emo-Core. La profundidad melódica y la voluntad de experimentación que mostraron en sus "Alchemy Index" deberían bastar para alinearlos con grupos como Poison The Well o Glassjaw, antes que con bodrios superficiales como Funeral For A Friend. De hecho, la experiencia adquirida en dichos discos aquí se ve aprovechada al máximo, logrando un resultado más sólido y eludiendo con clase ciertos aires erráticos que todavía se percibían en aquellos. Entonces, sin perder ese corazón entre el Post-Hardcore y el Metal, el grupo suma melodías de una madurez abrumadora (por momentos con claros tintes Folks) y una gama de arreglos tan imaginativos como certeros y personales. La voz de Dustin Kensrue se afianza definitivamente con líneas de una emotividad que nada tiene de artificial ni forzado, desplegando una madurez que acentúa su intensidad y las hace sencillamente irresistibles. El trabajo instrumental también se ve enriquecido, no sólo por el ocasional empleo de pianos, teclados y guitarras acústicas, si no por una interacción impecable, con cada miembro proponiendo ideas musicales elaboradas pero siempre en función de la canción. Y así llegamos al núcleo (duro) de la cosa, las jodidas canciones. Es en ese campo donde la impronta del grupo es irreprochable. Pueden acercarse a la abrumadora melancolía de Sunny Day Real Estate, al frenetismo emotivo de Fugazi, al refinamiento Pop de The Police e inclusive a los nublados climas de Soundgarden, y en ningún momento dejan de ser ellos mismos. Por supuesto, puedo entender todos los prejuicios que puedan tener contra un grupo de estas características pero, si son capaces de hacerlos un lado por un rato, les puedo asegurar que este "Beggars" constituye en sí mismo una más que suculenta recompensa.
-Xela "The illuminated" (2009)
Ambient. Drone. Noise. Black. Pueden llamarla como quieran, la música de Xela tiene objetivos claros que trascienden los rótulos y las elucubraciones pseudo periodísticas. Opresión, terror, angustia, oscuridad, vacío. Esas son las sensaciones que escapan como fantasmas aullantes en "The illuminated". Corrosivas pinturas sonoras que se degradan lentamente entre murallas de melodías distorsionadas empapadas de delay y sinuosas cascadas de feedback y acoples. Un ritmo moribundo marcado por estallidos subterráneos de graves. Texturas que van y vienen en un entramado tan cáustico como misterioso. Lejanas resonancias de piel suave e intenciones perversas. Sórdidos eventos capturados en sonidos de procedencia incierta, historias relatadas en silencio por una orquesta de espíritus condenados. Voces retransmitidas desde cavernas, diálogos sicóticos deformados por la estática. Lo que en otros casos sería un ejercicio intelectual de abstracción musical, aquí se corporiza en la forma del más punzante de los horrores. Los rituales más abyectos, las visiones más asfixiantes, los desenlaces más desafortunados. Todo eso contiene esta película sonora. Cada movimiento está cuidadosamente enfocado en función de mantener la tensión y el inquietante desarrollo de los acontecimientos. Un ennegrecido hilo argumental que nos guía por polvorientos pasadizos, sabiendo que el viaje concluirá inevitablemente teñido de rojo. Si hasta el único pasaje que se acerca a formas "convencionales" (noten las comillas, por favor) está estratégicamente colocado como claro momento álgido de la narración. Ponderar esta obra bajo un prisma rockero es, a todas luces, una tarea infructuosa y contraproducente, aquí lo orgánico y lo cerebral no se contraponen si no que se complementan y se funden con un serpenteante erotismo que poco y nada tiene que ver con la linealidad del Rock en general.
-Yo La Tengo "Popular songs" (2009)
Pavement y Yo La Tengo probablemente sean las dos bandas que mejor encarnan el ideario rockero de lo que significa el Indie-Rock como género musical. Pavement tenía la ironía, la irreverencia y la sensibilidad quebrada del loser. Yo La Tengo, la dulzura, el eclecticismo y la timidez nerd. Ambos comparten el gusto por Lou Reed y The Velvet Underground, Sonic Youth, el costado más arty del Post-Punk inglés (The Fall, Wire), la melancolía Folky, las melodías Poperas de extracción sesentosa, el Kraut-Rock y cierto grado de experimentación sin salirse de los márgenes de la canción tradicional. Todo eso podemos encontrarlo en este doceavo disco de los neoyorquinos, tal vez con cierto énfasis en los climas reposados (algo bastante común en ellos, por otro lado) pero siempre con la variedad a la que nos tienen acostumbrados. Lánguidas baladas entre melancólicas y reflexivas, coloridas gemas de Pop efervescente, excursiones por los primeros acercamientos del Rock y la Psicodelia, encantadoras canciones que suenan como sacadas de una comedía romántica de los años cincuenta, Folks ideales para contemplar la nada desde una mecedora, extensas letanías lisérgicas, catárticas cascadas de ruido guitarrístico y demás variaciones compositivas se dan cita, siempre con la belleza melódica como eje central. No le pidan mucho más, el trío nunca se caracterizó una afiebrada búsqueda de nuevos horizontes o por sus rupturas de esquemas, si no más bien por absorber sus múltiples influencias y reinterpretarlas a través de ese prisma entre retraído y eternamente sensible. Un disco ideal para hacer cucharita.