Extortion "Sick"(2008):
Ojos que se achican temblando frenéticamente. Cejas en diagonal augurando el peor de los desenlaces. La piel dibuja líneas asimétricas en el rostro. Dientes chirriando, apagando todos los sonidos. Músculos en tensión a punto de estallar. Un estallido en blanco y negro. Con sólo dos tonalidades podemos adivinar el resto de los colores. Extortion no necesita pintar de rojo cada golpe. Detrás de ese primitivismo yacen legiones de almas torturadas que claman venganza. Ok, estos australianos han tenido su buena ración de bandas como Lack Of Interest o Siege, pero algo me hace pensar en un Black Flag acelerado hasta quedar sin aliento. Inclusive, temas como "Body failure" o "Rot" se regodean en su lentitud sin perder un mísero ápice de odio. Pero esto es material rápido, claro que sí. Pueden llamarlo Hardcore, Crust, Powerviolence o cómo diantres prefieran. A nadie le importa eso. Lo que aquí realmente importa es cerrar los ojos y dejarse llevar por este torbellino, girando enloquecidamente con los puños cerrados, gritando a la nada hasta quedar sin voz, gesticulando desarticulados como los primates enfurecidos que, en el fondo, somos. ¿Qué les resulta monótono y falto de melodía? Sí, bien, esto no es Jethro Tull y esta búsqueda no tiene nada que ver con el mero placer estético. Esto es catarsis pura, sin adulterar, ideal para que aquellos que necesiten sonidos que traduzcan las ganas de estrangular a alguien. O a muchos "alguien".
Candiria "Kiss the lie"(2008):
El eclecticismo desmedido puede ser un arma de doble filo para un grupo de Rock. No es que pretenda que todos los grupos se restrinjan a un único género ni nada por el estilo, pero no todos pueden ser Mike Patton. Candiria era una banda ecléctica por excelencia. En sus discos convivían machaques metaleros, crudeza Hardcore, Hip-hop callejero, rebusques jazzeros, climas ambientales y polirritmias varías. Sí, leyeron bien, estoy hablando en pasado. El anterior "What doesn't kill you…" ya mostraba un acercamiento por parte de estos neoyorkinos al formato de canción tradicional, inclusive incorporando voces melódicas pero sin abandonar esa esquizofrenia estilística que los caracterizó desde aquel "Surrealistic madness" de 1995. Bueno, "Kiss the lie" representa casi un nuevo comienzo para el grupo. De alguna forma se las ingeniaron para condensar el enorme cúmulo de influencias en canciones redondas, pesadas y sin grumos. Por supuesto, todavía hay ritmos imposibles de seguir y las guitarras no se conforman con meter tres acordes distorsionados y ya. Pero no esperen encontrar voces rapeadas ni cambios bruscos de timón entre un tema y otro. También la melodía ha crecido y ya no se trata simplemente de meter un estribillo popero en medio de un ataque de epilepsia instrumental. Por momentos inclusive me recuerdan a la sutil sofisticación melódica/distorsionada de Deftones o Incubus. Esto quiere decir que Candiria también ha aprendido el arte de manejar texturas y profundidad. Y, debo decir, que les salió más que bien. Ok, tal vez perdieron algo de la locura de antaño, pero lo suplen con toneladas de emoción y buenas canciones. Y, por una vez, logran mantener el hilo sin irse por las ramas ni desperdiciar las buenas ideas acumulando cambios estilísticos gratuitos. Digamos que, como grupo ecléctico, Candiria no era (a pesar de contar con momentos destacados y un potencial enorme) de los mejores, pero en este nuevo contexto capitalizan al máximo sus enormes dotes instrumentales y compositivas, y demuestran que el virtuosismo y las buenas canciones no tienen por qué estar reñidas entre sí.
Krallice "Krallice"(2008):
Extrañas pinturas invaden mis oídos. Cascadas de espinas elevándose hacia cielos en llamas. Trazos irregulares, colores superpuestos. Tensas líneas plateadas vibrando a toda velocidad. Majestuosos bloques marrones disolviéndose bajo una lluvia de estrellas. Árboles esqueléticos abrazándome y hundiéndome en la tierra. No es ninguna novedad, pero sepan que es posible crear pinturas vívidas, casi tangibles con un par de guitarras, un bajo y una batería. Esto no es de extrañar si tenemos en cuenta que una de esas guitarras corresponde a Mick Barr (si no lo conocen pueden deslumbrarse con Orthrelm o The Flying Luttenbachers, por sólo mencionar un par de los proyectos en los que estuvo involucrado este buen hombre), uno de los pocos virtuosos del Metal actual que todavía tiene algo más que dedos veloces para ofrecer. Si a eso le sumamos la presencia de Colin Marston, otro tipo muy metido de lleno en los sonidos más Progresivos de la actualidad, tanto con Dysrythmia como con Behold…The Arctopus, entenderán que el nivel interpretativo y el caudal de ideas está garantizado. Lo que tal vez resulte sorprendente es que, en Krallice, estos tipos (acompañados por Nick McMaster en bajo y Lev Weinstein en batería) se dediquen al Black Metal. Sí, puro, blasfemo y maligno Black Metal. Nada de teclados ni de voces limpias ni de flirteos góticos. Nada de sonido berreta, revival thrasher ni minimalismo a ultranza. Ok, tal vez no sea taaaaan puro entonces. Digamos que Krallice transita un camino poco concurrido, aquel de bandas como Enslaved, Wolves In The Throne Room, Weakling o los primeros Ulver. Ritmos veloces, voces desgarradas, riffs negrísimos y evocadores, toneladas de reverb, composiciones extensas en evolución constante, melodías majestuosas y emotivas, y un especial cuidado por los detalles, de esos que requieren numerosas escuchas atentas para terminar de apreciarlos. Por supuesto, no están inventando la pólvora ni creando una nueva forma de entender al Black (para eso tenemos a Deathspell Omega). No obstante, logran un sonido distintivo casi sin salirse de los márgenes del género y el alto grado de creatividad desplegado es innegable y embriagador. Lo cuál no es poco decir hoy en día. Si esperan algo más que guerra, corpsepaints y poses pelotudas del Metal Negro, este disco es de escucha obligatoria.
Hot Water Music "Till the wheels fall off"(2008):
Llamar a esta gran banda Emo o Post-Hardcore es simplemente quedarse en la superficie del asunto. Vamos, ¿quién necesita rótulos y subgéneros ante la presencia de semejantes himnos de puro Punk Rock? Sí, acá hay emoción. Y mucha. Pero lo mismo sucede en cualquier disco de Bad Religion. Y el hecho de que no se contenten con los supuestos márgenes estrictos que imponen el Hardcore y el Punk los puede emparentar tanto con Fugazi como con Black Flag o los Dead Kennedys. "Till the wheels fall off" es un compilado de rarezas varias que celebra la reciente reunión del cuarteto. No teman, esto no es material de descarte. Tenemos esas guitarras que no le temen al contrapunto y al mismo tiempo pueden decir muchas cosas con sólo tres acordes. Tenemos esa base rítmica que golpea duro y parejo cuando hay que hacerlo y que se enrosca sutilmente cuando la dinámica compositiva así lo exige. Tenemos esas voces sucias, quebradas, arenosas, capaces de estrujar corazones y de incitar a las masas sin que una cosa se contradiga con la otra. Tenemos enormes, sólidas canciones, con la energía siempre al rojo vivo, con un profundo sentido de la sensibilidad y un instinto melódico tan crudo como conmovedor. Líneas melódicas introspectivas conviven con estribillos casi tribuneros sin ningún tipo de problemas. La mirada adulta y lúcida de Hot Water Music en ningún momento interfiere con su intensidad, si no que la potencia. No son adolescentes jugando al Punk, son señores grandes que transpiran verdades en cada nota musical. Y, a la manera de la mejor música Folk, retratan de forma exacta una época y un lugar y nos cuentan nuestras propias vidas mientras exorcizan sus propios fantasmas. Por supuesto, veintitrés temas en más de setenta minutos pueden resultar arduos para los no iniciados, pero cómo decirle que no a joyas como "So many days", "Moments pass" o el maravilloso cover del "Wild on the streets" de Circle Jerks. En cualquier caso, resulta un más que adecuado entremés a la espera de un próximo trabajo de estudio. Y una excelente excusa para deleitarse con una de las bandas más relevantes del Punk de los 90's.
Gronibard "We are french fukk you"(2008):
No puedo hacer nada contra esto. No quiero. Son franceses y de entrada te mandan a cagar. Si eso no es un buen comienzo estamos todos locos. Bueno, estos tipos están locos. Y ya llevan diez años esparciendo dicha insanidad en forma de…¿Gore-Grind humorístico? Bueno, algo así. Digamos que si escuchar a un tipo recitando en francés con la voz pitcheada tipo ardillita de dibujos animados sobre un fondo de flamenco no te arranca al menos una sonrisa, estás mal. Y ni hablemos del gesto de abrir el disco con una suave balada, también cantada en el idioma de Napoleón. Y claro, estos cinco franchutes también se ponen las pilas y vomitan un Grindcore groovero, ideal para bailotear como un mogólico. Y son capaces de salir a tocar con camisas hawaianas (cuando no lo hacen directamente en bolas) o de sacarse fotos promocionales desnudos y abrazándose tiernamente. ¿Qué más? También la pudren, por supuesto, pero no tienen a la velocidad como único recurso. De hecho, insisto, el groove manda, por momentos hasta acercándose a una especie de Hard Rock con gonorrea. Y juegan con voces gruñidas ultra graves, alaridos infantiloides y demás deformidades. Meten cachitos de otros géneros pero palabras como experimentación o vanguardia no entran en el diccionario de estos adoradores de la boludez infinita. A ver si me explico, tienen un tema que se llama "Mongolito", eso debería bastar para caer rendidos a sus pies. Si no, tal vez les interese saber que el sonido y la interpretación son impecables y que las canciones están perfectamente estructuradas, lejos de ser simples estallidos de ruido metálico. Perdón, ¿realmente les interesa eso? Son unos pelotudos. Relájense, cuelguen por un segundo el monóculo y/o el cinturón de balas y entréguense a estos treinta y siete minutos de pura diversión.
Spylacopa "Spylacopa"(2008):
Los supergrupos no existen, pero que los hay, los hay. Ok, ya sabemos que la mayoría de las veces dichos rejuntes de nombres no están a la altura de las expectativas que generan. También sabemos que hubo excepciones como Down, Nailbomb o Temple Of The Dog. La generación actual de Metal de avanzada no se podía quedar sin su intento de supergrupo, claro está. Así llegamos a Spylacopa que reúne en su seno a bestiecitas como John LaMacchia (Candiria), Jeff Caxide (Isis, Cable, Red Sparowes, 5ive's Continuum Research Project), Greg Pucciato (The Dillinger Escape Plan) y Julie Christmas (Made Out Of Babies, Battle Of Mice). Bien vale aclarar que este proyecto nació como una iniciativa solista de LaMacchia a la cual se sumaron el resto de los músicos. ¿Quieren saber cómo les salió el chiste? Más que bien, he de admitir. Por el momento hay que conformarse con este Ep de sólo cinco temas, pero lo que aquí se escucha es más que promisorio. Como para que se den una idea, la cosa va por los carriles del Dillinger más melódico, en especial el de "Miss machine". En otras palabras, el espíritu inmortal de Faith No More sobrevuela las canciones (el comienzo con "Haunting a ghost", sus riffs trabados y estribillo hiper-coreable es buena prueba de ello) y ese es uno de los más destacados elogios que se le pueda hacer a cualquier grupo. La distorsión violenta y retorcida se funde con melodías soñadoras y texturas trabajadas, Pucciato se permite entonar a sus anchas demostrando (una vez más) que lo musculoso no quita lo talentoso, Christmas aporta sus siempre inquietantes y laberínticas cuerdas vocales dotando a sus intervenciones de una oscuridad embriagadora, las guitarras disparan un arsenal de ideas sin perder de vista el formato de canción e inclusive tenemos momentos de pura belleza ambiental aderezada con delicados teclados. Como corresponde, el disco tiene su perlita en "I should have known you" que cierra el disco con seis minutos y monedas que se debaten entre la certera sensación de flotar en el aire (guitarras acústicas y arreglos Pinkfloydianos incluidos) y una abismal tensión que acecha sin llegar a corporizarse del todo. Claro, tampoco es para despreciar la sórdida densidad de "Bloodletting", donde Pucciato y Christmas se baten en un duelo de pura intensidad, el evocador piano de la instrumental "Together we become forever" o el vértigo sincopado y las melodías narcóticas de "Staring at the sound". Habría que esperar un larga duración para dar un veredicto final, pero, más allá de los nombres involucrados, Spylacopa puede ser incluido en la lista de supergrupos que dieron buenos resultados.
Extreme Noise Terror "Law of retaliation"(2008):
Siete putos años tuvimos que esperar por un nuevo trabajo de estudio de estos próceres británicos. ¿Valió la pena tanta espera? Bueno, todo depende, claro. Si, por algún extraño motivo, pretendían encontrarse con un Extreme Noise Terror acomodándose a alguna de las tendencias del Metal y el Hardcore extremo actuales, entonces "Law of retaliation" no tiene demasiado para ustedes. Ahora bien, si lo que querían era una brutal e incesante paliza a los sentidos, acá tienen diecinueve bombas que no dan respiro y hacen que el corazón empiece a latir como si quisiera escaparse del pecho. Manteniendo esa posición en algún lugar entre el Crust, el Grindcore y el Death Metal, los liderados por Phil Vane siguen arrasando con todo. Ok, hay varios riffs que suenan parecidos a otros más viejos, la composición se resume en los carriles de aquel clásico "Holocaust in your head". Y sin embargo no estamos en presencia de un trabajo que de la sensación de ser obsoleto o innecesario. Tal vez se deba al increíble sonido, claro y potente, que logró el sexteto, tal vez sean esos riffs hardcorosos que nunca envejecen o tal vez, simplemente, se trate de que cuando la furia es real y es transmitida con semejante honestidad y convicción no queda otra más que rendirse a ella y redecorar las paredes a cabezazo limpio. Ritmos endemoniadamente taquicárdicos que te envuelven en un maremoto de odio. Guitarras que vuelan y serruchan el aire pintado escenas de puro Apocalipsis urbano. El bajo arenoso y podrido enterrado en la mezcla. Y esas voces, qué decir de esas voces. El gruñido profundo y malvado atravesado por alaridos que sugieren la sensación de sangre en la garganta. Aquí no hay lugar para sutilezas ni ñoñadas, esta es la banda de sonido ideal para tirar molotovs al congreso e incendiar patrulleros. Definitivamente valió la pena la espera. Bienvenidos al odio.
An Albatross "The An Albatross family album"(2008):
Cuentan las leyendas que este bosque alguna vez estuvo encantado. Se oían relatos de arco iris amigables y faunas coloridas y sonrientes. Nadie sabe bien qué, pero algo sucedió. ¿Tal vez algún hechizo lanzado por algún mago envidioso de la luz que desprendían estos caminos pintados de esmeralda? Es imposible saberlo a esta altura. Lo cierto es que este paisaje ya no es el mismo. Aquellas dulces ardillitas que se dedicaban a recolectar relucientes avellanas ahora se deleitan clavando sus pequeños dientes en los cuellos de sus hermanas, sorbiendo hasta la última gota de su sangre. Las tiernas melodías de los pájaros mutaron en horribles graznidos de desesperación. El arco iris que coronaba el lugar intensificó sus colores hasta quemar los ojos de todos los animales, deformando sus centros nerviosos y empujándolos a sórdidas orgías de pura demencia. Las mariposas sobrevuelan desprendiendo napalm en su aleteo, como si clamaran venganza por lo reducida de su existencia. Las flores mantuvieron su apariencia romántica pero llenaron sus pétalos de una ardiente ponzoña. Los osos, otrora protectores de las criaturas más pequeñas, se erigieron como los nuevos tiranos del bosque, desgarrando con una fuerza atroz a quien se opusiera a ello. Los insectos y las serpientes salieron de sus escondites y reemplazaron al verde pasto en su función de superficie sobre la que caminar. El sol alumbró eternamente el bosque con rayos narcotizantes que obligaron a sus habitantes a nunca más descansar sumidos en espirales viciosos de darwinismo extremo. Nunca más las estrellas regalarían su tranquilizador y tenue brillo. Nunca más el viento acariciaría a los animales, la densidad del aire enviciado de un polen lisérgico se sentía como una capa extra de piel. El sinsentido de aquella existencia idílica fue reemplazado por el sinsentido de un interminable ciclo de autodestrucción. Y nada volvió a ser como antes.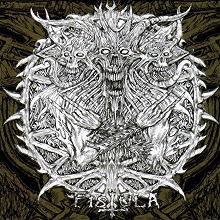 Fistula "Burdened by your existence"(2008):
Fistula transforma sus guitarras en el peso de un universo desmoronándose y lo pone sobre tus hombros. Si Crowbar nos relataba lo que sucedía cuando los planetas chocaban, Fistula nos describe con morboso lujo de detalles lo que restó de los mismos tras la colisión. Fistula logra que su forma de encarar el Sludge resulte alucinógena, pero antes de remitir a viajes lisérgicos o a letanías marihuaneras, logran pintar la más espesa desesperación que el delirium tremens pueda lograr. Y transmiten el mayor desprecio por la raza humana, aplastándola en su totalidad con cada riff, con cada uno de esos enormes riffs. Escupen su asco con gritos quebrados hasta que la saliva se funde con sangre. Se encierran en abrazos de alquitrán sintiendo como los últimos rastros de cordura se desvanecen en cámara lenta. Invocan demonios humeantes con la piel tallada como si fuera madera. Clavan sus uñas rotas en nuestros cráneos hasta hacerlos desaparecer. Toman más de lo que se necesita para el dolor. Y a veces salen de su encierro, sólo para buscar una pelea sin sentido. Dientes rotos y nudillos magullados a ritmo de Hardcore nos recuerdan que Black Sabbath y Black Flag sólo estaban separados por una palabra. Reptan entre la basura y la suciedad para mostrarnos su belleza escondida y hedionda. Se sientan sobre tronos hechos de cráneos de cabras y vierten sangre negra sobre esclavas cubiertas de moretones. Fistula no pretende recibir aprobación ni loas. Fistula no nos está invitando a ninguna fiesta. La única respuesta que los satisface es el rechinar de nuestros huesos en tensión.