Por Fernando Suarez.


El Camino Más Difícil "Siempre quemando los caminos de vuelta" (2008):
Pueden parecer exagerados. Pueden serlo, a veces. Pero, ¿qué mente obtusa podría siquiera considerar que la pasión sea mesurada y conservadora? Hay heridas que tal vez nunca sanen, no importa mientras puedan ser exorcizadas con puños en alto y gargantas al rojo vivo. La sangre fluyendo en ríos de redención. Claro, el cinismo acecha siempre con su mirada diminuta. Entender cómo funciona el mundo no significa tener que aceptarlo. Ciertamente estos caminos han sido recorridos antes. La huella de los pioneros es indeleble y sin embargo estos gritos no están cubiertos de polvo. Sólo hace falta respirar profundo, dar un paso al costado y detenerse a contemplar con verdadera atención estas nuevas formas de expresar la misma frustración de siempre. Porque toda la pasión del mundo no sería nada sin ideas que la sustenten. Pueden parecer inocentes. Pueden serlo, a veces. Pero, ¿qué corazón achicharrado podría creer que la inteligencia y la inocencia se excluyen necesariamente? Bueno, estos corazones están abiertos y no están dispuestos a ofrecer meras promesas vacías. Ellos quieren entregarse, entregarnos algo de valor, algo más que rígidas poses superficiales y slogans vacíos de imaginación. Y no se trata de pertenecer o no. Nunca se trató de eso. Se trata de compartir, de forma honesta, genuina. Y, aunque a muchos les cueste creerlo, esto es arte. Arte que suda, se retuerce y estalla en tu cara. Arte que piensa más allá de sus supuestas limitaciones. Arte que no es sólo un fin en sí mismo. Pueden parecer pretenciosos. Pueden serlo, a veces. Pero, ¿qué remedo de ser humano podría confundir la conexión verdadera con otras personas con los mezquinos recovecos del mercantilismo a ultranza? No me preocupa sonar exagerado, inocente ni pretencioso: sé que estos refrescantes vientos que soplan no son sólo producto de mi imaginación.
Moss "Sub templum" (2008):
Eternos pasillos que conducen a ningún lugar. Escaleras que se desdoblan disolviendo las leyes de la física. Ecos fantasmales retroalimentándose con sus propios lamentos. Cuatro temas en setenta y cuatro minutos y ni una ínfima gota de aire para respirar. Atmósferas turbias, escapadas de la peor de las pesadillas narcóticas. El pulso cansado de los moribundos en su lecho de muerte. ¿Riffs? ¿Quién necesita riffs pudiendo usar truenos que quiebren la estructura misma de la tierra? Cada temblor resuena por siempre, infiltrándose lentamente en los recovecos de la mente, plantando semillas envenenadas que dan sus abyectos frutos con cada nuevo estallido de graves. Desesperación en cámara lenta, asfixia a la enésima potencia. Moss construye inabarcables paredes de polvo endurecido y podés intentar escapar pero lo único que vas a lograr es adornar dichas paredes con restos de uñas y sangre. Sólo tres inglesitos con caras de amargados bastan para erigir estas agobiantes arquitecturas de perdición alucinógena. Prescinden del bajo en su formación, y es curioso porque si hay algo que no le falta a este viaje de displacer son graves. Enormes, sólidos bloques de graves. Balanceándose en el tenue límite entre la abstracción y las formas definidas. Entre la majestuosidad de grises monumentos al fin de los tiempos y el patetismo de almas quebradas por el peso de sus propios abusos. Doom sin concesiones, con un pie en el Drone y el otro en el Funeral. Ideal para musicalizar la más desoladora experiencia lisérgica que puedan imaginar.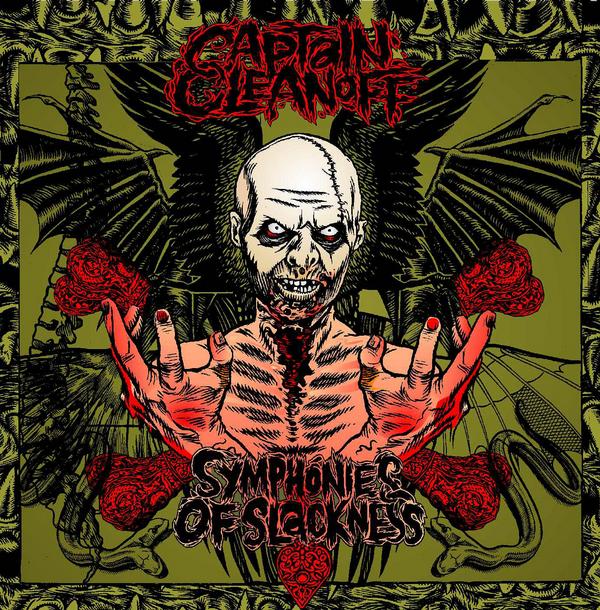 Captain Cleanoff "Symphonies of slackness"(2008):
Ya desde el título del disco queda claro que esto no es material para colgarse el monóculo. Y está bien, no todo en la música tiene por qué ser seriedad. Estos pibes demuestran que hay vida más allá de Blood Duster en el Grindcore australiano. Y, a pesar de la referencia chistosa, este no es otro clon de Carcass. Ok, hay influencias de los de Liverpool (¿John?, ¿Paul?, ¿esos quiénes son?) en forma de algún que otro riff más retorcidito y ciertos gruñidos guturales que recuerdan al joven Bill Steer, pero la brújula de Captain Cleanoff sigue el norte de Napalm Death y Brutal Truth. O sea, el costado más Hardcoroso del Grind que, no obstante, no se priva del buen sonido, las buenas ideas instrumentales y la dinámica para mantener la intensidad sin caer en la monotonía. Y sí, los temas son cortos, el disco dura menos de media hora, las guitarras son motosierras afiladísimas, la batería es un infierno repiqueteante de blast-beats y doble bombo, el bajo es una erupción casi inaudible y las voces alternan entre los graves tipo "mostro" y los chillidos agudos que destrozan tímpanos. No hay mucho más que agregar, es sólo Grindcore pero me gusta.
The (International) Noise Conspiracy "The cross of my calling" (2008):
Tras la disolución de Refused, el vocalista Dennis Lyxzén no perdió el tiempo y formó The (International) Noise Conspiracy con la intención de lograr la "cruza exacta entre Elvis Presley y el Che Guevara". Grandes palabras, por cierto, pero no esperaríamos menos de uno de los cerebros creadores de semejante obra maestra como lo es "The shape of Punk to come". Diez años y cinco discos después la conspiración continúa. Y, a decir verdad, lo que logra esta banda no es exactamente lo propuesto en el enunciado de más arriba. Musicalmente, el ahora cuarteto se aferra al Rock de los 60's con claras influencias de The Who, James Brown, The Doors, MC5 y los Rolling Stones, por sólo nombrar a un par. Y, básicamente, el que no mueve la patita con estas canciones es porque está muerto en vida. Las guitarras no desbordan de distorsión pero saben exactamente dónde hay que pegar para que duela y que ese dolor sea casi orgásmico. Los arreglos con percusiones, hammonds e instrumentos de viento aportan la variedad necesaria y dotan al grupo de un aire soulero nada despreciable. En el terreno vocal, la banda creció enormemente, logrando las líneas melódicas más destacadas y gancheras de su carrera, sin por eso diluir la energía. Vamos, el espíritu Punk no los abandona y el fantasma de clásicos de los 90's como The Nation Of Ulysses o Make-Up sobrevuela y aprueba con una sonrisa de satisfacción en el rostro. Lo que nos lleva a la parte política/ideológica de estos suecos. Ellos se definen como marxistas, pero se encargan de dejar en claro lo lejos que están del Stalinismo. Lo cual es más que saludable, desde ya. A eso súmenle una clara vocación situacionista, fundiendo la música, las letras y la estética del grupo en un único manifiesto en contra de la cultura capitalista. O sea, prácticamente los mismos conceptos que se barajaban en el mencionado álbum final de Refused, pero acentuando el amor por el espíritu revolucionario de los 60's y haciendo realidad el slogan de los Tupamaros, "¡O Bailan todos, o no baila nadie!", del cual se apropiaron. Y si antes estuvimos bailando los pasos equivocados, es hora de corregir ese error.
Trash Talk "Trash talk"(2008):
Caos. Sobredosis de adrenalina haciendo estallar las venas. Miles de ideas apiladas en brevísimos estallidos sonoros. No, no es Grindcore, aunque no faltan los ocasionales blast-beats ni las voces podridas. Tampoco es Noise o Mathcore, y no por ello las estructuras son menos esquizofrénicas. Y, claro, no es estrictamente Hardcore a pesar de la inmediatez enérgica que derrochan estos casi quince minutos de pura violencia. ¿Violencia? Sí, parece haber un resurgimiento de aquella especie de micro-escena conocida como Power-Violence, y Trash Talk, con este álbum debut (luego de algunos ep's y splits) se suma a nombres como Iron Lung o The Endless Blockade en la lista de actos destacados. Las guitarras van y vienen con riffs simples pero siempre mutantes, acompañadas por bases que nunca se quedan en un mismo lugar por demasiado tiempo y voces que se quiebran tratando de alcanzar la velocidad de las canciones. Y sí, también hay lugar para los rebajes Sludge y las capas de puro ruido blanco que Man Is The Bastard nos enseñó a amar. Todo está en su lugar y el cuarteto exhibe la personalidad necesaria como para no olvidarlos, sumando inclusive algún que otro riff con groove casi rockero. Y, claro, la intensidad que no decae nunca, la capacidad innata para sorprender a cada segundo sin necesidad de sobrecargar las cosas ni de apilar notas innecesarias en el pentagrama. La imaginación al servicio del Hardcore más extremo que se pueda concebir o la mayor deformidad que pueda lograrse sin que se asome la palabra "progresivo" por ningún lado. Ustedes eligen. Yo elijo no perderme esta joyita.
Outlaw Order "Dragging down the enforcer" (2008):
¿Extrañaban a Eyehategod? Si la respuesta es negativa (bueno, esta gente es bastante negativa…) pueden dejar de leer ya mismo y volver a sus cd's de Britney Spears, Avenged Sevenfold o lo que sea. Para la gente que no es sorda y tiene sangre de verdad en las venas, les cuento que Outlaw Order es ni más ni menos que Eyehategod pero sin Jimmy Bower, con el bajista Gary Madder tomando su lugar en una de las guitarras y el puesto de las cuatro cuerdas a cargo de Pat Bruders, miembro de Crowbar. Oh sí, nada puede fallar. Esto es Sludge de calidad, con todos los acoples, los riffs sabbatheros bastardeados, los gritos desgarrados, la crudeza punky y el nihilismo sureño que se necesita para jodernos la cabeza. Once temas (bueno, son nueve más intro y outro) con la distorsión en once y la violencia en diez mil millones. Con el costado Hardcore intacto y siempre listo para incitar a patearle la mandíbula a quién sea que nos esté molestando. Toda la incomodidad, la frustración, la alienación y la certeza de que este mundo no está hecho para nosotros. Cinco auténticos criminales regodeándose en pantanos de odio y energía negativa, capaces de crear el groove más aplastante y enfermizo que Tony Iommi jamás osó imaginar. Y sí, hoy en día hay legiones de barbudos tratando de replicar (algunos bastante bien, hay que admitirlo) las enseñanzas de estos linyeras iluminados por el mal, pero con sólo un acople ya sabemos que son ellos. Sólo basta un bleaurrrrrgghh para saber qué el tipo detrás del micrófono es el gran Mike Williams. Ah, encima esa joya que es el tema que da título al disco, donde se pasean por un medio tiempo amenazante que va creciendo en intensidad hasta alternarse con aceleradas inesperadas y rebajes babosos que se te pegan a la piel como sanguijuelas. Con estos tipos nunca se sabe qué puede pasar, así que yo recomendaría que no se priven de disfrutar de este nuevo discazo de Eyehategod disfrazado de proyecto paralelo.
Canvas "Canvas"(2008):
Figuras esqueléticas dibujadas por gruesos trazos de carbón que se quiebran, se doblan y vuelven a sus lugares sin seguir ningún patrón lógico discernible. La negrura de sus movimientos se tiñe de sangre, irregulares y amenazantes manchas rojas que esconden algo peor de lo que muestran. En lo que a mí respecta, Canvas es la revelación nacional del año. No sería justo meterlos en un rígido estereotipo siendo una banda tan joven, pero bien podría decirse que este ep de siete temas es el primer disco Mathcore editado por un grupo argentino. Pero esto está lejos del caos calculado de The Dillinger Escape Plan, aquí brillan las catárticas disonancias de bandas como Converge, Botch o Deadguy. Ok, no están inventando la pólvora, pero para una escena metalera que todavía cree que el futuro está en repetir riffs de Iron Maiden con voces podridas arriba y algún ocasional breakdown, esto es vanguardia pura. Y, más allá de las comparaciones, Canvas tiene las canciones para sostenerse. Guitarras con ideas y recursos, estructuras laberínticas pero sin exagerar, intensidad para regalar, variedad, emoción (y antes de que salten, no, esto no tiene nada que ver con lo que hoy en día se conoce como Emo), cinco jóvenes músicos abriendo sus almas a grito pelado y sin perder de vista el hecho de que están haciendo música. Quince minutos y monedas de sorpresas constantes, espasmos incontrolables, riffs que abren agujeros en la mente dejando entrar gérmenes desconocidos, canciones como espirales capaces de retorcerte el alma y transformar tu percepción. Un auténtico hito en el Rock vernáculo, especialmente recomendado para aquellos que prefieren no conformarse con poco.
Verse "Aggression"(2008):
Doce manifiestos en contra de un mundo que nos ha decepcionado demasiadas veces. Es imposible negar la desazón que se esconde debajo de esta agresión. No se trata del mero placer de cerrar los puños con fuerza. Verse da vuelta el Hardcore de adentro hacia fuera y logra transformarlo en algo más que una mera experiencia adolescente. Y, no, no hablo de Post-Hardcore. Tampoco de elucubraciones metálico-progresivas al estilo de Shai Hulud. El sonido de este quinteto es único y sin embargo no se sale de los márgenes del Hardcore. Claro, se juegan con ritmos variados, dosifican la velocidad con sabiduría, saben que las guitarras pueden dar más que los mismos tres acordes de siempre, pero no se engolosinan con enrosques innecesarios. Y golpean duro, muy duro. Pero yo no hablaría de violencia, esto es pura pasión. Estos gritos no provienen de corazones llenos de odio. Estos enormes himnos de desesperación están construidos con el alma y la mente enfocadas en superarse. Y lo logran. Puede sonar exagerado, pero esta gente está llevando el Hardcore a un nuevo nivel de profundidad emocional e intelectual. Es refrescante escuchar una banda que no le teme a la melodía pero que sabe usarla de formas poco convencionales. No esperen estribillos poperos ni coros de cancha, pero no teman sentir un inevitable nudo en el estómago cuando el peso de temazos como "Old guards, new methods", "Earth and stone" o la increíble trilogía (sí, leyeron bien) de "Story of a free man" les caiga encima. Por supuesto, nada de lo que yo escriba les podrá dar una idea acertada de lo que Verse ha logrado en este revolucionario (en música y letras. Por fin un grupo que entiende que ser Straight Edge no tiene sentido sin una postura política que lo sustente) tercer disco. Y no lo estoy limitando solamente al espectro del Hardcore, "Aggression" es de escucha obligatoria para cualquiera que aprecie la música hecha con intensidad, buenas ideas y lucidez ideológica. De cabeza al top ten del 2008.
Wetnurse "Invisible city"(2008):
Sólo por el hecho de ser invisible no quiere decir que esta ciudad no exista. Claro, por lo general, tendemos a creer que lo único que existe es aquello que conocemos. Y así nos transformamos en estas pequeñas ratitas que caminan en cuatro patas. Estos neoyorquinos no temen estirar los brazos de sus mentes hasta tocar el infinito y moldearlo a su antojo. Y seguramente se divierten adivinando nuestras caras de desconcierto. Tal vez no tanto como nosotros tratando de adivinar a dónde nos llevará cada angulosa esquina de este laberinto musical. Y no hablo de eclecticismo. Aunque, claro, definir esto es más difícil que encontrar el talento de Andrés Calamaro. Muy pocas bandas perciben realmente todo el potencial que pueden tener un par de guitarras distorsionadas. Menos aún son las que logran capitalizar dicho potencial en composiciones interesantes, rebuscadas, violentas pero nunca aburridas. ¿Progresivos? Qué sé yo. Sólo si aceptamos a Mr. Bungle, Today Is The Day o Brutal Truth en dicha categoría. Bueno, a King Crimson también, pero eso es hacer trampa. ¿Dije guitarras distorsionadas? También hay acústicas y les puedo asegurar nunca escucharon algo así en un disco de Metal extremo. ¿Quieren hits? Jódanse, esto no es material para quinceañeras. ¿Quieren sentir cómo se les derriten las neuronas con cada ritmo en forma de espiral, con cada avalancha de riffs descuartizados, con cada quiebre de las cuerdas vocales? Bien, ahora nos entendemos. "Invisible city" es algo así como estar en el microcentro en plena hora pico y alternar entre correr atropellando a todo el mundo y arrastrarse mientras legiones de zapatos y miradas despectivas te caen encima. O como los sueños de un Stephen Hawkings pasado de ácido. Podría agregar alguna otra ñoñada, como destacar los contrapuntos y las combinaciones entre riffs en tonos menores y punteos en mayores, pero eso es de maricones. Y en definitiva no hacen falta pergaminos académicos para disfrutar de esta delirante maravilla. Sólo una recomendación, escuchar sin distracción (y hasta me salió en versito y todo).
Capsule "Blue"(2008):
Es una pena que, hoy en día, hablar de Emo sea sinónimo de adolescentes conflictuaditos, maquillados y listos para mostrarse en el programa de Chice Gelblung. Es una pena porque, de esa forma, una gran porción de historia musical queda desterrada e ignorada por la mayoría. Volviendo en el tiempo hasta mediados de los 90's, bandas como Policy Of 3, Indian Summer o Angel Hair construían un sonido caótico, disonante y crudo en base a las enseñanzas de pioneros aún más viejos como Moss Icon o Heroin. Capsule no hubiera desentonado con esas bandas. Y, en definitiva, qué importan los rótulos ante una música que derrocha intensidad por los cuatro costados. Canciones cortas, epilépticas, enérgicas, creativas y, por sobre todas las cosas, emotivas. Guitarras que transforman la tensión en catarsis, ritmos cambiantes, irregulares, voces quebradas, graves explosivos. Lo bueno es que Capsule no se queda en el mero hecho de recrear los sonidos de culto de antaño. La emoción violenta se complementa con rasgueos limpios arrastrados, pasajes casi lisérgicos de trance hipnótico y repetitivo, y una pericia técnica que les permite jugar con los tiempos y las armonías a su antojo, por momentos rozando el Mathcore. Por supuesto, se requieren unas cuantas escuchadas para ir descubriendo de a poco el enorme caudal de música que esconden estos diez estallidos sonoros con todas sus idas y venidas en tan poco tiempo. Y, claro, esto no es sólo un ejercicio para la mente y los oídos, también lo es para el corazón. Y de eso debería tratarse cualquier música, en definitiva.
P.H.O.B.O.S. "Anaedipal"(2008):
Venas de magma ardiendo a través de este estómago de roca sólida. Gigantescas fauces de metal devorando nuestras percepciones de cemento. Máquinas de odio limpiando las calles con pasos implacables. Visiones eternas de edificios que colapsan tiñendo el aire de un denso gris. La marcha incesante de fantasmas que portan lo que solían ser nuestros rostros. Mareas de cables de alta tensión estrangulando el mismo núcleo de la tierra. Las placas tectónicas se abren de par en par y en su interior encontramos la evidencia de ninguna divinidad que nos salve. Un infierno de hielo que quema la piel. Transmisiones contaminadas anunciando lo inevitable con voz de hierro. Un horizonte de insectos mecánicos se acerca lentamente y su zumbido transforma nuestros oídos en estallidos de sangre. Imágenes entrecortadas por una lluvia eléctrica de estática. Miembros que se funden con el áspero polvo que solía sostenernos. El ritmo obsesivo de miles de cadenas oxidadas lacerando la carne. Mantras funerarios para celebrar el fin de los tiempos. El futuro quema nuestras retinas con negros augurios de opresión. Gérmenes desconocidos y de formas horribles se infiltran por cada orificio, raspando con saña hasta disolvernos. Pequeños dientes de pura electricidad y cosquilleos terminales. Retumban los golpes del gran martillo cósmico. Vértebras mutando en una viscosa sustancia verdusca, cráneos que se encogen, globos oculares atravesados por palpitantes líneas rojas. Los sucios secretos de los dioses. La ventana abierta del universo recibiendo con brazos abiertos a sus legiones suicidas. Desiertos plateados y lluvias negras. Sacerdotes del ruido blanco ofreciendo a sus últimos feligreses en sacrificio. El impenetrable vacío del mañana fundiéndose en el tiempo con las cansadas horas de nuestra cotidianidad.