Por Fernando Suarez.


-7 Seconds "Ourselves" (1988):
Sí, la mayoría de ustedes probablemente tiene a 7 Seconds como una de las bandas pioneras del Hardcore Straight Edge…y sólo eso. Ok, los comandados por Kevin Seconds dieron sus primeros pasos claramente inspirados por el sonido y las letras de Minor Threat y no es de extrañar entonces que siguieran de cerca los cambios musicales y estéticos de la escena Punk de Washington durante los 80's. Así, este cuarto disco se mete de cabeza en lo que se dio en llamar Revolution Summer, ese momento en el que los chicos Hardcore empezaron a mirar hacia adentro, descubriendo nuevos mundos sonoros y melódicos con los que expresarse sin perder la esencia Punk. Por supuesto, 7 Seconds no se limitó a imitar a las bandas de dicha movida (Rites Of Spring, Embrace, Gray Matter, Three…demasiadas como para nombrarlas ahora. Chequeen la página de Dischord Records para más información sobre el tema), de la misma forma en que antes no se limitaron a copiar al pie de la letra a la vieja banda de Ian MacKaye. Estos oriundos de Nevada siempre contaron con una sensibilidad melódica bastante desarrollada que en esta etapa del grupo no hizo más que brillar con una intensidad inesperada. Bajaron la velocidad, trabajaron más los riffs, incorporaron variantes rítmicas y lograron líneas vocales que llegan directo al corazón, sin por eso resignar esa frescura casi inocente de la que siempre hicieron gala. Y sí, acá hay melodías poperas con un gancho irresistible. Y también hay ciertos modismos que luego serían adoptados por el Emo (de hecho, las primeras bandas en ser llamadas Emo fueron las del Revolution Summer), pero lo que importa en definitiva son las canciones y no los rótulos. Y, si de canciones se trata, en "Ourselves" tienen once himnos de pura perfección.
-Cop Shoot Cop "White noise" (1991): ¿Quieren música cargada de tensión, amargura y rabia? ¿Quieren todas esas sensaciones en un disco que no tiene nada que ver con el Metal, el Hardcore ni otros géneros supuestamente extremos? ¿Encima quieren que eso esté presentado con grandes y memorables canciones y con un sonido personal? Ok, acá tienen este segundo disco de Cop Shoot Cop para atragantarse con lo jodida que puede ser la vida. "Discount rebellion" abre las hostilidades con un certero golpe a la mandíbula y va marcando el camino. Un riff tan ganchero como disonante construido simplemente con dos bajos…sí, estos neoyorquinos prescindían absolutamente de las guitarras (más adelante, no obstante, incorporarían un guitarrista a la formación estable del grupo) y, la verdad, es que en ningún momento se hecha en falta dicho instrumento. Sigamos, a ese riff súmenle una voz que aprendió perfectamente las lecciones de Steve Albini y Jim Thirlwell (A.K.A. Foetus), percusiones con objetos metálicos, sonidos tomados de diversos collages de cintas y una letra sublime que le pega sin concesiones a la farsa rebelde de tanto rockero. También tienen gemas como "Feel good" (lo más parecido a James Brown pasado por una licuadora gigante que escuché en mi vida), "Empires collapse" (una pesadilla de dramatismo casi operístico), "Corporate protopop" (Jello Biafra estaría más que orgulloso de semejante letra), "Chameleon man" (más riffs para el recuerdo y un clima hipnótico que estalla con todo el odio), "If tomorrow ever comes" (desazón y rabia conjugados con una melodía insuperable) y ese final perfecto a puro Bukowski que es "Hung again". Y así podría seguir con cada tema. Entonces, tenemos ruido, tenemos también nervio Rockero, tenemos letras lúcidas y bien escritas, tenemos climas jazzeros…emoción, inteligencia, urgencia y creatividad…¿Qué más se le puede pedir a la vida?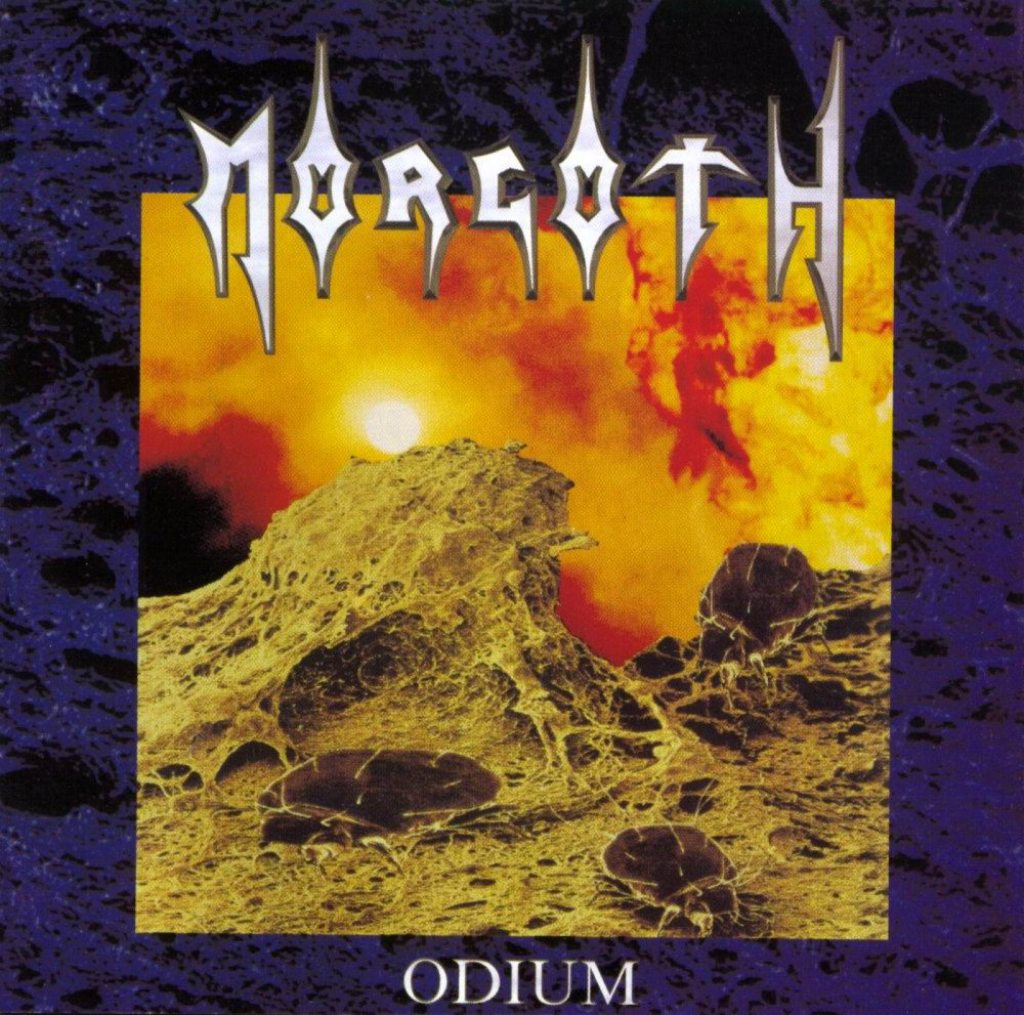 -Morgoth "Odium" (1993): Cuando un disco sigue sonando actual y relevante a más de diez años de su edición es porque estamos en presencia de algo bueno. Cuando un disco todavía suena adelantado a la época a quince años de su edición, ya estamos hablando de algo monumental. Y no importa que tanta magia haya pasado desapercibida para la mayoría del público, el valor de una obra musical no se mide por las cifras de ventas. Morgoth dio sus primeros pasos como una banda más en el mundo del Death Metal, con sus correspondientes deudas a Obituary y un puñado de canciones aceptables. Nada hacía suponer que en algún momento se despacharían con algo como este genial "Odium". Ok, ciertos elementos del viejo sonido se mantuvieron: guitarras afinadas bien abajo, la voz podrida en una línea similar a la de John Tardy (de los mencionados Obituary, claro) pero con un dejo más hardcoroso, alguna que otra levantada de velocidad…y no mucho más. Las guitarras tomaron una nueva dimensión, recorriendo texturas, vueltas inesperadas, arpegios turbios y construyendo riffs sobrevolados por los fantasmas de bandas como Voivod y Killing Joke. Las composiciones crecieron con una dinámica única, combinando pasajes de embriagadora psicodelia con una agresión retorcida, alejada de todo atisbo de primitivismo y logrando una intensidad apabullante, casi comparable con la majestuosidad que bandas como Neurosis lograrían unos años después. Claro, otro punto a mencionar es la incorporación de elementos Industriales que no hacen más que incrementar los climas casi monolíticos que propone el disco. Y les puedo asegurar que el resultado no sólo es impecable en términos de efectividad, si no también en originalidad. "Odium" no se parece a nada que hayan escuchado, ya sea en el momento de su creación como en la actualidad. Todo amante del Metal extremo debería escuchar esta maravilla antes de morirse.
-Buzzov-En "Sore" (1994): Más de una vez se ha dicho (y con razón) que Black Flag era la encarnación certera de la frustración en su estado más puro. Claro, a lo largo de la historia del Rock hubo innumerables bandas que bebieron de esa fuente e izaron la bandera negra, buscando recrear esa combinación perfecta de crudeza Punk y densidad Black Sabbathera. Sin duda alguna, "Sore" resulta la reinterpretación perfecta de ese espíritu en los 90's. El álbum comienza con el tema que lo titula, nueve minutos donde más de la primera mitad de los mismos son puro ruido ambiental hasta que un acople abre la hostilidades y da paso al primero de muchos riffs gloriosos, disonantes, sucios, densos y siempre crudos. Si bien es posible catalogar a Buzzov-En como un grupo Sludge, la forma en que el cuarteto encaraba el género era por lejos la más Punk de la época. Por supuesto, abundan los tempos de ultratumba con esas guitarras rebosantes de feedback y esos armónicos histéricos que penetran los tímpanos como un taladro. Pero también hay levantadas de tempo donde la asfixia da paso a una violencia desesperada y caótica, un vacío del cuál sacar fuerzas para volver a caer más adelante. Todo coronado por la voz de Kirk Fisher, que a puro grito distorsionado nos entrega sus reflexiones sobre las adicciones, la vida en las calles y, claro, la frustración. "Sore" es una bestia enorme y amorfa, un áspero viaje a través de los instintos más básicos y oscuros, doce prisiones donde el encierro se transforma en un placer perverso y masoquista. "Sore" raspa dentro de tu cabeza, se apodera de tu cuerpo y lo obliga a doblarse del dolor. Doce himnos de pura perfección monolítica donde la autodestrucción se transforma en un camino de auto superación.
-Spazz "La revancha" (1995): Si son de los que piensan que una banda enrolada en el Metal y el Hardcore extremo no debería demostrar demasiado sentido del humor, sigan de largo, esto no es para ustedes. Si creen que un grupito de skaters enfundados en bermudas que se la pasan haciendo chistes tontos y/o internos no sería capaz de hacer música realmente violenta y compleja, lo mismo. Spazz no serán los creadores de ese subgénero conocido como Powerviolence (el mérito le cabe a Neanderthal, la banda que mutaría en los gloriosos Man Is The Bastard) pero probablemente sean los que lograron interpretarlo de forma más efectiva. ¿Y qué corno es Powerviolence?, se preguntaran. Bueno, como para sacarnos rápido de encima el tema de las definiciones, digamos que es el término que se aplicó a un grupo de bandas Californianas que adoptaron una forma de Hardcore hiper acelerada y caótica, con canciones brevísimas y plagadas de cortes y cambios de ritmo, incluyendo ciertas influencias metálicas (en especial del Crossover) pero sin llegar a ser Grindcore. Rastros de este sonido son fácilmente identificables en otros subgéneros posteriores como el Mathcore o el Noise-Core. Bien, "La revancha" apila veintiséis temas en menos de media hora y es todo el tiempo que se necesita. Sí, las canciones son explosivas, veloces e imposibles de seguir con la patita. Pero no es un mero ejercicio de odio. La frescura con la que encaran la composición hace que el dinamismo nunca se pierda, los ritmos son hiperkinéticos pero las constantes idas y venidas dentro de un mismo tema hace que el factor aburrimiento desaparezca por completo. Asimismo, los tres integrantes de Spazz ponían sus podridas voces, logrando un efecto casi cómico con esos rústicos juegos de voces. Y la interpretación, lejos de todo atisbo de desprolijidad, era ajustadísima, incluso dotando a la música de una soltura casi jazzera, especialmente en la parte rítmica. A todo eso, súmenle el empleo de instrumentos como el banjo y el saxofón como para que la cosa sea aún más variada. Y, sin embargo, en ningún momento deja de ser puro Hardcore extremo. Volviendo al principio, si son de esos que desestiman sin miramientos a cualquier grupo por ser "divertidos", tal vez deban pegarle una escuchada a esta auténtica bombas musical y replantearse esa postura.
-Integrity "Seasons in the size of days" (1997): El fin del mundo nos está pisando los talones. Los colosos de concreto que enmarcan nuestros días colapsan y caen, aplastando carne y huesos en su camino. El confort y la seguridad de nuestras pequeñas rutinas urbanas desaparecen y es como si nunca hubieran existido. Esas voces lejanas que dábamos por meras alucinaciones desquiciadas ahora se escuchan más fuertes y serias que nunca. Las represas de odio y resentimiento finalmente se han desbordado y las explosiones tiñen nuestra vista de un denso color gris. En sus dieciséis años de carrera, Integrity encarnó como ninguna otra banda la idea de Hardcore apocalíptico. No sólo por sus letras cargadas de misantropía y referencias esotéricas ni por el aura de misterio que siempre rodeo a su eterno líder, el multifacético Dwid Hellion, si no también por su música. Si en sus comienzos fueron pioneros en eso de combinar la crudeza del Hardcore con la precisión y la pesadez del Metal, sucesivamente fueron puliendo su propia fórmula, incorporando elementos de la Música Industrial y el Noise pero sin dejar nunca de lado los afiebrados machaques slayerianos y las voces llenas de rabia. Y la cualidad distintiva del grupo fue lograr que esos elementos, en apariencia simples y hasta algo toscos, pudieran invocar imágenes certeras de oscuridad y perdición. O sea, transformar esa intensidad en algo más que una simple excusa para el mosh, dotarla de una profundidad única sin necesidad de complicar las cosas instrumentalmente. El Apocalipsis en riffs de cuatro acordes tocados a toda velocidad.
The Falcon Project "Lights karma action" (2000): No deja de ser curioso como a veces la música inspirada directamente por el Rock de los setentas puede sonar tan futurista. Claro, el truco está en tomar inspiración del espíritu de la época antes que en copiar al pie de la letra los modismos de la misma. Pongámoslo en claro, esto no es Stoner Rock ni Grunge y mucho menos tiene que ver con ese revival garagero de banditas como The Strokes. Acá tenemos mucha psicodelia, cuelgues espaciales y climas lisérgicos, pero de ninguna manera se trata de otro grupo de snobs tratando de recrear el Rock Progresivo con ínfulas Punks ni de meros adoradores de Syd Barret entregándose a una autoindulgencia drogona. Esto sigue siendo Rock. Pero hay mucho más bajo la superficie. La repetición hipnótica del Kraut Rock transformada en construcciones de tensión que estallan en maremotos de pura distorsión y que se repliegan en un cálido útero cósmico. Claro, algo de espíritu Punk se cuela en The Falcon Projetc, noten si no que el disco comienza con un guiño a Hüsker Dü con el tema "New day on the rise" que podría ser una versión deforme del "New day rising" de la ex banda de Bob Mould. También ciertos sonidos de los noventas tienen su lugar, en especial el Noise-Rock y pasajes donde las fábulas espaciales se visten de Trip-Hop. Así, el disco nos pasea por diversos climas y texturas, por momentos suaves capas de teclados nos transportan al cosmos y, cuando menos lo esperamos, un aluvión de guitarras saturadas envuelve nuestras neuronas y las aprieta hasta sacarles todo el jugo de adentro. Un disco ideal no sólo para los amantes de la música setentosa si no también para todos aquellos interesados en formas diferentes de hacer Rock.
-Oxbow "The narcotic story" (2007): Hay discos que plantean preguntas antes que respuestas. Discos, incluso, que nos presentan interrogantes tan turbios que no quisiéramos nunca conocer las respuestas. En sus veinte años de existencia y a lo largo de sus siete discos, Oxbow se especializó en levantar interrogantes, más que nada acerca de la salud mental de sus integrantes. Y en especial, claro, sobre la de su vocalista Eugene Robinson, un tipo que (para que se den una mínima idea) hace poco editó un libro sobre…pelearse a puño limpio. El principal interrogante en "The narcotic story" era si podría un grupo eminentemente ruidoso y enfermizo mantener sus cualidades con una producción cuidada y un sonido claro y pulido. En este caso hubo una respuesta, un rutilante SÍ en mayúsculas. Es más, es probable que esta sea la obra más perturbadora del cuarteto y eso es mucho decir. Imagínense a un Led Zeppelin apaleado y violado por una pandilla de asesinos seriales adictos al líquido para frenos. Ahora imaginen que en vez de Robert Plant ponemos al frente a un tipo que hace ver a Mike Patton como un cantante bastante convencional. Y aún así estamos lejos. Esto es una historia relatada con riffs espiralados, sutilezas sonoras por doquier, pianos desvencijados, arreglos de cuerda sacados del abismo más profundo del alma humana, atisbos de Blues lisérgico y una voz que crea sus propias técnicas a partir de la nada absoluta, transformándose en las mismas palabras que emite en lugar de sólo interpretarlas. Por supuesto, no es una historia con final feliz, pero el sólo hecho de que exista una banda así, capaz de tremendo despliegue de creatividad, talento e imaginación debería ser suficiente.