Por Fernando Suarez.



-Salome "Salome" (2008): Imagino un sótano. Un pequeño y polvoriento antro donde retumben estos riffs tamaño elefante. Donde la enfermedad de estos gritos infecte mi cabeza de manera irreversible. Donde cada golpe del redoblante contraiga mi estómago. Imagino a ese nerd con su Gibson blanca colgada, doblándose con cada tortuoso acorde, llevando las riendas desbocadas de este océano de alquitrán sonoro. Imagino dos brazos sin rostros escondidos detrás de esa batería que te obliga a moverte, aunque sea en la más lenta de las cámaras. Imagino, claro, a esa rubia de rostro casi angelical transformándose en la personificación de la desesperación con cada gruñido, invocando las imágenes más negras del peor viaje de ácido que jamás hayan soñado con cada alarido. Por momentos trato de imaginar un bajista, pero Salome parece no necesitar tal cosa. Y no por eso pierden graves, de hecho la masterización a cargo de James Plotkin se encarga de eliminar dicha posibilidad. Ok, no están descubriendo la pólvora, pero si el Doom/Sludge agobiante de bandas como Burning Witch o 13 te provoca sueños húmedos, he aquí un nuevo motivo para despertarte con los calzones mojados.




-Sinaloa "Oceans of islands" (2008): Ella observa desde una ventana. Una casa de madera pintada con colores chillones. En los días de lluvia, ella permanece en su cama, soñando con viajes en alta mar, océanos rebeldes y barcos que se tambalean. Otras veces recuerda las multitudes apiladas en escaleras mecánicas, espaldas grises, rostros sin rostro y el ritmo constante de las masas avanzando con una coordinación casi deprimente. Ella se observa a sí misma desde una ventana dentro de una ventana enmarcada en una casa de madera. La lluvia humedece las paredes y los colores que las cubren parecen moverse en espirales. Pero ella no los puede ver desde su cama. A veces recuerda. Un rostro que solía tener rostro pero ahora sólo es un cuerpo. Y duele. Su memoria es selectiva, pero aún así duele. Ella se encuentra cada vez más lejos de sí misma, escondida detrás de un calidoscopio infinito de ventanas dentro de ventanas. A veces ella quisiera vivir en una casa de madera pintada con colores chillones. La lluvia la hace desear las cosas equivocadas. Como cuando deseaba en su cama a ese rostro claramente definido en su memoria. Y lo veía a su lado observando desde una ventana en una casa de madera.
-Enslaved "Vertebrae" (2008): Cada vez más lejos de las montañas y los bosques. Cada vez más lejos de cualquier lugar que crean conocer. Enslaved sigue dibujando nuevos universos en blanco y negro. Y las pequeñas preocupaciones mundanas de aquellos que habitamos éste mundo chato y gris desaparecen. La cosmogonía de Enslaved desconoce palabras como Black, Metal, Viking, Progresivo y demás paparruchadas. Y si un grupo como Nachtmystium logró con sus últimos trabajos juntar de forma impecable la psicodelia drogona de los 70's con la fría misantropía del Black Metal, es porque estos noruegos ya habían pavimentado el camino con obras maestras como "Monumension" (2001) o "Below the lights" (2003). Y, como buenos pioneros, siguen uno o dos pasos adelante del resto. "Vertebrae" es la prueba. Estructuras laberínticas, remansos soñadores, ritmos de dientes apretados y puños en alto, cuadros de oscuridad sobre oscuridad pintados con rayos cósmicos robados a soles muertos. Enslaved redescubre los secretos de la naturaleza a través de la negra densidad del espacio exterior y nos los muestra envolviéndonos en sus pequeñas sinfonías distorsionadas. Oh sí, son pretenciosos, rebuscados y casi "grasas", como suele suceder con cualquier grupo de Metal metiéndose en terrenos Progresivos. Y nada de eso importa, sólo queda rendirse ante tanta MÚSICA y sumergirse en las más elevadas profundidades.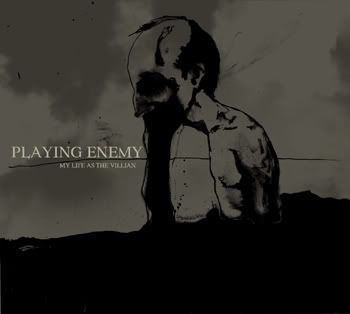 -Playing Enemy "My life as the villain" (2008): Todo lo que conocías desapareció. Algo acecha detrás de esta farsa de comodidad. Desvariados del mundo, regocijaos, he aquí sus nuevos himnos de perdición. Juegos de gente adulta con serios tics en el bocho. Sí, el Mathcore puede ser algo más que un entretenimiento de nerds con bermudas. Y Playing Enemy sabe mucho del tema. Descienden directamente de Deadguy y Kiss It Goodbye, dos de los pilares indiscutidos del asunto. Y siempre poniendo la urgencia por delante de la frialdad calculadora. Nunca un acorde mayor, nunca un ritmo en cuatro por cuatro, esto es pura incomodidad. Sin aceleradas ni corridas innecesarias. Esta bestia lanza fuego por sus orificios nasales a un paso lento y contenido. Más que caos controlado esto es taquicardia controlada. Y se siente tan bien. Y tan, pero tan mal. La banda de sonido para todas las pequeñas desgracias cotidianas habidas y por haber. El espíritu más angustiado de Black Flag despojado de todo resquicio de luz. Los desvaríos más incongruentes de The Jesus Lizard atacados por electroshocks. El fin del mundo revolviéndose en tu estómago. No es de extrañar, entonces, que este disco sea una despedida. Ciertos niveles de intensidad nunca vuelven a alcanzarse. Y se necesitarían motosierras industriales para cortar al aire de tensión en estas canciones. Riffs construidos con alambres de púas, voces que parecen entender el sinsentido de las cosas y lo traducen en ásperos mantras de perdición, golpes (a)rítmicos que destrozan pechos y exhiben corazones ennegrecidos. Atrévanse a saborear la más amarga de las amarguras.
-Ufomammut "Idolum" (2008): Pocas veces el nombre de un grupo calzó tan bien como en este caso. Efectivamente, esto es una nave espacial mamut. Podés flotar en la espesura cósmica, bailando en cámara lenta con las estrellas en un trance lisérgico infinito…hasta que el espacio se vuelva sólido como millones de rocas concentradas en sólo riff. A ver si se entiende, estas guitarras hacen que Crowbar parezca Green Day en comparación, así de gordas son. Y, luego, de vuelta a la oscuridad sideral. Tenues sonidos arrullándote, arreglos misteriosos augurando que esta calma no durará por siempre. Entonces, comienza otra cabalgata cósmica, montados a los peludos lomos de estos mamuts. Tal vez no quedó claro, me refiero a riffs más grandes que el ego de Lars Ulrich, más graves que un coro de truenos y lentos como una babosa moribunda. Y, si en los momentos colgados, Ufomammut remite a viejos lobos psicodélicos como Hawkwind, Can o el primer Pink Floyd, cuando pisan los pedales suenan como unos Sunn 0))) reconciliados con la estructura y el ritmo, o como el Sleep de "Jerusalem" en proceso de desintegración. Esto es DOOM, con mayúsculas y arrastrado a la máxima expresión de gordura, pesadez y cuelgue psicodélico. Pruébenlo con moderación, puede resultar altamente adictivo.
-Joan Of Arc "Boo human" (2008): Después de once años de carrera tal vez ya no sorprendan como en sus primeros trabajos, con esos cambios de dirección impredecibles y esa insistente actitud desafiante. Ya todos sabemos que el vasto universo de Joan Of Arc no sabe de los límites genéricos que impone el Rock en general. Entonces, ya no hay sobresaltos si escuchamos texturas de ruido electrónico entrelazadas entre guitarras acústicas y melodías melancólicas. Y sin embargo, más allá de la sorpresa se encuentra el riesgo de lograr un conjunto de perfectas canciones, sensibles y hermosas canciones. Y, claro, aún así enroscadas y jodidas en su sórdido encanto. Esto sigue siendo Joan Of Arc. Aquí pueden convivir sin problemas el Folk más tierno y el ruido más abrasivo, las voces más frágiles y las guitarras que son un trabalenguas para los dedos, los climas más densos y apesadumbrados y las más etílicas celebraciones. Cada canción (porque, insisto, estamos hablando de CANCIONES) es un mundo en sí mismo, plagado de arreglos sutiles, una eterna paleta de colores tímbricos y una destreza melódica inigualable. "Boo human" es otro gran ejemplo de que no siempre la intensidad en el Rock tiene que ver con la distorsión, la velocidad o el volumen.
-Helms Alee "Night terror" (2008): Podría resolverlo fácil y tirar nombres: Harkonen, Botch, Melvins, Jesu, Torche, Jucifer, Pixies…Y aún así no sería suficiente. Sí, las guitarras pueden sonar como turbinas de avión descompuestas, pero también pueden acariciar arpegios paisajistas o trazar irregulares líneas psicóticas en el aire. Las voces pueden paralizarte con esos gritos bestiales o embrujarte con una dulzura adictiva. Y sí, por momentos la sensación de que los 90's están de vuelta es bastante fuerte. Pero estos muchachos son de Seattle, así que no es de extrañar que hayan mamado su buena dosis de guitarras fuzzeras, groove desalineado y camisas a cuadros. Pero esto no es un revival de nada. Digamos que si el Grunge tomó claras referencias de los 70's y las reinterpretó a su manera, Helms Alee repite ese proceso pero veinte años después y mirando hacia delante. Entonces, la intelectualidad de la "generación Hydrahead" se encuentra con el culto a la canción redonda del Rock noventoso y suma la nueva sensibilidad melódica de los exponentes más interesantes del Metal actual (Torche, Jesu, Jucifer, etc.). Y sigo quedándome corto. Porque, ¿dónde encajarían entonces los momentos dónde este "Night terror" suena como la perfecta banda de sonido rockera para una película como "The Shining"? ¿Y qué me dicen entonces del final con "Wild notes", donde un piano repite un riff acolchonado por acoples y feedback e iluminado con voces casi fantasmales? Y así me quedarían más aristas y enfoques, pero justamente ahí también reside la gracia de este tipo de discos, el poder volver a ellos y encontrar cada vez cosas nuevas. Por supuesto, los 90's van a volver, pero es más probable que el interés esté puesto en lo meramente anecdótico (como suele suceder con los revivals) o inclusive que aberraciones como Spin Doctors o Hootie And The Blowfish se reúnan con éxito comercial asegurado y que el tipo de Blind Melon sea visto ahora como un "artista" o algo por el estilo. No importa, para aquellos que busquen algo más que cáscaras vacías y nostalgia adolescente, he aquí una muy buena opción.
-Zozobra "Bird of prey" (2008): El universo se quiebra. Las ondas expansivas acarician las grietas que conforman la piel de nuestro mundo y lentamente las abren en un coro de estallidos sísmicos. El cielo se tiñe de ningún color y, por primera vez, somos capaces de ver. Espectros de lava palpitante se retuercen en danzas de victoria. Enormes rocas rojas se reagrupan tomando la forma de gritos ancestrales. El vasto estómago de la tierra se queja, ensanchándose en convulsiones irregulares. Paredes hechas de océanos avanzan como una procesión de elefantes sobre un hormiguero. El concreto que nos resguardaba tiembla y se convierte en nuestra tumba. El asfalto se derrite lentamente y se funde con nuestras últimas esperanzas. El fin camina sobre estas ruinas con pasos monumentales y sigue su camino. Nada más ha de crecer en este desierto.