Por Fernando Suarez.



-Zenocide "Zenocide" (2009)
Boris, Corrupted, Coffins, Gallhammer, Birushanah, GreenMachine y así podríamos seguir enumerando por horas. Japón tiene una más que destacada tradición dentro de los sonidos más densos y enfermos del Sabbathismo moderno. Podemos sumar a la lista a Zenocide, enigmáticos muchachos que llevan los riffs aplastantes, los graves saturados y los acoples en el corazón. El referente más cercano tal vez sea ese sonido áspero y casi Crust de Corrupted, pero Zenocide cuenta con ciertos trucos bajo la manga para evitar la mera copia sin gracia. Ya dijimos que el sonido navega por la crudeza más absoluta, de hecho muchos de los riffs suenan a Crust tocado lento antes que a Black Sabbath Hardcorizado. Por otro lado, es posible encontrar un fuerte componente Blackmetalero (en especial en temas como "Exit" y "Third") con las guitarras generando cascadas de distorsión satánica sin por ello dejar de lado cierto macabro sentido melódico y la voz enroscándose en desgarrados alaridos que remiten a un Mike Williams con Corpsepaint. Ahora bien, los acoples y gritos que enmarcan esa bestia babosa que es "Shindow", bien podrían ser considerados el híbrido más maldito y agobiante entre Eyehategod y Khanate. En fin, referencias inevitables pero que en ningún momento opacan la identidad del grupo. Ok, tampoco vamos a creer que estamos en presencia de un nuevo paradigma para el Sludge/Drone/Crust/Doom/Black o cómo sea que prefieran llamar a esto, pero sin duda alguna aquellos que aprecien dichos empantanados atributos han de encontrar en estos seis turbulentos temas material de innegable calidad. Ideal para pudrirse lentamente.




-End Of A Year "End of a year" (2009)
Pareciera que los últimos fines de año que vivieron estos neoyorquinos fueron a fines de los ochentas, más precisamente en Washington DC. Los tipos mamaron esa cruda emotividad, ese momento en que el Hardcore empezaba a mirar hacia adentro antes que seguir apuntando con su eterno dedo acusador. Hasta tomaron su nombre de un tema de Embrace, aquella fugaz banda liderada por el prócer Ian MacKaye. Si bien este álbum autotitulado consta sólo de tres canciones, bien sirve como carta de presentación y como aperitivo hasta el próximo larga duración. Tengan en cuenta que hace tres años que el quinteto se maneja con una firme dieta de ep's y splits. "Robert E. Howard" combina riffs entrecortados con esas melodías desprolijas y declamativas de las que Don MacKaye estaría orgulloso. "Gray Morrow" acelera el pulso sin bajar el nivel de sensibilidad melódica y casi mimetizándose con los momentos más adrenalínicos de Rites Of Spring. "Walter M. Miller Jr." cierra la placa con un clima más introspectivo, pintando esas postales de cotidiano desconcierto y desgarrada melancolía sin caer en la sobreactuación ni en la mera queja adolescente. Ok, podemos coincidir en que esto no es material de vanguardia ni pretende serlo, pero es casi imposible no rendirse ante canciones tan buenas entregadas con el corazón en la mano y la mente enfocada. Y sí, tampoco voy a esconder que el grupo rescata una de mis eras preferidas en la historia del Rock, pero aún así no creo que se trate de un ejercicio estéril de recreación o mímica del pasado. Nada en estos temas se acerca siquiera a la pose superficial de tanta banda retro. El corazón Hardcore/Punk exhibido por un prisma nerd/sensible y a años luz (en términos de intensidad, inteligencia y honestidad) de la pavada maquillada que hoy en día se conoce como Emo.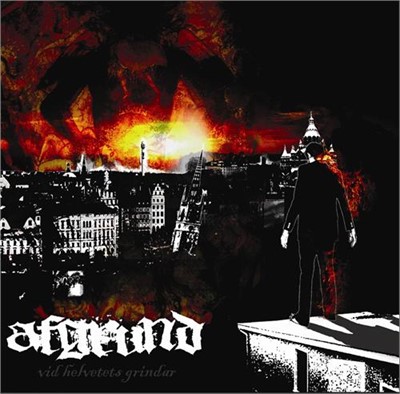 -Afgrund "Vid helvetets grindar" (2009)
La sed no es nada, el vértigo es todo. Desde hace unos años ya vienen desfilando un buen número de grupos tratando de erigirse como merecedores de la corona (en este caso sería una gorrita) del Grindcore sueco, puesto que Nasum dejó vacante tras su obligada disolución. Con distintos grados de calidad podemos mencionar a Gadget, Sayyadina, Splitter, Infanticide o Exhale como algunos de los exponentes más destacados de dicha corriente. Den la bienvenida a Afgrund, que con este segundo disco se adelanta unos cuántos pasos en la carrera. No hablemos de originalidad, aquí Nasum y Napalm Death son ley y está muy bien que así sea. Pero lo que pueda faltar en sonido propio (esas guitarras crujientes y masivas, y ese bajo que en vez de cuerdas parece tener cables de alta tensión, le deben bastante a la arquitectura sónica de los liderados por Mieszko Talarczyk) les sobra en energía, frescura y dinamismo. Abundan los blast-beats, los riffs borroneados, los rebajes Hardcorosos, la casi inhumana precisión instrumental del Death Metal y la típica gama de alaridos Crustys con la sangre en la garganta. El truco está en condimentar esos elementos típicos del Grind con pequeñas digresiones genéricas que aporten algo de aire para que el nivel de intensidad no baje nunca. Así, tenemos guiños al Thrash ("Forbrukningsartikel", "Inevitable Environmental Collapse", el más que obvio "T(h)rash Vortex"), al Doom ("A Future Europe in Flames", "The Empire", "The Great Cover-up Apocalypse"), ciertos pasajes que remiten a lo más Punk de Cripple Bastards ("Kuken som Vapen") y hasta un respetuoso rescate de los juegos de texturas implementados por Napalm Death en su etapa "experimental" de mediados de los noventas. No hay más que agregar, si (como decía Sebastian Bach) ustedes también son esclavos del Grind, he aquí un disco de escucha obligatoria.




-Bring Me The Head Of Orion "Colossus" (2009)
Hipnóticos colchones de estática flotando tenuemente sobre el vacío. La tensión parece cortarse con golpes mecánicos, pero lo que parecía ser un riff liberador se transforma en un marco de acoples y suciedad digital que aprieta el cuello hasta cortar la respiración. El crepitante gruñido subterráneo de una bestia inidentificable se suma a este coro de perdición mientras las cuerdas retoman su negro retumbar y desaparecen súbitamente en estos polvorientos pasadizos. Esta vez sí detectamos un riff, o tal vez sea una invocación eléctrica a criaturas de oscuras galaxias. No hay tiempo de reflexionar, la cacofónica tormenta de feedback se ha desatado sobre nuestras cabezas y no hay dónde guarecerse. Una disonante armonía de estridencias se introduce en nuestros cerebros, adormeciéndolos para luego apalearlos con más erupciones sonoras. El paso mortuorio de esta lisérgica procesión fúnebre marca los últimos y desesperados pulsos de un cuerpo que se apaga lentamente. Sí señores, esto es Drone en su estado más opresivo y alienante. Concebido en algún sótano solitario y entregado (de forma gratuita, vale aclarar, en su myspace) para nuestro retorcido placer sadomasoquista. No esperen un clon de Sunn 0))), no obstante. De alguna forma, el sonido creado por este muchacho texano (que se niega a revelar su identidad terrenal) tiene más puntos de contacto con misantrópicos arquitectos de la cinemática tortura sonora como Abruptum, Gnaw Their Tongues e inclusive Swans. Las esporádicas baterías programadas traen ciertas reminiscencias a los pasajes más minimalistas de Godflesh, aunque aquí la estructura de canción se encuentre totalmente destruida en pos de un atmosférico viaje por los recovecos más siniestros de la mente humana. No faltan los graves que resquebrajan la tierra, por supuesto, pero aquí en vez de estallar como truenos, se desdoblan en infinitas texturas filtradas por variados tratamientos digitales, logrando un efecto menos épico pero más perverso e inquietante. Experiméntenlo y sientan como se les hiela la espina dorsal.




-Bellini "The precious prize of gravity" (2009)
Si les digo que Bellini (nombre tomado del apellido de un compositor clásico) contó alguna en sus filas con los talentos percusivos de Damon Che, eterno líder de los complicados Don Caballero, podrán imaginarse por dónde vienen los tiros en este tercer álbum del grupo. Sí, esto es Math-Rock en todo su esplendor, con guitarras contracturadas y angulares, ritmos irregulares y una tensión cadenciosa y circular que nunca afloja. Y no sólo eso. La serpenteante voz de Giovanna Cacciola aporta una nueva dimensión al género, con melodías tan hipnóticas como desgarradoras, tan sórdidas como emotivas. De alguna forma, esto podría ser visto como la versión intelectual de un grupo como Made Out Of Babies o la contracara maliciosa de Blonde Redhead, aunque semejante definición no hace justicia al enorme caudal creativo de dichas bandas ni al de la que nos ocupa. Digamos que Bellini logra transmitir las más incómodas sensaciones sin necesidad de apelar a estridencias innecesarias. Claro, aquellos que crean que las seis cuerdas ya no tenían nada nuevo para ofrecerle al Rock se toparán con un par de sorpresas en los dedos de Agostino Tilotta. Y, sin embargo, todo este despliegue de notas enroscadas no tiene nada que ver con estériles exhibiciones de pirotecnia guitarrística. Aquí el nervio rockero sigue vibrando de forma incandescente, logrando conmover no a base de decibeles si no de ideas. Estas diez canciones se clavan tanto en el estómago como en la mente y dejan profundas marcas en ellos. El corazón más revulsivo del Punk (como en sus discos previos, produce el gran Steve Albini) amplificado por estos temas de profundidad y belleza surrealista. Un desparramo de inteligencia musical al servicio de grandes canciones.


-Katharsis "Fourth Reich" (2009)
Lo primero que llama la atención de este cuarto disco de Katharsis es su título, en algún lugar entre la incorrección política más burda y la inefable bravuconada Blackmetalera. Por supuesto, a esta altura no nos vamos a escandalizar por una palabrita y mucho menos por esa supuesta ideología extrema que esconde el Negro Metal. Todo eso pasa a segundo plano (al menos en algunos casos, claro) cuando apretamos play y nos dejamos envolver por estas llamas. Lejos de las nuevas (y bienvenidas sean) tendencias que apuntan a ampliar los márgenes del género incorporando influencias exóticas, este trío alemán se mantiene fiel a los dictados de los pioneros de la crudeza noruega. Claro, aquellos que prestaron atención a su anterior "Vvorld Vvithout end" habrán notando un acercamiento a la deformidad casi surrealista de grupos como Deathspell Omega, un elemento que en este "Fourth Reich" ha sido reducido en pos de estructuras más directas y concretas. Esto no quiere decir, de ninguna manera, que el vuelo creativo se haya perdido, es sólo que está tratado de formas un tanto más tradicionales. Las composiciones siguen siendo extensas (tres de los cinco temas superan la marca de los diez minutos) y dentro de ellas es posible encontrar una gran variedad de ritmos y riffs, aunque prevalece un tono de misantrópica violencia que no decae nunca. La referencia más obvia sería DarkThrone, tanto en esos letárgicos trances a puro blast-beat como en los guiños marchosos al Hardcore y al viejo Celtic Frost, pero es imposible no notar la fuerte influencia de Bathory en los pasajes más épicos del disco. Ustedes me dirán que dichas bandas son bastiones ineludibles para cualquiera que se adentre en el terreno del corpsepaint y las iglesias en llamas. Y tendrán razón, no voy a discutir eso. Ahora bien, debajo de las influencias (como decía Adrián Outeda) y del odio irrestricto, encontramos algo de sustancia. Riffs enroscados con un cierto tufillo a Morbid Angel (me refiero a la estructuración de los mismos, el sonido se mantiene chillón y crujiente como Satán manda), un afilado instinto para que el aburrimiento nunca diga presente aún en las canciones más largas (insertar siniestros interludios ambientales ha sido una gran idea) y una innata capacidad para generar ominosas visiones en la mente eludiendo con gracia lo caricaturesco. Si a eso le suman los toques de puro Doom infernal y los fúnebres coros de "Sinn Koronation", ya la cosa toma otro color (digamos mejor otra textura. El color sigue siendo negro). Me gustaría creer que Katharsis sólo se está replegando para volver en el futuro a la demencia de su disco anterior. O tal vez aquel haya sido la excepción. En cualquier caso, si se quedaron sin música de fondo para el aquelarre del fin de semana, aquí tienen una excelente opción.
-Throbbing Gristle "The third mind movements" (2009)
No hay nada de malo con una cosa o la otra, pero es innegable que hay artistas que van más allá del placer estético. Y digo placer estético en la más flexible de sus definiciones, en definitiva es posible encontrar ese tipo de goce tanto en discos de los Beatles como de Pig Destroyer o Sonic Youth, no se trata de géneros musicales, precisamente. Por otro lado, siempre son necesarios aquellos que (aún a riesgo de ser llamados pretenciosos) intentan llegar un poco más lejos. Aquellos que buscan quebrar paradigmas y presentar visiones totalmente nuevas. Desde su nacimiento en 1975, Throbbing Gristle (y, en particular, su líder Genesis Breyer P. Orridge, un personaje que se encargó de llevar la idea de ambigüedad sexual a un nuevo nivel) se encargaron de desprogramar muchos de los condicionamientos que la cultura occidental planta como huevos en nuestros cerebros. Y no me refiero sólo al plano artístico. Ciertamente, discos como "Second annual report" o "20 Jazz Funk greats" fundaron los estamentos de la Música Industrial, tanto en lo sonoro como en lo estético y lo ideológico, creando así un nuevo folklore para los esclavos asalariados que pueblan las grises urbes en las que vivimos. Pero también es de destacar la militancia casi terrorista con la que encaraban sus extremas presentaciones en vivo y las complejas reivindicaciones políticas que se escondían detrás del feedback y las imágenes borrosas. Nada de eso se ha perdido. En 2004 Throbbing Gristle volvió al ruedo y éste es ya el segundo disco desde su reformación. ¿Qué puedo decirles? Esto no es Metal, no tiene nada que ver con ningún tipo de modismo rockero y sin embargo suena tan perturbador, extremo e intenso como jamás imaginaron que fuera posible, logrando, de paso, aquello que se suponía tarea del Punk, una forma musical que rompiera de violentamente con el Rock tradicional y oficiara de banda sonora para la más angustiante de las decadencias urbanas. Ok, sería necio no mencionar que, a esta altura, mucha agua ha corrido bajo los puentes y hoy en día resultaría fácil y cómodo poner este disco en la bolsa del Ambient-Noise-Industrial. Una paradoja con la que, estoy seguro, Orridge estaría más que satisfecho. Pero no hay lugar para el confort en estas ocho composiciones, esto no es música para poner de fondo mientras uno hace otras cosas. Throbbing Gristle exige nuestra total atención y penetra nuestros sentidos, se inmiscuye en nuestro organismo como un virus, tal como lo hacían las palabras de su admirado (y, a su vez, admirador) William Burroughs. Por supuesto, no tengo intenciones de denigrar el contenido de este álbum con intentos de descripción de crítico musical ni nada por el estilo. Este viaje debe ser experimentado en carne propia y sin guías de ningún tipo, así de relevante es.
-Witch Hunt "Burning bridges to nowhere" (2009)
"Blind Eyes Blind Lives" abre este tercer disco de Witch Hunt con engañosas aceleradas en medio de alaridos desgarrados, desprolijas diatribas Hardcoreras y un estribillo digno del Bad Religion más enojado. Ya desde hace ocho años que estos neoyorquinos vienen puliendo su particular cruza de violencia Crust, oscuridad Post-Punk y melódica emotividad vieja escuela. Si el primer Killing Joke hubiera tenido a una chica cantando composiciones de un joven Bob Mould (o sea, el de Hüsker Dü) con letras escritas por CRASS, sonaría como lo expuesto en "Everyday". Y el hecho de que tenga que dar tantas vueltas para describir el sonido del quinteto es buena prueba de la innegable identidad propia que despliegan en estos treinta y seis minutos de pura dicha Punk-rockera. No por nada los edita Alternative Tentacles, el sello del eterno Jello Biafra. Melodías simples y con cierto dejo siniestro, ritmos contagiosos y pasajes de pura rabia vasodilatadora es lo que ofrece "Counting Down the Days". La velocidad dice presente en "Septa Death", con gritos (femeninos y masculinos) entrecruzándose y haciendo que el pulso se acelere inevitablemente. Le sigue la machacante "Silence", donde las guitarras generan una pared melódica sobre la cual las voces pueden explayarse entre tensas declamaciones y sensibles líneas que estrujan el alma. La oscuridad se corporiza en "Void", con su tempo cadencioso y un clima asfixiante que se ubica en algún lado entre los mencionados Killing Joke y la pura frustración de Black Flag, con el agregado de voces gritadas, un bajo ultra podrido y una acelerada final a puro Crust ruidoso y frenético. Como para mantener la energía fluyendo, llega "Sick Industry" con un tempo Punk que invita al más violento de los pogos. "A Slow Decay" trae hermosas melodías de guitarra, entre caóticos cambios de ritmo y una violencia vocal inusitada y contagiosa. Con un riff que recuerda notablemente a Samiam, comienza "Plastic Dream", generando paisajes de macabra y mugrienta psicodelia aún en las desatadas subidas de velocidad. "Reflections" suena casi como una versión apresurada de Embrace, con sus riffs melódicos y esas voces que llevan el sentimiento al borde del paroxismo. Para no ponernos demasiado melosos llega otra bomba de tiempo en la forma de "Treadmill March", una suerte de marcha militar Hardcorizada, ideal para salir a patear cabezas rapadas y demás lacras. Como broche de oro tenemos el tema que da nombre al álbum, con sus ritmos trabados y una potencia que resume los momentos más intensos de diversas vertientes Punks, desde la amargura melódica del viejo Post-Hardcore Washingtoniano hasta la ira intransigente del Crust, sin olvidar el componente freak que aportaron la mayoría de las bandas ya mencionadas en este comentario. Tal vez esté siendo repetitivo, pero hacía tiempo que un grupo de Punk-Rock no lograba recrear con semejante frescura y personalidad algunos de los sonidos e ideas de estos próceres por lo general ignorados. Y no voy a mentirles, muchos de ellos se cuentan entre mis grupos de cabecera. Pero, antes de que descarten este comentario por ser poco objetivo (bueno, cómo si alguna vez hubiéramos tratado siquiera de ser objetivos), permítanse descubrir a una de las propuestas más interesantes que el Punk actual tiene para ofrecer.
-Minsk "With echoes in the movement of stone" (2009)
Como buenos amantes del Doom, los muchachos de Minsk han evolucionado de forma lenta pero segura, sin olvidar sus tempranas alabanzas Neurosiescas pero siempre mirando hacia delante, buscando el camino propio. "Three Moons" abre este tercer disco entre ritmos tribales, riffs tallados en roca sólida y grandes coros rituales. Sí, Minsk también prueba con las voces limpias y sale bien parado, generando una atmósfera de nocturno paganismo tan hipnótica como sobrecogedora. El viaje prosigue con "The Shore of Transcendence", donde las voces flotan sobre un bajo masivo y narcóticas brumas guitarreras. La tensión se vuelve engañosa con teclados espaciales y capas de ruiditos que amenazan con estallar pero se repliegan en arabescos punteos y abren agujeros en la tierra a base de pura contaminación sonora. No teman, los riffs llegarán y con ellos el firmamento se teñirá de espeso negro y las estrellas dibujarán símbolos crípticos para invocar a deidades ya olvidadas. Y si quieren más grandes riffs, ahí tienen a "Almitra's Premonition", donde Tim Mead no deja de sorprender con líneas vocales cargadas de absoluto misticismo melódico. Imaginen la pesada oscuridad de Black Sabbath sumada al vuelo cósmico de Hawkwind, envuelta en las infinitas texturas distorsionadas de My Bloody Valentine y degradada por los pantanosos sonidos del Sludge más enfermizo. Pero, claro, no todo es épica distorsión en la vida del metalero esotérico moderno, por eso tenemos un tema como "Means to An End", con su tenue y siniestra percusión, sus guitarras acústicas, sus cánticos espirituales y hasta un bajo distorsionado que se adapta a la perfección al clima de shamánica introspección. Un tema ideal para cantar junto a una fogata en un bosque muy oscuro. Tras el descanso, llega "Crescent Mirror" donde los ritmos trabados, las espesas capas de instrumentación y los juegos vocales hacen que la palabra Progresivo aparezca inmediatamente en mi cabeza. Y lo peor es que se siente bien. Si hasta los teclados setentosos y las melodías rebuscadas no suenan fuera de lugar. Debo estar poniéndome viejo. En fin, los golpes Industrialosos de "Pisgah" me despiertan de mi reflexión mientras las apocalípticas imágenes de aquel glorioso "Streetcleaner" invaden mi mente. Y la cosa puede ponerse más profunda aún en "Consumed By Horizons of Fire" que, ya desde los misteriosos punteos del comienzo, propone una afilada tensión que nunca se corta del todo. La intensidad sube lentamente, a veces con acoples y abrasivas texturas, a veces con riffs contundentes, pero sin llegar nunca al estallido propiamente dicho. Como corresponde, la faena termina con "Requiem: From Substance to Silence" y el Pink Floyd más descarnadamente melancólico asoma la cabeza en cada una de las notas que las guitarras dejan caer como lágrimas. Y ese tramo intermedio a puro trance minimalista no hace más que acentuar el pasaje "desde la sustancia al silencio". Ok, no voy a negar que a veces me invade la sensación de que algunas bandas comprenden recién ahora la magnitud de aquel "A sun that never sets" que Neurosis editara en 2001. Pero menospreciar una enorme pieza de arte como este "With echoes in the movement of stone" por meras cuestiones cronológicas sería un acto casi criminal. Por otro lado, Minsk ha logrado despegar de la notable tutela de Steve Von Till y compañía, mostrándonos finalmente su propia esencia. No se lo pierdan.
-The Heartland "Frontier" (2009)
Que The Dillinger Escape Plan es uno de los grupos más influyentes dentro del Metal contemporáneo es un hecho que nadie con un par de oídos puede negar. Tanto el caos vertiginoso y controlado de "Calculating infinity" como las cuidadas arquitecturas melódicas Faithnomorescas de "Miss machine" han servido de inspiración para incontables clones, muchos de ellos con más dedos que ideas. The Heartland es un quinteto proveniente de Ohio que ya lleva tres discos siguiendo los pasos de Dillinger con resultados nada despreciables. Tal como ellos han ido incorporando paulatinamente cuotas extras de melodía a su intrincado entramado de riffs angulares y ritmos frenéticos. Pero aquí viene un punto de inflexión, lejos de la adoración MikePattonera de aquellos, The Heartland prueba con las más melosas y sentidas líneas vocales que el Emo nos ha legado. Antes de que pongan el grito en el cielo, tengan presente que el resultado final lejos está de la superficialidad o de la mera pose de adolescente con problemas. Aquí Emo es diminutivo de Emoción antes que sinónimo de delineadores, remeritas ajustadas y peinados tipo lengüetazo de vaca. Por otro lado, si aprecian las composiciones violentas, retorcidas y endiabladamente retorcidas, aquí encontrarán más de una perlita con la que regodearse mientras se les derrite el cerebro tratando de seguir a estas guitarras surrealistas. Y, cuando necesiten un respiro, pueden probar con un tema como "Wet Warthog" que suena a The Police con la distorsión en once. No hace falta aclarar que estamos en presencia de músicos con un alto grado de virtuosismo, el chiste está en poner todo ese despliegue instrumental al servicio de buenas canciones e ideas descolocadoras. No faltan, entonces, los más refinados pasajes jazzeros, las erupciones de pura disonancia histérica, los rebajes irregulares, los punteos desquiciados, los alaridos taladrantes, los abruptos cambios de ritmo, los guiños Deathmetaleros y esas melodías que logran ser gancheras sin por ello resignar sofisticación. Les puedo asegurar que el resultado final de dicha ensalada es sumamente personal e intenso, a kilómetros de distancia de las copias y del onanismo técnico sin sustancia. "Frontier" no le va a cambiar la vida a nadie, eso está claro, pero (en el estado de ánimo indicado) puede proporcionarles treinta y cinco de minutos de insana diversión.
-Lord Mantis "Spawing the Nephilim" (2009)
No quisiera ser tan obvio pero no tengo otra opción. Bueno, sí la tengo, pero no me hagan usar demasiado el cerebro. Lord Mantis cuenta en su formación con miembros de los Blackmetaleros Nachtmystium y de los paladines del Sludge más enfermo, Indian. Entonces, ¿a qué suena esto? ¡Con seguridad! Sludge y Black Metal fusionados en una gorda y amorfa bola de odio y desprecio por la raza humana. Ok, no es que dicha combinación tire abajo ningún paradigma, de hecho hablamos de dos géneros que cuentan con numerosas conexiones, tanto en lo musical como en lo ideológico, si tal cosa existe. Pero eso no va en desmedro del resultado final de este aplastante "Spawing the Nephilim". Tenemos guitarras graves y atronadoras, un bajo del tamaño de una montaña, riffs de Black Sabbath bastardeados, ritmos babosos y desencajados, alaridos provenientes de las entrañas mismas del averno, amagues de épica melodía, mugrienta crudeza Hardcore/Punk y tormentosas cabalgatas a toda velocidad, entre otras cosas. Los elementos se encuentran fundidos de forma impecable, logrando un híbrido sólido y sin grumos. De alguna forma, logran que la empantanada desesperación lisérgica del Sludge se intensifique con visiones infernales del fin del mundo sobrevoladas por legiones de sombras demoníacas. Por otro lado, títulos de canciones como "Unnatural Dwarfism" o "Hit By a Bus" nos indican que esta gente no está exenta de cierto sentido del humor. Aunque, claro, nada eso podríamos deducirlo escuchando estos temas tan cargados de absoluta maldad. Música ideal para blasfemar, drogarse y violar vírgenes.
-Magrudergrind "Magrudergrind" (2009)
Poderviolencia, vaya forma estúpida de denominar a un género musical. Sobre todo cuando se trata de uno de los más excitantes que hayan surgido desde que al bueno de Mick Harris se le ocurrió tocar un poco más rápido en cada ensayo. En fin, aquellos que estén familiarizados con esta corriente sabrán que, desde hace unos años, se está viviendo una suerte de revival de aquellos frenéticos sonidos patentados por bandas como Man Is The Bastard, Crossed Out o No Comment, entre otras. También estarán al tanto de que Magrudergrind es uno de los grupos que lidera (tanto en términos de popularidad como de calidad) esta nueva camada. Así, estos Washingtonianos llegan a su tercer larga duración con la rabia intacta y un puñado de estallidos sonoros (llamarlos canciones no es del todo apropiado) capaces de excitar al más abúlico de los poseros. Si las viejas bandas del estilo apuntaban a sobrepasar los límites de velocidad e intensidad de próceres como D.R.I. o Infest, Magrudegrind va un paso más allá, incorporando algo de ese caos envolvente y desquiciado de bandas como Pig Destroyer o Discordance Axis, inclusive compartiendo con ellas la formación de guitarra, batería y voz. Ojo, la raíz Hardcore está siempre presente y las pequeñas excentricidades rítmicas nunca se pasan de nerds. Por supuesto, como buenos alumnos aplicados se hacen lugar para opresivas letanías Sludge que demuestran que la extremidad no es una cuestión de revoluciones por minuto. Por lo demás, todo sigue estando en su lugar. La guitarra es una motosierra que mutila y destroza todo a su paso, escupiendo un sinfín de riffs microscópicos, contundentes y siempre abrasivos. La batería sostiene todo con un inagotable arsenal de vertiginosos golpes, cortes en secos, rebajes, y desconcertantes idas y venidas. La voz agita incansablemente con las cuerdas vocales en ebullición y una constante reserva de desbocado salvajismo. Son diecisiete temas en menos de media hora, no hay lugar para el aburrimiento ni para la reflexión y, para cuando el cd ha dejado de girar, todavía cuesta recobrar el aliento. Más efectivo que un bidón de Viagra.