-These Arms Are Snakes "Tail swallower and dove" (2008):

Lo fantástico y lo cotidiano.
La tradición y la vanguardia. Flotar sobre nubes coloridas mientras la tierra se quiebra y ríos de lava inundan las ciudades. Alguien dijo Punk Progresivo, pero la sola asociación de dicho epíteto a porquerías prefabricadas como The Mars Volta me da como una especie de urticaria. No hay lugar para poses cool en estos himnos lisérgicos a la epilepsia. Y sí, los setentas más pretenciosos asoman la cola en más de una ocasión, pero siempre están esos noventas washingtonianos para mantener las cosas dentro de los márgenes del buen gusto. Así, los teclados vintage conviven con las voces al límite del colapso y las guitarras voladoras con los ritmos casi bailables. Y, por sobre todas las cosas, conviven, en una exquisita armonía, la capacidad de generar imágenes en la mente con la necesidad de lograr una respuesta física. O sea, si no te movés con esto es porque estás muerto en vida y nadie te avisó. Y si no sos capaz de perderte en estos enroscados laberintos musicales, probablemente prefieras deleitarte con lo nuevo de Bersuit Vergarabat o alguna otra basura predecible y complaciente que tengas a mano. En definitiva, con cuatro discos a cuestas, These Arms Are Snakes sigue siendo una de las mejores maneras de cerrarle la boca a cualquier viejo choto que pregone que "todo tiempo pasado fue mejor".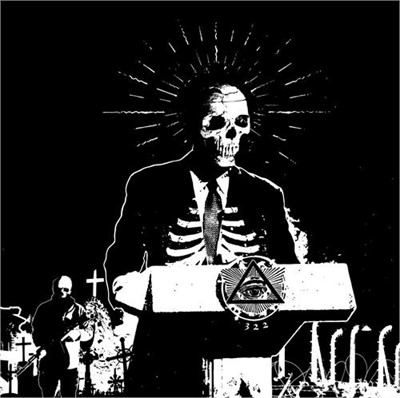 -Kill The Client "Cleptocracy" (2008):

"Un disco de Grindcore es más un reflejo que una explicación, por eso es tan efectivo que sea brutal, breve, contundente", dijo alguien que sabe mucho de muchas cosas. Y, efectivamente, este segundo disco de Kill The Client no pretende explicarnos por qué el mundo es una mierda. Simplemente lo refleja en forma breve, brutal y contundente. Sí, como lo hiciera Napalm Death hace más de veinte años, con canciones reducidas a lo mínimo indispensable, gruñidos atronadores, guitarras como sierras eléctricas y una batería a punto de alcanzar la velocidad de la luz. Claro, la escuela de los británicos tuvo en Nasum a su hijo más destacado, pero estos texanos no son un simple clon de los suecos. Sí comparten esa obsesión por sonar claros y precisos sin perder ni un gramo de mugre en el proceso y, sí, las deudas con la ex banda de Justin Broadrick siempre estarán presentes…en cualquier grupo Grindcore que se precie de tal. Vamos, sería como quejarse de las influencias Sabbatheras en las bandas Stoners. Dicho esto, admitamos que lo de Kill The Client tampoco se inscribe en la línea experimental, digamos, de bandas como Agoraphobic Nosebleed o Discordance Axis. Pero no es necesario abrir nuevos caminos para lograr un resultado efectivo. Así, tenemos veintiocho temas en casi veintitrés minutos, capaces de tocar los nervios más adormecidos de nuestra conciencia, despertarlos a patadas y obligarlos a gritar. Temas que dejan las explicaciones para otro momento y pasan a la acción de forma virulenta e inmediata. Grindcore, ni más ni menos.
-If Lucy Fell "Zebra dance" (2008):

Si la alegría sonríe con las encías ensangrentadas, si la calma no es más que una descolorida antesala a la depresión, si la piel quema con cada roce, si los sabores que invaden las papilas gustativas son siempre amargos, si cada visión es una pesadilla o una epifanía, si cada sonido es amplificado dentro de tu cabeza hasta que los límites entre sensaciones se desdibujan, entonces probablemente entiendas por qué Lucy se cayó. Y no se trata simplemente de la típica psicosis inherente a casi todos los grupos de Noise-Rock, se trata de emociones. Es más, estos portugueses se autodefinen como una mezcla de Rock, Blues y ritmos africanos, y dicen haberse formado al abandonar sus clases de ballet debido al poco profesionalismo de sus profesores. Ok, el sentido del humor está en su lugar. Ahora bien, dudo mucho que encuentren algo de gracioso en esta espasmódica danza de la cebra. Observen cómo sus corazones se encogen con cada arpegio, contemplen con asombro la festividad de aquellos que nada tienen para perder y déjense abrazar por estos brazos frágiles y portentosos al mismo tiempo que los asfixiarán hasta que admitan su amor por ellos. Como dije antes, se trata de sentir. Y, en este caso, se trata de amplificar cada sensación hasta que el dolor se vuelva placentero y la exasperación dé paso a la admiración. Y si de eso no se trata el Rock, no sé de qué mierda estamos hablando.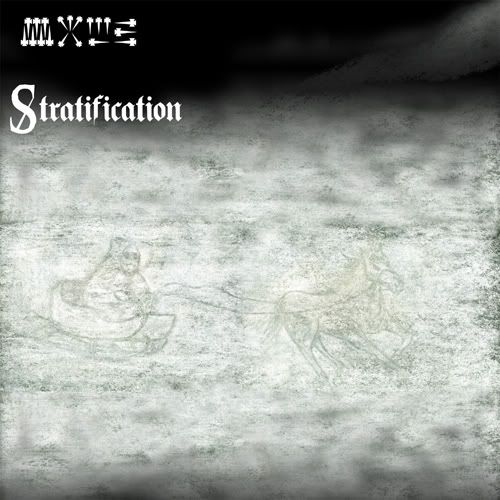 -Wold "Stratification" (2008):

"Me encanta cuando un plan sale bien" decía el canoso Anibal Smith mientras masticaba su grueso habano. Bueno, a mí me encanta cuando el título de un disco calza tan bien con su contenido musical. Estratificación es la palabra clave en esta tercera entrega de este enigmático (y no me refiero a corpsepaints ni disfraces de ningún tipo. Chequeen las fotos de estos dos tipos con los aspectos más ordinarios posibles si no me creen) dúo canadiense, capas y capas de ruido apiladas sobre más capas de ruido y ni un atisbo de aire para respirar. Si hay algo de Black Metal en Wold está dado más que nada en los climas opresivos y en los chillidos taladrantes y empapados de distorsión. Y ahí termina la cosa. Ok, podrán decir que los exponentes más primitivos del metal negro suenan ruidosos, pero esta gente no cae en el ruido por incapacidad, si no que lo reivindica como medio generador y trabaja con él de manera cuidadosa, casi artesanal. Así, es posible encontrar sucesiones sonoras que bien podrían ser riffs, si los riffs fueran cosas deformes que nadan en espesas mareas de feedback. También podríamos adivinar estructuras rítmicas, sólo que ese lugar es ocupado por pulsos eléctricos en vez de baterías aceleradas. Pensándolo bien, si la idea del Black Metal alguna vez fue (antes del circo que todos conocemos) generar la más extrema, oscura y misantrópica de las formas musicales, entonces Wold debería ser nombrado el grupo Rey de dicho género. En cualquier caso, si los puristas deciden perderse semejante exhibición de auténtico terrorismo auditivo, peor para ellos.
-Suicide Note "Empty rooms" (2008):

No sé si lo sabían, soy bastante fanático de Fugazi. ¿Cómo no serlo? Bueno, el caso es que me llena de placer escuchar bandas actuales que (sin llegar al robo descarado) toman serias influencias de los fabulosos cuatro de Washington D.C. y comprobar que dicho sonido sigue siendo relevante hoy en día. Pueden llamarlo Post-Hardcore o Hardcore para el hombre pensante, en definitiva se trata de Rock adrenalínico con la emoción a flor de piel, con voces siempre declamatorias, guitarras llenas de ideas y ritmos que pueden invitar al baile frenético o a la sorpresa constante. Lo de las guitarras no es casualidad si tenemos en cuenta que en este cuarto disco participa Kurt Ballou de Converge como guitarra invitada, quién, además, produjo este y los discos anteriores del grupo. Aunque Suicide Note ya no se parece tanto a Converge como en sus primeros trabajos, claro. Justamente, el punto en común más obvio entre ambas bandas es… ¿a qué no adivinan? ¡Con seguridad, Fugazi! Insisto, no porque ninguno de ellos sea una copia, si no por rescatar ese espíritu que conjuga la virulencia del Hardcore con una mirada inteligente y vanguardista. Ah sí, estos muchachos son de Chicago, así que no se sorprendan si también se cuelan por ahí algunos modismos de la tradición Noise-Rockera de dicha ciudad (Shellac, The Jesus Lizard y demás anteojudos). En definitiva, otro de esos discazos que ocurren cuando los chicos Hardcore crecen, dejan las bermudas, se calzan los largos y se deciden a rockear con todo.
-Taura "Huesped"(2008):

Ser un huésped en una habitación vacía. Viajar solo, descubriendo lo extremadamente dolorosa que puede llegar a ser tanta belleza. Este disco duele en el alma. Cada riff, cada uno de esos endemoniados riffs evoca paisajes crepusculares tan bellos como sórdidos. Cada golpe de batería se traduce en estómagos retorcidos, evidencias de un cuerpo que ya no puede consigo mismo. Cada melodía es el definitivo nudo en la garganta que presagia el llanto. Y, sin embargo, habría que estar sordo o muerto en vida para no percibir la enorme energía que desprenden estas canciones. Taura despega totalmente con este segundo disco y atrás quedan Kyuss, Katatonia y todo tipo de comparaciones vacías. Es más, "Huesped" no tiene nada que envidiarle a los últimos lanzamientos de sellos dedicados al Metal de vanguardia como Hydrahead o Level Plane. Así, los temas se debaten entre la pesadez muscular y riffera, las paredes de texturas distorsionadas y melodiosas al mismo tiempo, los climas introspectivos y oscuros, y las escaladas liberadoras y/o soñadoras. Todo adornado con líneas vocales exquisitas, coros atinadísimos, sutilezas sonoras y una sensibilidad visceral inclaudicable. Admito que tal vez no sea un disco fácil, pero, por una vez en la vida, deberíamos tomarnos el tiempo para sumergirnos y enfrentar cara a cara a nuestros propios demonios, en lugar de seguir aceptando sin chistar las mierdas superficiales que nos venden día a día. Y qué mejor que una pieza de arte como "Huesped" para acompañar semejante proceso.
-Reconcile "What tomorrow will never bring" (2008):

Sólo cinco temas en poco más de once minutos le bastan a Reconcile para confirmar por qué son una de las propuestas más interesantes que el Hardcore vernáculo tiene para ofrecer hoy por hoy. "The test of time" abre las hostilidades y es imposible no sentirse contagiado por esa energía, adornada con sutilezas melódicas en las guitarras y un casi reflexivo rebaje final. Le sigue "Each day" que hace gala de un ritmo un tanto más lento (para los parámetros del Hardcore, claro) y un riff principal que bien podría ser considerado el eslabón perdido entre Gorilla Biscuits y Fugazi. Y la emoción al tope. "The rain" trae de vuelta el viejo y querido tupá-tupá, con esos cortes que aportan una dinámica refrescante a la tradición vieja escuela. Y la emoción sigue en lo más alto de la escala. "Basics" es el track siguiente y con sólo treinta segundos de caos se las arregla para demostrar, una vez más, que todavía queda tela para cortar en el mundo de las bermudas y los tatuajes. El mini lp cierra con una verdadera gema, la versión de "No more pain" de Embrace (aquella banda que tuvo Ian Mackaye entre Minor Threat y Fugazi) tan respetuosa como sentida. Y tal vez una suerte de manifiesto de la forma de encarar el Hardcore de Reconcile. En conclusión, tal vez nos deje con ganas de más, pero como tentempié hasta el próximo larga duración es una más que recomendable entrada que, de paso, deja el listón bien alto para lo que vendrá.
-Akimbo "
Jersey
shores" (2008):

Rock. Riffero, brutal, pesado.
De sonido gordo y valvular. Hecho por tres tipos con jeans y pelos mugrientos. ¿Grunge? ¿Stoner, tal vez? No, Akimbo tiene demasiada cancha como para caer en la trampa fácil de las etiquetas. Ok, la guitarra aplasta sin miramientos con riffs bestialmente enroscados o pegajosamente lentos, según se lo requiera. Y, sí, la batería suena como una estampida de mamuts en celo, acompañada de un bajo que raja la tierra con cada intervención. Y, me olvidaba, los tipos vienen de Seattle. Pero aquí hay más. Este sexto lp está inspirado en los doce días de ataques de tiburones ocurridos en las costas de New Jersey (de ahí el título del álbum) en 1916. Y sí creían que discos como "Oceanic" de Isis o "Leviathan" de Mastodon habían logrado la conjunción perfecta de música pesada y salvajes imágenes marítimas, deberían prestarle atención a estos abrumadores cuarenta y siete minutos. Mareas que suben y bajan, apacibles aguas celestes que esconden mortales certezas, estallidos carmesíes, huesos que se quiebran bajo la presión de infalibles filas de dientes, los gritos incrédulos de los condenados a reptar por superficies duras. Y, claro, las aguas que vuelven a su calma inicial teñidas ahora de un intenso rojo. Vamos, una idea no demasiado rebuscada pero llevada a cabo con tal maestría compositiva y dinámica, que es imposible escapar de su influjo. Música e imágenes fundidas como pocos grupos así de rockeros pueden hacerlo.
-Transitional "Nothing real nothing absent"(2008):

Las fotografías de grises y monótonos edificios en blanco y negro se vuelven aún más aterradoras cuando cobran color. Dejan de ser meras postales de otros tiempos y nos golpean en la cara con el peso de todo lo que estuvo mal y no ha cambiado en absoluto. Entonces, los postulados de aquellos gloriosos primeros discos de Throbbing Gristle siguen vivos, porque el mundo sigue siendo un lugar mecanizado y ensordecedor y nosotros seguimos siendo meros esclavos repitiendo rutinas hasta desgastarnos sin remedio. Dos inglesitos lo comprendieron a la perfección y lo tradujeron en este deslumbrante disco debut. Pero de ninguna manera se trata de una fotocopia de la legendaria banda de Genesis P. Orridge. Casualmente, aquí encontramos a Dave Cochrane, asiduo colaborador de Justin Broadrick en varios de sus proyectos, incluido el principal de ellos, Jesu. Entonces, a los colchones de ruido industrial y las bases minimalistas se le suman necesarias cuotas de pesadez rítmica y sonora que, sumadas a las bellísimas melodías, aportan el aturdidor colorido al que hacía referencia al comienzo. El flujo de imágenes no se detiene y resulta tan opresivo como liberador e inspirador. Y sabemos que los momentos calmos sólo esconden más pesadillas lisérgicas esperando el momento exacto para volverse realidad. Y, en definitiva, la dinámica de este viaje se sostiene en ese tipo de dualidades. Lo mecánico y lo espontáneo, la disonancia y la melodía, la densidad y el ensueño. Definitivamente, uno de los debuts más auspiciosos de lo que va del año.
-Trap Them "Seizures in Barren Praise" (2008):
Mugre de avanzada. Así debería ser llamada la música de este cuarteto. Y no lo digo sólo porque sus letras aborden cuestiones políticas y personales a través de una poesía sumamente personal, casi críptica. Trap Them posee la rabia directa y siempre sucia del Crust, las vueltas poco convencionales de exponentes como Converge o Pig Destroyer, y a eso le suman un sonido de guitarra que nada tiene que envidiarle a clásicos del Death sueco como Entombed o Grave. Y no sólo están enojados. Bueno, están muy enojados, pero eso no es todo. También saben componer excelentes canciones, manteniendo el equilibrio entre el gancho y la experimentación. Y saben tocar sus instrumentos, claro, pero esto no es una exhibición de gimnasia instrumental. Sólo se trata de la nada sutil diferencia entre hacer música extrema y cruda por convicción y hacerlo porque es lo único para lo que te da el cuero. Y convengamos en que no es nada fácil lograr que un disco que está al palo todo el tiempo no resulte aburrido ni monótono. Trap Them tiene la suficiente imaginación como para borrar esas dos palabras de su vocabulario musical. Y hacen gala de una intensidad capaz de convencer al más escéptico. Inclusive se permiten cerrar estos veinticinco minutos y medio de pura ira con "Day Thirty One: Mission Convincers", una densísima letanía Sludge que, no sólo mantiene el mismo nivel de violencia que cualquiera de sus temas más acelerados, si no que encima exhibe algunos de los mejores riffs que un grupo (supuestamente) Hardcore puede llegar a concebir. Otra excelente excusa para no bañarse durante un mes, dejarse los dreadlocks y empezar a fabricar bombas molotovs.
-KTL "Ikki" (2008):
Camina con pasos torpes e inexpertos sobre superficies de juguetes rotos. Cree encontrar un remanso en esa ilusión de coherencia que otros han planeado para él. No tarda mucho en descubrir su error. Y entonces ataca, corta y hiere. Y cada línea roja que traza en la carne es un símbolo de liberación. Ríe con sonidos guturales y no es capaz de despegarse de la culpa que dicha risa le provoca. Trata de olvidar. Surfea sus maremotos cotidianos montado a los pequeños pedazos que antes lo conformaban. Construye altares con agujas envenenadas y se entrega a sus perversos placeres lúdicos. Pero todo lo material se disuelve en sus manos. Y no hay nostalgia por ese mundo. Sólo esta calma ficticia. Puede reconocer las señales obvias pero siempre intentará desdoblar las conclusiones inevitables. Aún cuando sus patrones de conducta sean tan evidentes y fácilmente calculables. Una serpiente ruge en su estómago. El cadencioso ritmo de mitos olvidados le da una razón de ser. Y los gritos se mudan, pasan a ser parte del decorado exterior, una mera atracción detrás de un vidrio. Cree en poderes inhumanos. Y los crea. Una cosmogonía de contornos mutantes que reptan. Improvisa misas con salmos de pura cacofonía. Se detiene, y es casi como si su cuerpo se hubiera paralizado por completo. Tensos hilos emocionales lo arropan. Se siente implotar con cada intento de escapar. Repasa en su cabeza las postales borrosas de sus últimas vidas. Un colchón de serpientes lo espera seductor. Pero él permanece inmóvil, los ojos temblando hacia la nada. Su reloj de arena es un médano desbocado en este momento. Y ese médano se transforma en un desierto. Y nada puede hacerlo volver. Y ahora es imposible para él discernir si estas visiones son recuerdos o delirios.